I remember as a kid watching the Tudor warship Mary Rose being rescued from the depths of the Solent on TV, and several years later visiting Portsmouth to see what remains of her. Hers was a remarkable story of survival.
But she's not a patch on the Vasa.
On show in her own museum in Stockholm, Sweden, this remarkable wooden vessel sank after sailing just a mile or so from the dockyards in which she'd been built. And even more embarrassingly, it was on her maiden voyage.
The disaster happened on August 10, 1628, but experts say it was a sinking that could've been avoided. The impatient Swedish king insisted on her joining his battle fleet even though the admirals knew she was top heavy. Sure enough, over she rolled and up to 50 sailors died.
The Vasa was raised, astonishingly intact, in 1961. And while it's hard to imagine what the Mary Rose looked like from the jumble of timbers that survive, there are no such problems with her historic sister.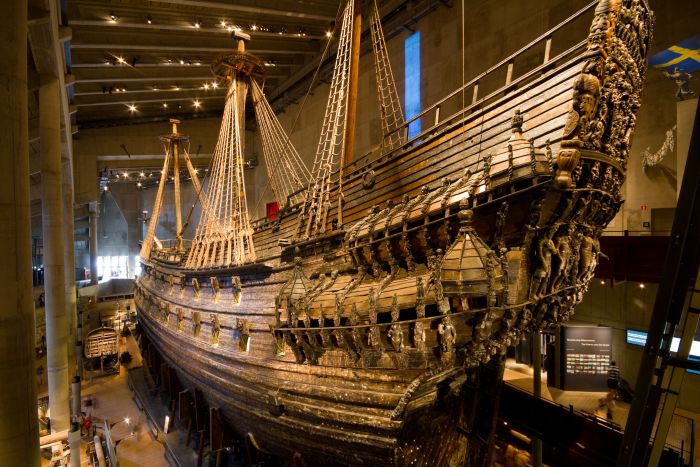 Walking into the ship's museum in Stockholm – one of the ugliest buildings in the city – is one of those wonder moments you don't experience too often. I really wasn't expecting to see the ship so complete, so dominating, so extraordinarily beautiful.
Set over several floors, the story of the Vasa is told along with the stories of many who designed and sailed her. You can get up close to her intricately carved timbers, see the reconstructed faces of some who died on board and compare the Vasa story with that of the Mary Rose.
OK. Not everyone will agree with me that the Vasa is Stockholm's highlight but as far as museum's go, I'd happily argue the case.
It's situated on the island of Djurgården, about a 30-minute walk from Stockholm Central Station. We were staying in the old town – Gamla Stan – and caught one of the numerous ferries across the water. Fortunately our one didn't share the Vasa's fate…