The late great architect Zaha Hadid designed some of the very best modern buildings. Her graceful design for the swimming pool at London 2012 was one of my favourite buildings in the Olympic Park, especially once the ugly wings built for spectators were removed.
But it's rather odd that her reptilian, ultra-modern and oh-so organic designs are found scattered across the seemingly conservative Austrian city of Innsbruck – one of the gateways to the Alps.
Famous for its historic palaces and imperial buildings, Innsbruck nevertheless chose Hadid to design the new Bergisel Ski Jump in 2002. It doesn't quite ring with a country famous for its love of the traditional and extreme right-wing politicians.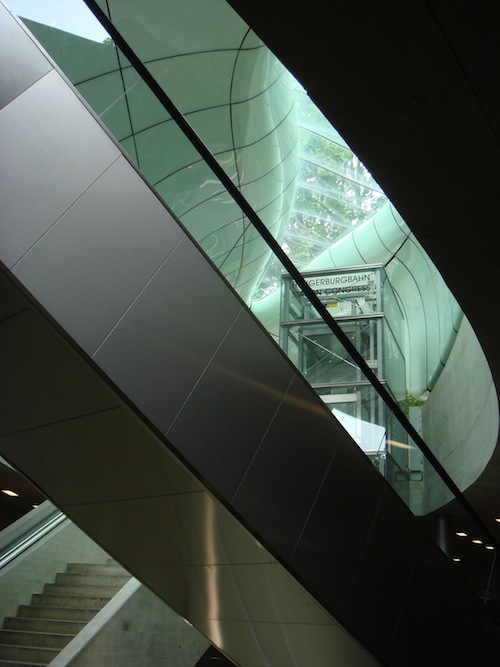 A few years later the Iraqi-born architect delivered the Hungerburgbahn hybrid funicular railway and its many fascinating stations, apparently inspired by the morphology of the Alps in winter.
Decorated in a subtle green, the sinuous forms reminded me more of giant snakes or lizards than mountains.
We found ourselves in Innsbruck on a grey summer day while holidaying in the popular resort of Kitzbuhel, an easy train ride away.
The mist hung low over the mountains, but the city funicular trip was a must for us, being admirers of modern architecture. At first the route took us through a tunnel, then over a bridge across the turbulent Inn River.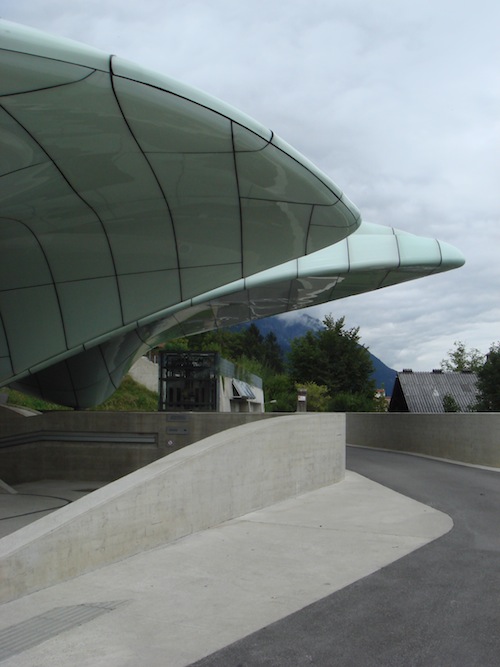 Finally it climbed up the side of the mountain to Hungerburg, at 860 metres above sea level.
From there we took the gondola up to the 1,905-metre Seegrube, where there are doubtless remarkable views on a clear day. Sadly, it was all a bit drab and cold on our visit! We could've gone higher but it was rather pointless in those conditions…
There's more about the stations at Zaha Hadid's website.