Our second day in Morzine and the sun shone. So what better way to spend the day than by the Hotel Le Dahu pool?
We'd planned our break to be a mix of walking and relaxing and as the weather forecast was so crappy for the days ahead, we couldn't resist choosing the lazy option with the skies so blue.
I'd slept remarkably well after my night of red wine and lager and we stumbled to breakfast fairly late. The view across the valley from the restaurant, though, was more than enough to wake us up.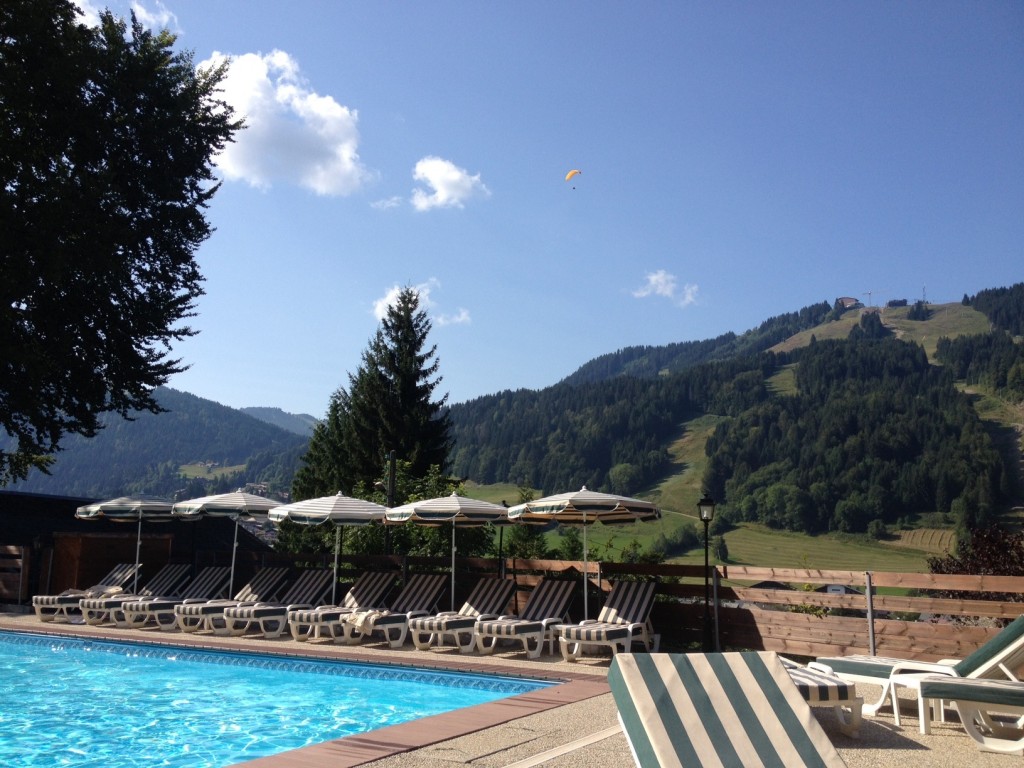 Le Dahu isn't that old. It was built in the mid-50s and has been extended several times since, but it felt traditional, as if it had been around for ever. Throughout there were photos of its founding family – who still run it today – and Morzine in times gone by. It was like living in a family photo album.
Out by the swimming pool we realised just how hot it was, with temperatures easily into the late 20s. I took the shade option, while Graham did his baking in the sun routine. The pool was gently heated so not too much of a shock, and even G went in for a while.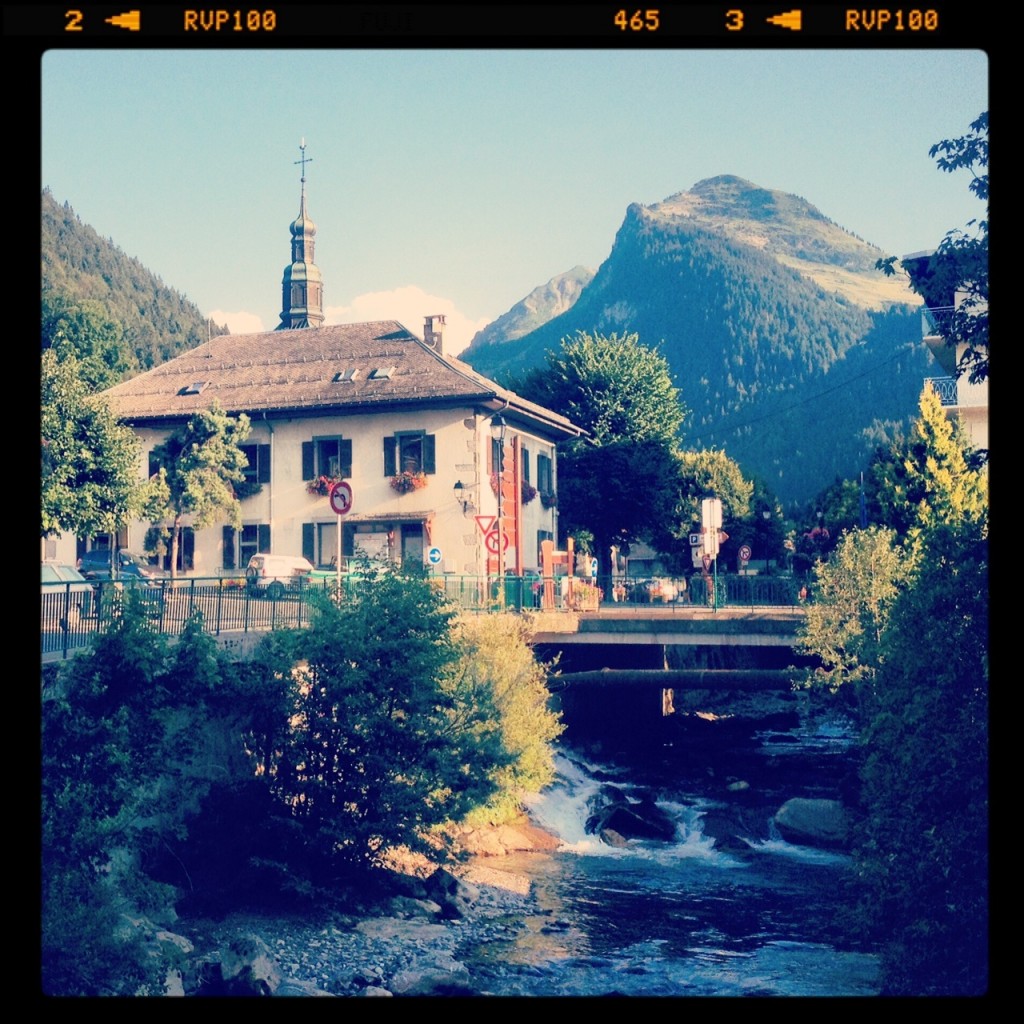 Above us, the sky was full of paragliders, who launched themselves from one side of the valley and landed on the opposite amid green fields. How tempting it was to have a go…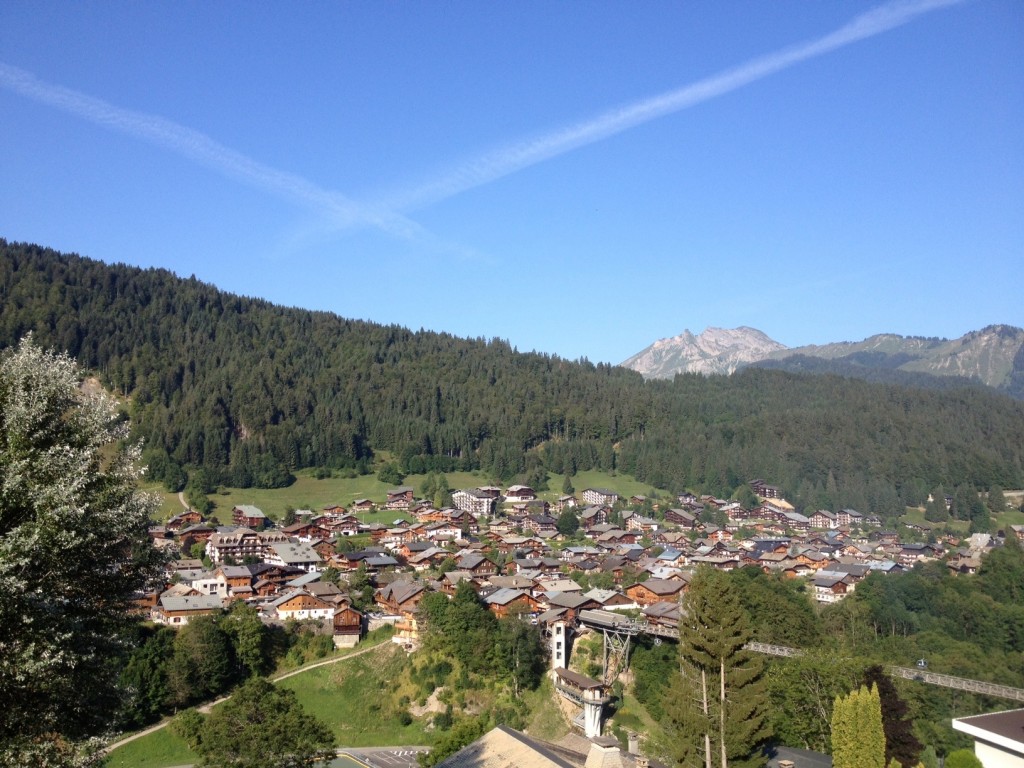 Lunch was taken in the hotel, on the lawn, with just a few other guests for company – including a large, aged chap who wheezed for France and kept himself fit for competition by puffing on cigars.
In the evening we explored the town. Flowers filled the pots and verges, which is always a sign that the elders care about the place.
It was a bit of a drag crossing from one side of Morzine to the other, over the gorge created by the river Dranse, and it would be no fun if you're not keen on hills. But the heart of town was a bustling place.
In the early evening, as we stopped for a beer at the Dixie Bar, where groups of mountain bikers were refreshing themselves after a day in the saddle.
We ventured on and eventually found an average but popular pizzeria, Le Tyrolien, where we waited for ages because they forgot our order. I just wish it had been worth the wait!