Where would we spend our first Christmas away from family and piles of roast turkey? A home from home in the UK? The snowy Alps? Or further afield?
Our eventual choice was the capital of Oman – Muscat. An odd choice but a very good one as it turned out.
Muscat is a city that by all accounts is clinging on more successfully to its past than most Gulf capitals. Take Dubai, where heritage is forever being flattened in the name of progress, bling and an ever-increasing number of towers.
That's not to say that Muscat is a small city with nothing but ancient buildings. As our cab driver sped along the wide highway linking the city's Seeb airport to our hotel, we could see at first hand just how sprawling it's become. In fact, the capital drags on for upwards of 30km  along the coast and much of it is modern.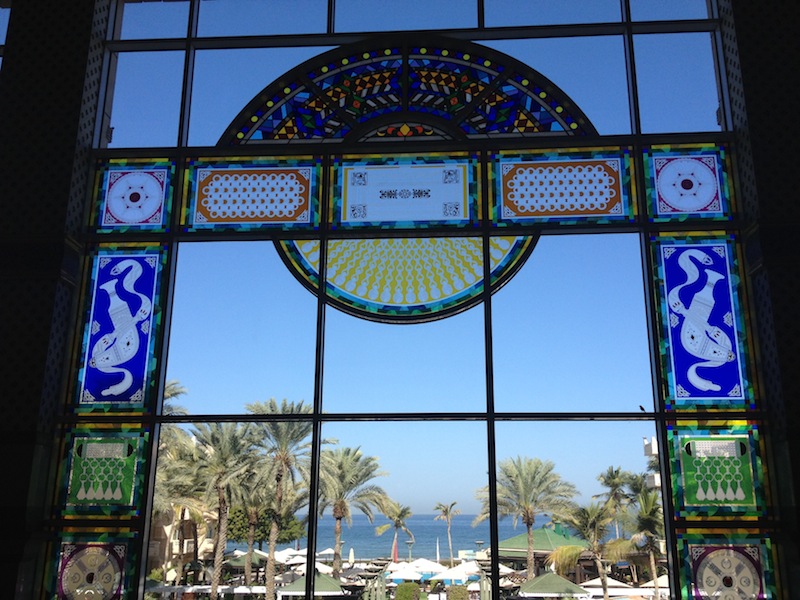 But strict laws have ensured that a lot of that new development has been low-rise and on a more human scale, and there's been a conscious effort to build traditional Arabic architectural touches into the buildings.
It was a wise move by the Sultan and his bureaucrats because Muscat is far and away Oman's shop window. As far as tourists go, it's the capital, a beach resort, city break and cultural centre all in one.
Forty years ago, it was a very different city. Then Sultan Qaboos seized power from his father and launched a programme of development designed to bring Oman and its people into the 21st century.
Within a few decades, Muscat had gone from being a quaint backwater to one of the Gulf's great cities.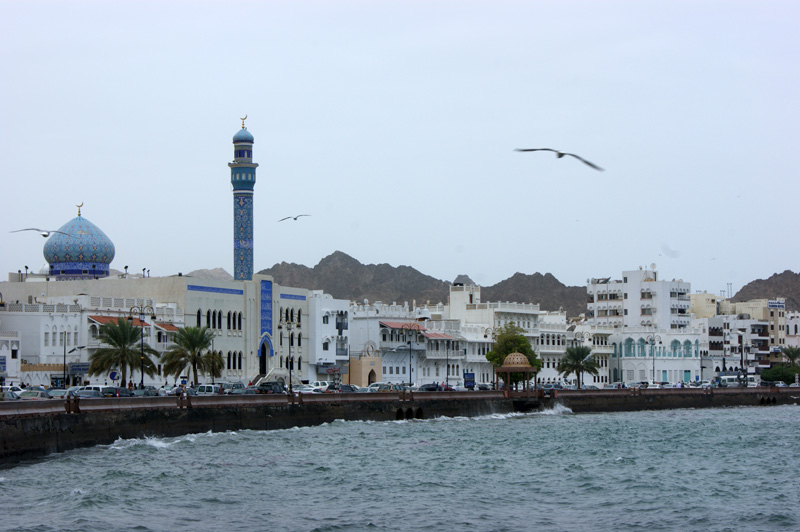 The locals enjoy boasting about the result. One cabbie was full of pride at what his country had achieved, pointing out the landmarks as we drove at breakneck speed down the dual carriageway, past swanky hotels, palatial government buildings, corporate HQs, shopping centres, and inoffensive, white-washed residential developments.
We couldn't miss the vast and glitzy Grand Mosque, built by the Sultan as a gift to the nation and housing, at the time of our visit, the largest carpet in the world. Neither could we fail to spot his recently opened Opera House, a vanity project inspired by his love of western classical music.
Immaculate lawns lined the highways, broken occasionally by colourful beds of flowers that wouldn't have looked out of place in an English country garden. Every now and again we got glimpses of the sea and a sandy beach.
Our hotel, the Grand Hyatt, in the diplomatic and business district of Ruwi, proved to be typical of the five-star developments that have sprung up along the coast in recent years. Ornate to the point of being a cliche, the reception area and lounge resembled a palace, complete with ever-so-slowly rotating statue of an Arab hunter on horseback. Our swanky room looked out over the pool and the wide, sandy public beaches beyond. Private beaches don't exist in Muscat (other than a few notable exceptions) and that means hotels can't fence off large swathes of sand with sun-loungers and bars.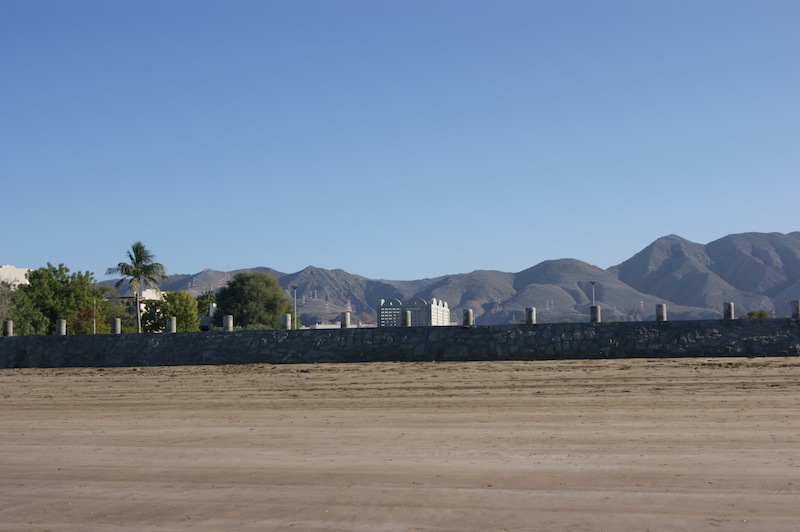 Like most guests we preferred to relax by the pool rather than stray on to the sand, only hitting the beach for early evening strolls when the local lads appeared for games of football with their makeshift goalposts. Later, with the sun setting, families and friends parked themselves on the seafront, fired up barbecues and chilled out in the cool evening air. Sadly, the concept of taking litter home hadn't caught on with the locals and the Sultanate had to rely on an army of cleaners to clear up after them.
We jumped in a cab to explore more of Muscat, and Mutrah is by far the most interesting district. The port district, it's more down to earth than much of the rest of the city, with a collection of budget hotels amid some of Muscat's older and more historic buildings, built to serve trade and house the merchants who grew rich off the back of it.
The large seafront mosque was a hub of activity, along with the atmospheric souq and the countless narrow alleys that fed into it. Traders tempted us with gold, jewellery, frankincense and silverware while local restaurants served fruit juices and cheap, spicey meat dishes.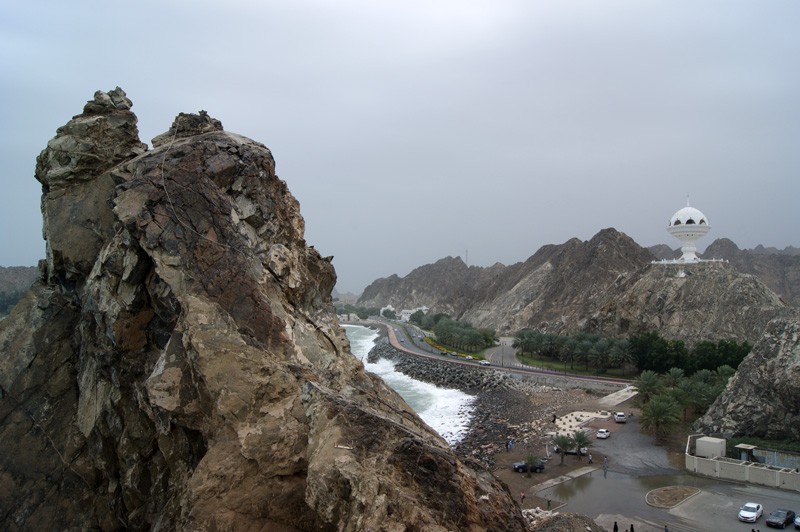 We did the walk along the Corniche from Mutrah to Old Muscat, from the harbour where the Sultan's ever so flashy dhow lay moored in the frisky sea. It was a great walk, past landscaped flower beds and remarkable rock formations, with views of the orange, red and brown mountains that dominate the coast of Oman. Here and there we spotted the remains of an old fort and an endless string of ancient watchtowers, the type we saw dotting the landscape on a drive to Nizwa.
It being a Friday, countless families were doing the Corniche walk too, stopping to admire dancing fountains, climbing a viewpoint at a part of the coast seriously damaged by a typhoon just a couple of years ago. More bizarre was a giant white incense burner built on a coastal hill to remind one and all of the frankincense that helped bring such wealth to this part of Arabia. It was just a shame that the weather was so drab.
The Corniche ends in Old Muscat, which in most instances doesn't look particularly old but still stands apart from the new city. This is home to government buildings and the extravagant Qasr Al Alam Royal Palace of the Sultan, decorated with curious blue and gold mushroom-style pillars. Sadly, it wasn't open to the public.
The forts of Mirani and Jelali stood guard nearby, while a new national museum was being built just up the road.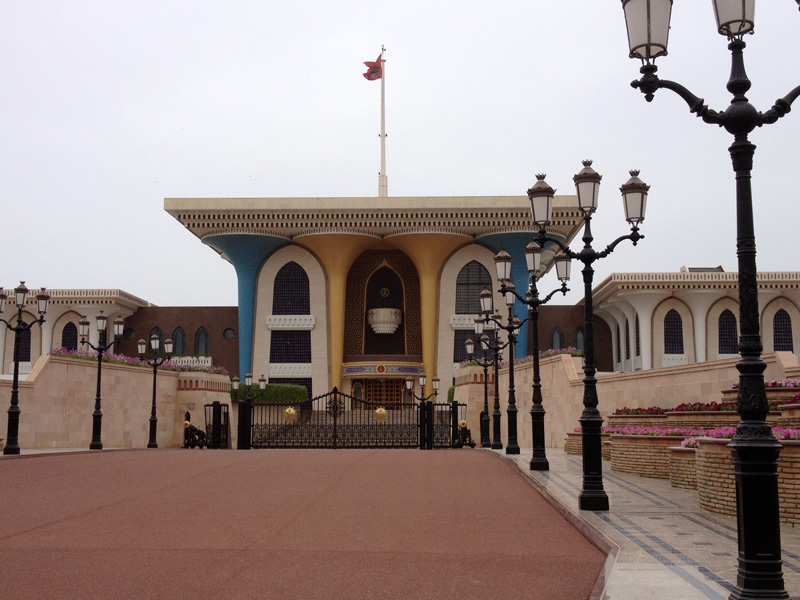 Apart from the beaches, there's not a huge amount of green space in Muscat other than the Qurum National Park. But there are the wadis – the river valleys that lie amid the dramatic mountain scenery and that have been a fundamental part of life in Oman forever and a day. Criss-crossed with streams, ponds and small lakes, they bring life to often barren landscapes. But they can turn into dangerous, raging torrents after heavy rains.
We drove out to Wadi Mayh, by no means the most spectacular of the wadis but handy for the city. Many families were out there too, having a picnic amid the boulders strewn across the valley floor (along with the ever-present rubbish). Children explored the rock pools and hidden waterways.
One welcoming family invited us to join them for coffee and traditional sweets – a family, I'm pleased to say, who actually took their litter away with them. They were genuinely interested in where we came from and what we thought of their country, but the youngest daughter made her sisters giggle by pointing at my grey beard and muttering. Apparently, I reminded her of their granddad.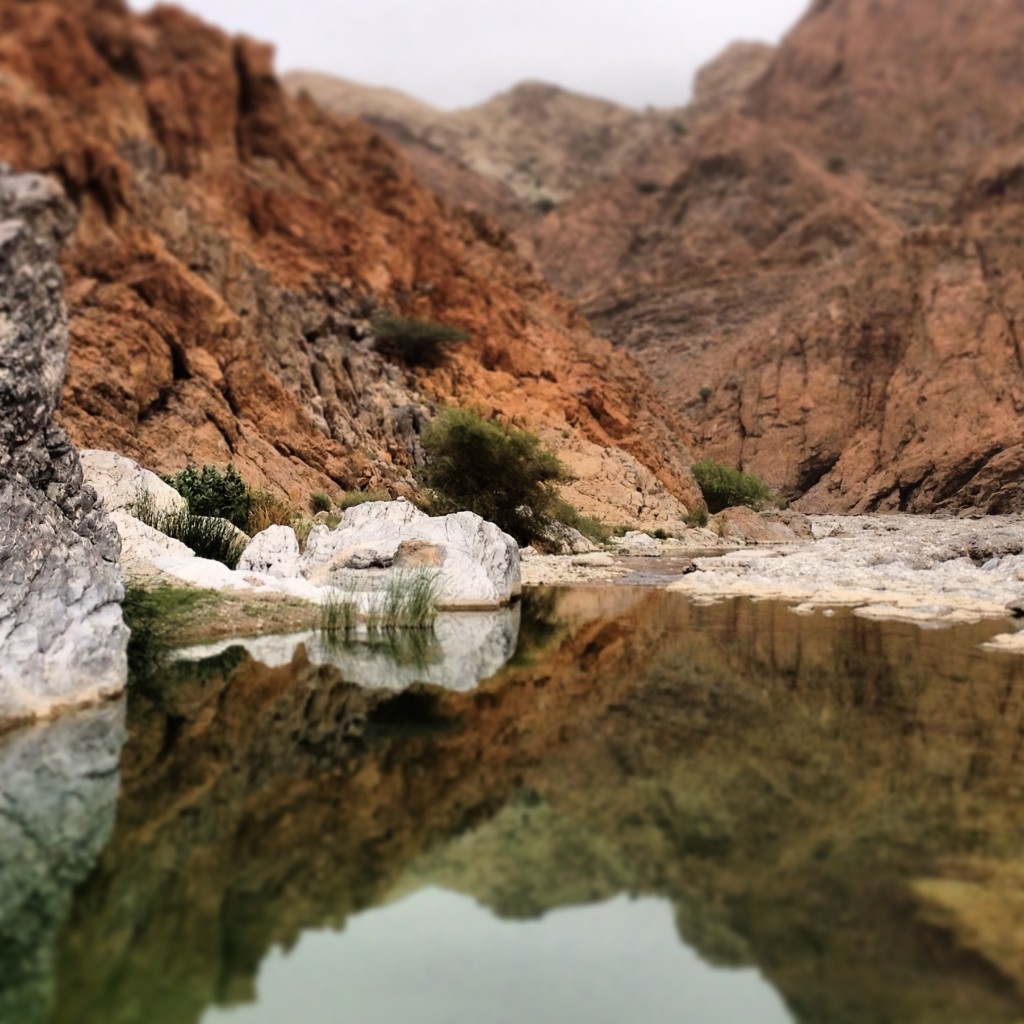 Recovering from that blow, we headed home. We should've hired a 4×4 to explore the wadi further as the roads were just not up to a bog standard hire car. Indeed, part of the road had been washed away by recent flash floods.
Muscat is a surprisingly cosmopolitan, international capital. Like many a Gulf city, it's got sizeable Indian, Iranian and Pakistani communities, and many other nationalities live side-by side with Omanis. Their presence is reflected in the clothes people wear, the shops and souq traders who cater for them, and the restaurants.
Curry houses sit alongside restaurants serving more traditional Arabian fare, although we didn't find many places that did it particularly well. Depressingly, they also sit alongside the ubiquitous KFCs and McDonalds, full to bursting with young (and usually overweight) locals.
We had some excellent meals at the Hyatt, and dined in their Italian restaurant Tuscany on Christmas Day. A few days later we ventured along the coast a few miles to the incredibly swanky Chedi Hotel and ate good food in an achingly trendy environment.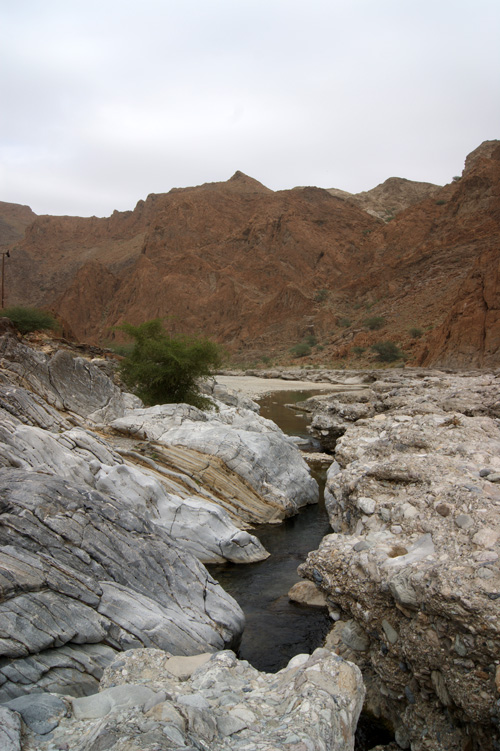 The hotels were the only real options when it came to boozing. The Hyatt had the sophisticated John Barry Bar but its Safari pub was one of the weirdest places I've ever been to – overflowing with Arab men knocking back the alcohol, watched by a suspiciously large number of Oriental ladies wearing next to nothing and looking very available. We couldn't help but think 'knocking shop'.
And so our trip came to an end, and I admit I left feeling slightly disappointed. The city itself doesn't have a huge amount to see and is more a jumping off point to explore the rest that the country has to offer. We managed a day trip to Nizwa but little else – a bit dumb really considering how far we'd come.
Still, that's an excuse to return to see more of the historic and natural wonders that we know Oman has hidden away.