How should I celebrate a 50th birthday? Apart from hosting a drunken party for friends and family? How about a trip to Macau and Hong Kong?
Day one was never going to be one of the highlights of this very special holiday. Eleven hours in a British Airways Boeing 777 is a bit of a challenge, even with my love of flying and our choice of business class seats. My 50th in Economy? No chance…
We grabbed a few hours in the Galleries Lounge at Heathrow T5 before flight BA27 (G-YMMI for those like me with a nerdy interest in such things) took off around 9pm. The rest passed in a blur of films and food, booze and sleep, all taken care of by the excellent Carol, the Cabin Services Director, and her fine crew.
We landed around 4.30pm local time in Hong Kong, surrounded by disappointing mist and low cloud, for the first of the day's challenges – finding something to occupy us in an international airport until the 7.50pm Macau Ferry departure. We could've travelled into Hong Kong itself for an earlier ferry but the thought of carting luggage around for precious little time saved was not for me.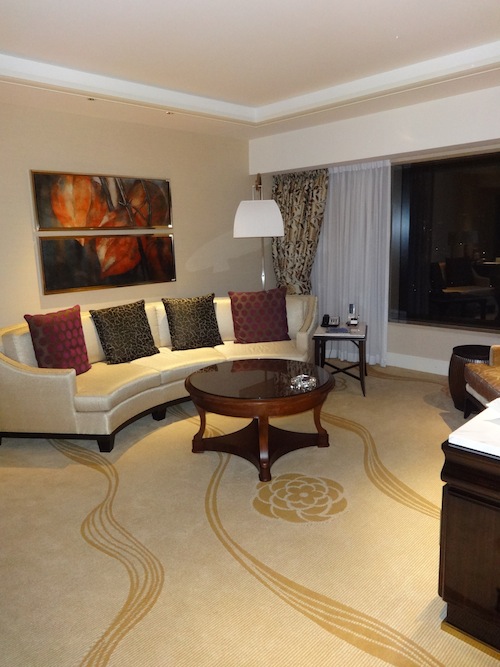 As we feared, there was nothing to do other than walk around the airport and fight off the horrors of jet lag. The most bizarre thing (other than spotting a drink in a shop called, worryingly, Pocari Sweat) was watching health squads zapping arriving passengers with temperature gauges, no doubt in a bid to stop some horrid virus coming in with them.
One 45-minute ferry trip later in the dark and the rain, we got through Macau immigration easily, picked up our cases and found a taxi to the Conrad Hotel on the Cotai Strip. With the Macau Grand Prix taking place during our stay, there were road restrictions and grandstands all over the place.
We made our way over the bridge that divides the two main parts of Macau and eventually arrived in what looked like the Las Vegas of the far east. And what a swanky hotel the Conrad turned out to be. All that travelling proved worth it for we were treated like royalty and upgraded to a suite – one that was almost as big as our flat back home. I don't think either of us could quite believe our luck.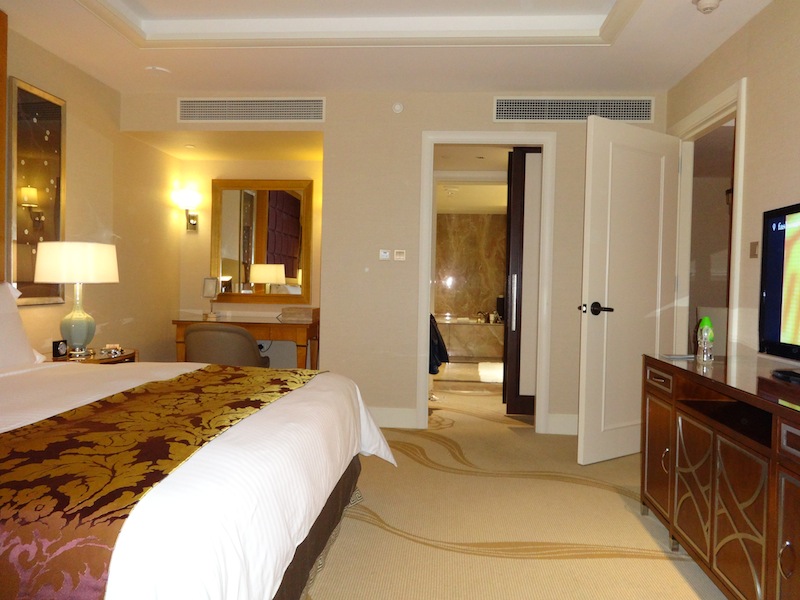 Arriving late, our food options were limited to a crappy buffet in the vast hotel complex, which included a Sheraton and a Holiday Inn, but we managed a few beers in the Conrad's lounge bar to help us sleep and wandered around to get our bearings. It wasn't so much a hotel, more a small town. And one that was packed with people and bling.
We chose Macau as a destination for the gambling, and we wandered into one of the casinos only to discover that minimum bets in these parts are high. Roulette looked like the cheapest option, at least at the Conrad, but the Chinese love baccarat and the tables ran off into the distance, lost in a haze of cigarette smoke.
But there was no gambling for us on our first night. The priority – to sort the jet lag, get some sleep and be rejuvenated for the morning.