It was time to leave Macau and to continue our adventure in Hong Kong.
The sun was strong as we packed and checked out of the Conrad, ready to swap a Chinese-Portugese way of life for Chinese-British.
The hotel had been a highlight of our stay, even if it was stuck out in the middle of nowhere in Macau's artificial Vegas-style development. Our luxury suite had spoilt us, the lounge bar had been a favourite stop.
But this was the Macau of tourism at an industrial strength, so the foodie experience hadn't been as good and it hadn't felt particularly real. Perhaps we should've stayed in the heart of the city instead…
Old Macau was undoubtedly fascinating. We'd found plenty of historic buildings but also plenty of modern developments, thrown up to cater for the ever-growing population. Some of the buildings looked as if they'd fall apart when confronted by even the most modest of typhoons.
We found the city full of life, colourful, smelly and noisy. Wherever we looked rich stood in contrast to poor, old clashed with the new. Familiar western shops stood alongside their local neighbours, providing clear signs of encroaching globalisation.
It's unlikely we'll return and I certainly won't miss the constant and grim sound of locals hawking up phlegm – but Macau was fun and an experience I wouldn't have missed.
So we left to catch the Kowloon Ferry, dodging the Grand Prix chaos, and found ourselves on a choppy sea, occasionally catching glimpses of land that was otherwise lost in the heat haze.
Hong Kong came up on us suddenly, the only real indication being a sharp increase in the number of ships and tankers around us. And then we were docking near the giant Ritz-Carlton building in Kowloon.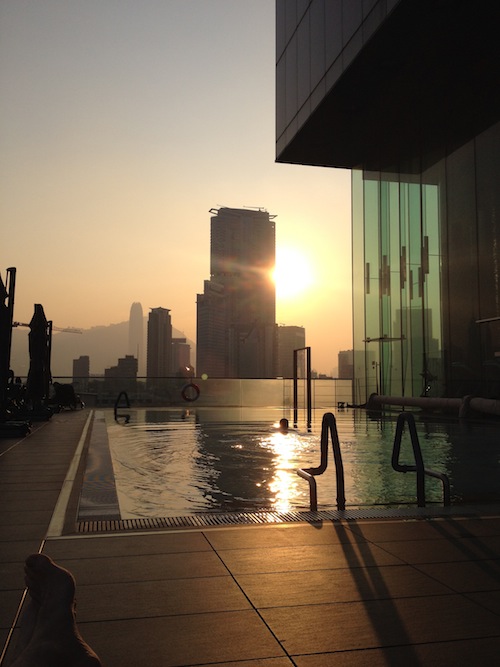 We queued for ages to get through immigration and then found ourselves a cab to the Hotel Icon, our base for the week. It was going to be a very different hotel to the Conrad – run by a polytechnic that trains its hospitality students there. Modern and stylish, the hotel stands in an otherwise lacklustre part of town but we found its staff to be young and friendly.
Our room was small but had an amazing view of the harbour. We grabbed a quick lunch in the ground floor Green cafe and bar and then spent a few hours by the pool up on the ninth floor. It has the most amazing views over towards Hong Kong Island and the harbour. As we read, the sun set and the lights on the towers over the water came on. It was one of those magical sights that everyone should see at least once.
Later, we went back to Green and consumed far too many cocktails, spending a fortune in the process. We ate in the hotel's celebrated 28th floor restaurant, Above & Beyond, with its modern take on traditional Cantonese cuisine. Neither of us were that hungry, sadly, and being rather pissed too, we didn't really get the best of it. Still, what I had was utterly delicious. And again, the view of the harbour was stunning.
I knew we were going to like Hong Kong.