On my trips to New York City, I've been drawn to Brooklyn. It offers something different to the manic streets of Manhattan and boasts some fine architecture and views.
As one of NYC's most exciting neighbourhoods, it also has some notable cultural institutions and lush green spaces. The district takes its name from the Dutch Breuckelen, which means marshland.
Brooklyn was where I found signs for BoCoCa, DUMBO, Fort Greene and trendy Williamsburg, and where I found a New York away from the intimidating skyscrapers, the money of Wall Street and the fashionable boutiques that line the shopping streets in and around 5th Avenue.
On our first visit, we went for the lazy option and got the Metro from Manhattan. But on my second, visiting without Graham, I took a walk across that NYC icon, the Brooklyn Bridge, instead.
The world's first steel suspension bridge, it opened in 1883 to span the East River and was designed by engineer John Roebling, who died before building began. At least he didn't get to witness the disaster that greeted its opening, for fears that the bridge would collapse under the strain caused a stampede in which 12 people died.
In the 21st century, walking across the bridge can be just as much of a crush. Pedestrians – of which I was one – jostled with impatient cyclists for space, and numerous souvenir sellers crowded the pavements still further. But the views back to Manhattan were certainly worth the aggravation and I enjoyed a close-up view of the engineering that supports the immense structure.
I turned right off the bridge and ended up in historic Brooklyn Heights – one of the most beautiful districts in all of New York City. I discovered shaded, quiet streets full of beautifully restored properties, including the city's signature brownstones.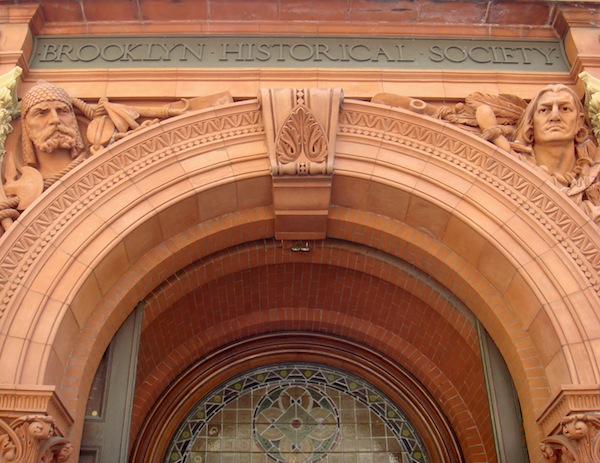 At Montague Street, cafes overflowed with locals and visitors taking lunch, and nearby stood the grand Brooklyn Historical Society building, home to a museum and library. Built in the Renaissance revival style in the 1870s, it's a riot of terracotta.
Walking through Brooklyn Heights, I emerged on to the Promenade, a wide path with some of the best views of Manhattan when the sun is shining. Ahead of me, the East River was alive with ferries, while sightseeing helicopters buzzed in the skies above.
Around me were joggers, families out for a walk, parties of school children, office workers taking a lunch break, the occasional drunk and the odd weirdo. In short, they represented a typical slice of New York life.
On the water's edge, I explored Brooklyn Bridge Park – a long-term project designed to rejuvenate the old industrial waterfront. Back when we first visited, much work still remained to be done to bring it to fruition. On my second, I could see the changes, even if Hurricane Sandy had caused damage to parts of the site in 2012. Out of empty wastelands of concrete and rusting iron had emerged green spaces, young trees and colourful planting.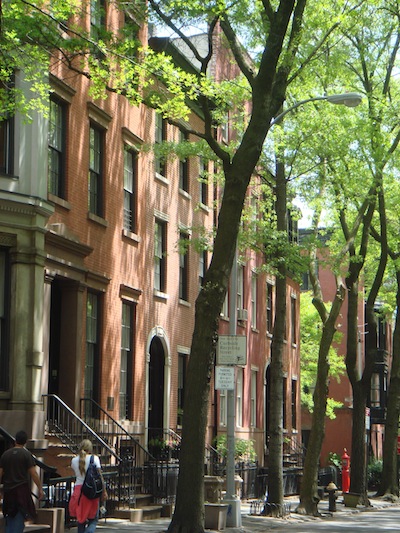 The park runs under Brooklyn Bridge to the north of the Manhattan Bridge, and I appreciated the great views of those immense structures from below. I took loads of photos and watched as a newly married couple posed on the water's edge for their photographer, the bridge framing their pictures.
Walking away from the park, the peace was shattered by the surprising sound of gunfire. Nobody seemed too bothered and it turned out to be coming from a TV crew filming on location, with cameras and lights, actors and crews from one of the many US cop shows.
In DUMBO, a huge amount of work had been done and was still being done to revitalise many of the old industrial buildings, turning them into trendy apartments, shops, boutiques, cafes and restaurants. Parts looked amazing, others like a building site, with pavements ripped up and being relaid. When I was there with Graham, we'd stopped for a coffee and watched the world go by. On this visit, I walked on…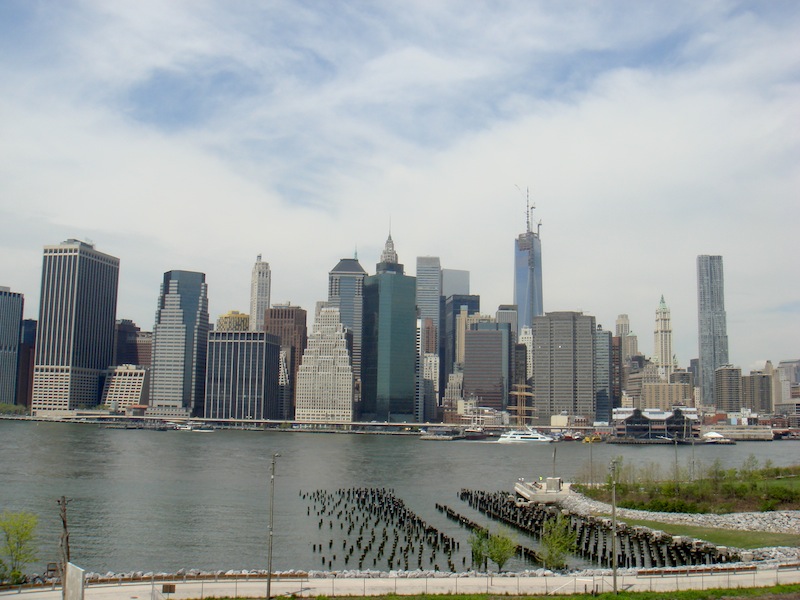 There's plenty more in Brooklyn that we've yet to see, including the New York Transit Museum (yes, I'm a bit of a fan of transport museums) and green Prospect Park. The latter was designed by Frederick Law Olmstead, the man responsible for New York's Central Park. The Botanic Gardens are a feature and nearby is Brooklyn Museum.
And if that's not enough, there's Fort Greene Park and Brooklyn Brewery to look forward to on our next visit. Which can't come soon enough…