No matter what the time, it was hot and humid in Charleston. And with a belly full of food and booze from the night before, neither of us fancied a heavy breakfast.
So we popped out for a quick coffee and a pastry at a local cafe instead, before going for a walk around Charleston's historic district. At least going out early meant we could avoid the worst of the heat.
We started at the historic Circular Congregational Church and its atmospheric graveyard, then wandered into the residential streets beyond, which proved to be a visual treat.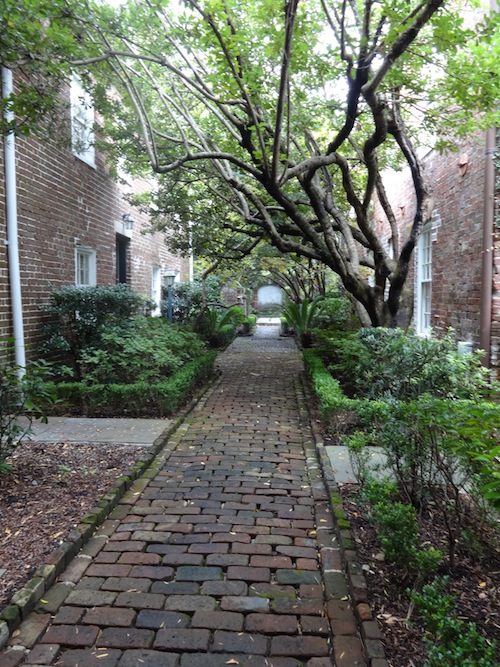 Cobbled avenues like Chalmers Street, shaded by pretty trees, were lined with countless wooden and brick houses full of charm and character, some centuries old. Most boasted verandahs and porches in the plantation style, designed to capture sea breezes from the south and east – breezes that were so vital back in the days before air-con. Indeed, I couldn't even begin to imagine what life would've been like back in Victorian times, when the air must've been truly dank in sultry Charleston.
As we walked around I felt the sweat running down my back, just as those Victorian masters and maidens would've done. And that was something I was going to have to get used to in the days ahead.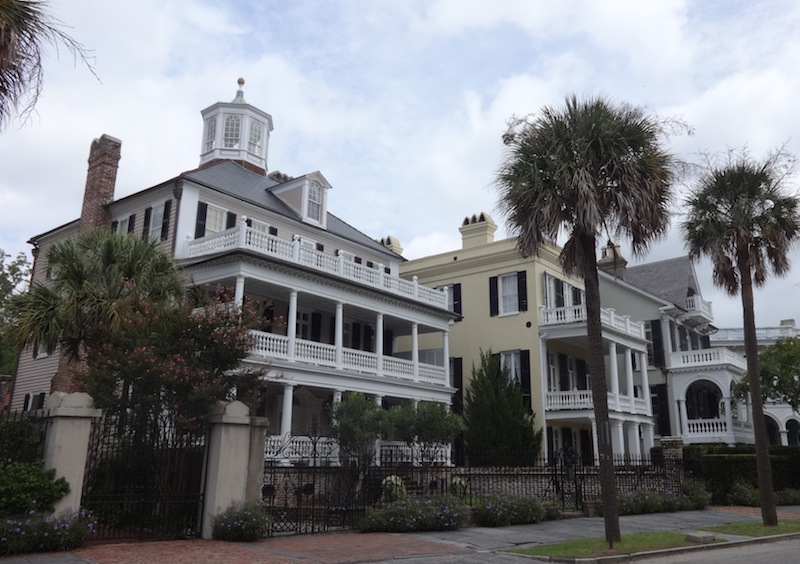 It struck me that every property was unique, the result of subtle or profound differences in their design and the way locals had decorated and painted their homes. And it wasn't just the homes. The Huguenot French Church was as pink as a marshmallow, while the Dock Street Theatre added a glam element to the local streetscape.
Everywhere were little alleyways leading to lush, shaded courtyards; small but perfectly maintained gardens.
The effect was breathtaking, perfect. It was a district where the locals clearly took immense pride in keeping the streets and the buildings absolutely grade A. I couldn't help but wonder what would happen to any resident who dared ignore the standards set by their neighbours!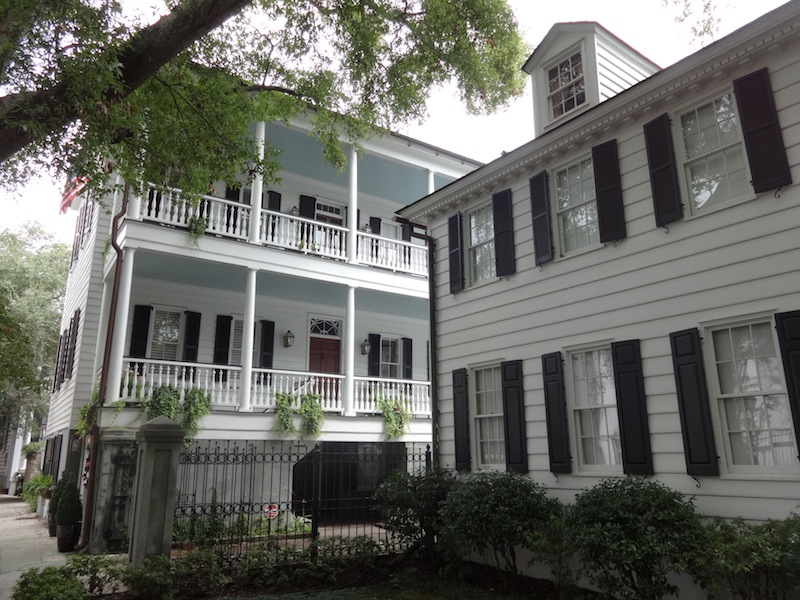 The historic district was one of the most remarkable I've visited in the US, if not the world. My only regret was that the streets were too cluttered by parked cars.
We visited the Old Slave Mart museum, which had a very poignant story to tell but didn't do it in a particularly engaging way. I always find museums with lots of printed boards and loads of words rather disappointing when there's little else to go with them, to bring the story to life. There were some fascinating recordings of elderly folk who'd been born into slavery, but few exhibits to carry the story forward. Still, the staff were enthusiastic and made us feel welcome.
In the heat we walked down to the Battery, where Confederate forces erected many of their defences against the Union army during the Civil War, but if anything it seemed even more humid there so we went back into town for lunch. Our destination was the glamorous and sophisticated Palmetto Cafe in Charleston Place, where I was treated to a truly yummy crab dish with asparagus, bearnaise sauce and crispy bacon on brioche. Again, I marvelled at the standards of service you get in American eateries… With a bottle of white wine from Santorini, it was memorable with a capital M.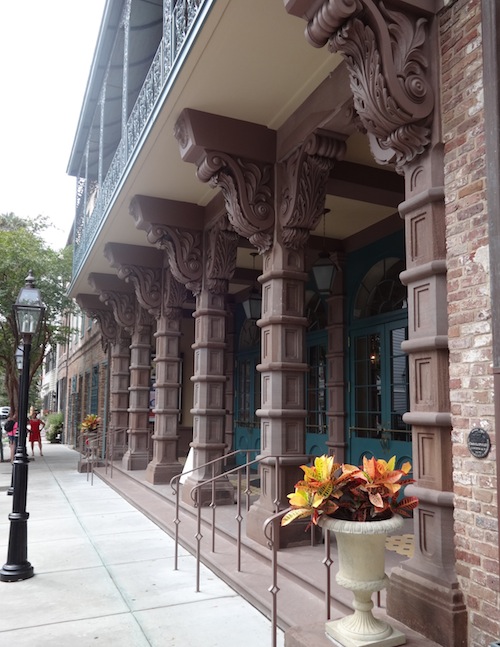 We followed that with a walk up-town to the Aiken-Rhett House Museum, the home of several important Charleston folk, including William Aiken, one-time Governor of South Carolina.
This was obviously a house on a grand scale but it's been preserved rather than restored so we found something of a shell of a building. It took a leap of the imagination to picture it as it would've looked back in its prime.
The audio tour was very good, though, and it was incredible to think that the property was handed over by the family to the museum with so many of their possessions still in place, having been locked away for generations. It meant that a number of fixtures and fittings remained as they were a century or more ago, although often dilapidated and covered in dust.
The slave quarters were particularly moving, the staff friendly and enthusiastic – as friendly as everyone in Charleston seemed to be.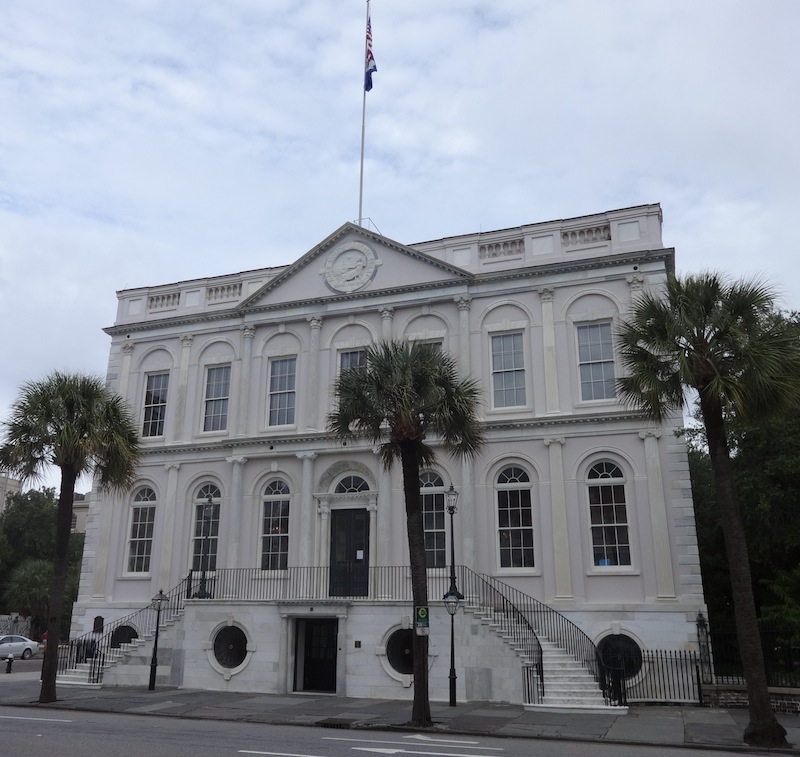 We walked back through more historic streets, although some in a more delicate state than those we'd seen in the morning.
For food, we visited Gigi's, a French-style bistro. My pork schnitzel with fries turned out be half a pig served with a field's worth of potatoes – a typical American portion and enough to feed a family of four.
For post-dinner drinks, and with distended stomachs, we went up to the rooftop bar at the nearby (and swanky) Market Pavillion Hotel. How pleasant it was to drink Yeungling lager while a gentle breeze washed over us.
From our perch we could see that the city skyline was surprisingly industrial, but then Charleston is a working port beyond the charm of the historic district.
Not that the port will be what lingers in my memory…