I've never been a fan of Shakespeare, nor have I immersed myself in his Romeo and Juliet. Verona is the home of the lovers, the Montagues and Capulets. The city milks it too. Tourists descend in their thousands on Juliet's balcony and tomb, and a bust of Shakespeare is on show in a corner of the Piazza Bra.
But it's all a load of old nonsense and both the balcony and the tomb are, essentially, a fraud.
I say this not to introduce our visit to them but to put on record that we didn't. What would be the point? Spending valuable time and money on seeing a fake balcony while being jostled by dozens of Americans makes no sense to me. And there were many hundreds of balconies on Veronese buildings anyway – many of them of great architectural merit and visible for free during our Easter Sunday walk.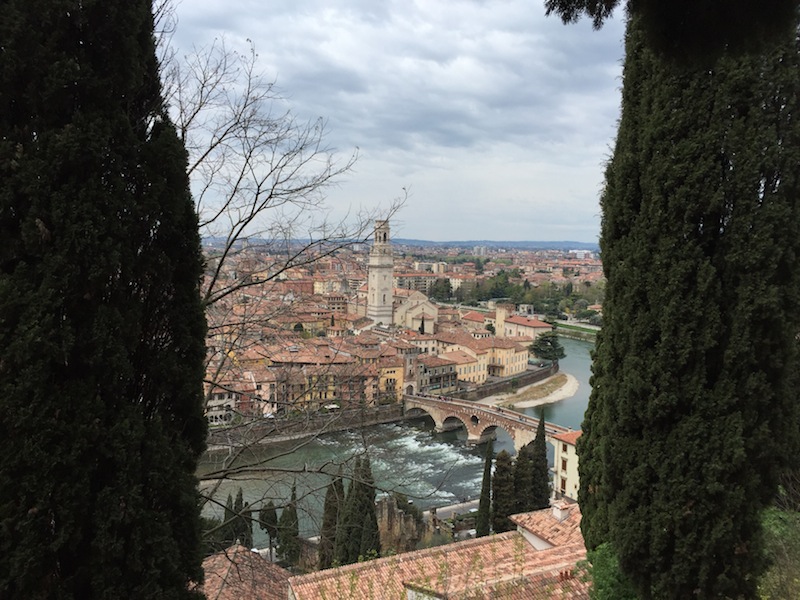 At our hotel, breakfast was a bit quieter. And I was grateful, for I was feeling the after effects of too much beer and wine, combined with my lingering cold.
It was cloudy again as we ventured into the streets, taking a different route to the high point of Castel San Pietro on the other side of the River Adige. We explored more roads lined with palazzos, some perfect, some in various states of disrepair. Meanwhile, the many religiously inclined gathered outside the city's churches, squeezing in to join the Easter services.
We crossed the river at the Ponte Nuovo and walked along the banks, the river moving swiftly beside us.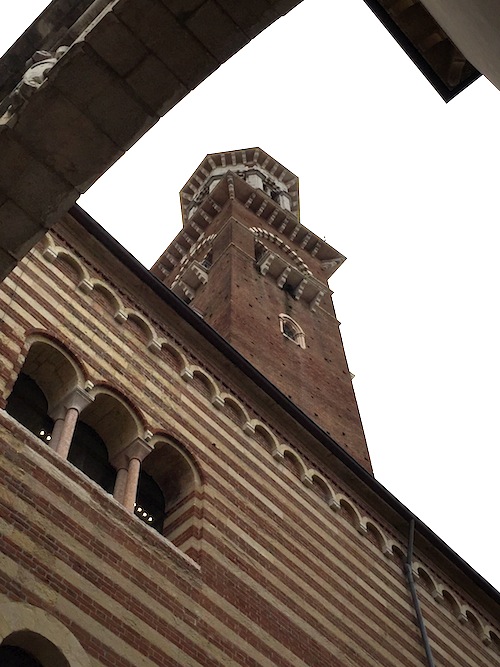 We breathlessly climbed the hill to the castle in this historic and pretty part of town. Roman remains and tourist attractions were scattered across the hillside, including a determinedly shut archaeological museum and the historic theatre. Sadly the latter was closed for repairs, as well as being prepped for a Patti Smith concert. I spotted the track of an old funicular railway, built in the fascist period, and rather regretted its closure as we continued the climb.
At the top, the views of the city were fine indeed, the old Roman bridge below us. But the castle – which looked more like a palace than a fortification – was all closed up and in the throes of being renovated, a big disappointment. A giant crane and all its detritus littered the peak.
So with nothing else to do we walked back down and took ourselves off to the Torre dei Lamberti in Piazza Erbe. Reminiscent of the many towers of Bologna, the bell tower – the tallest in the city – dominates the square and promised yet more excellent views. We queued and queued, somewhat painfully for me in front of a family chewing gum loudly. And if there's one thing I detest as a sufferer of misophonia it's people chewing gum loudly.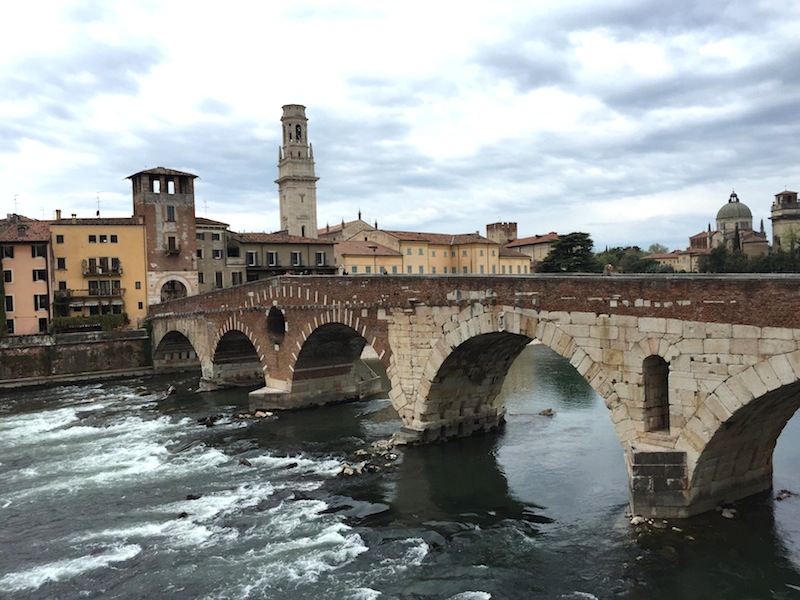 I was grateful, however, that the tower had a lift to carry us close to the top and one of several viewing decks.
My legs turned to jelly as we climbed the final flight of steps. I felt horribly vulnerable up there, as if I were going to tumble to a rather messy death at any moment, which is not how I usually feel with heights. But the views were worth the pain. Below us lay a sea of red rooftops and imposing church towers, narrow lanes and beautiful buildings. Beyond were the more industrial suburbs and the mountains.
Getting lunch was a next to impossible task. Restaurants were busting out all over with families celebrating Easter and one after another turned us away – until we found the Pizzeria San Matteo. Set in a converted church and a victim of tacky 1990s design and furnishings, it was mass catering and we waited ages for our meal. The food was OK but nothing special.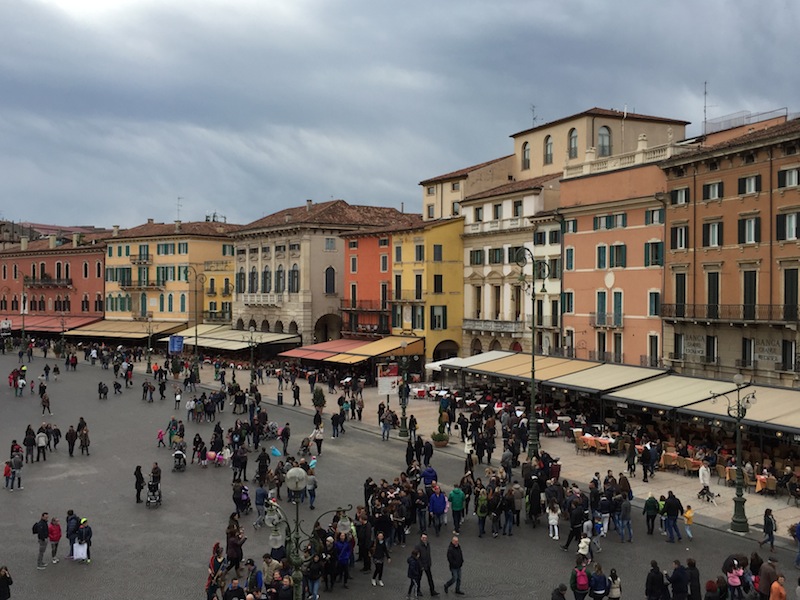 We walked back to Piazza Bra and visited the Roman arena.
It's incredible that it's survived for so long and that it's still in use, home to a summer opera festival and other concerts throughout the year. But I couldn't help but feel disappointed by the experience. The equivalent at Rome is bigger and more intact, for Verona's lost most of its outer walls in a 12th century earthquake.
El Djem in Tunisia was bigger too and although sections of it were gone, it was virtually empty when we visited and a lot more atmospheric. We could visit the underground cells where gladiators and wild animals awaited their fate.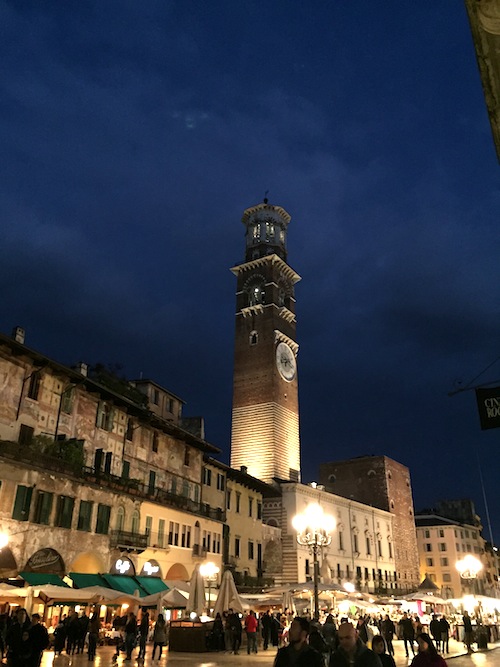 We stopped for more afternoon beers and people-watching in the square and later searched out somewhere for dinner. Again, we struggled. Again we ended up disappointed, stuffed with an average pizza at a touristy restaurant on Piazza Erbe.
The nearby bars, bustling again, full of good looking locals, provided some alcoholic compensation.
The next morning we woke, breakfasted and drove off to the airport – our short visit over. Two days had been enough to experience this attractive, busy city.
The sky was a brilliant blue, and people walked about in t-shirts as we rode in the back of the taxi.
Typical…