At first sight Takayama looks much like any other Japanese town or city, with lots of post-war development that lacks charm.
Perhaps understandably, the priority after the devastation of the Second World War was putting roofs over heads rather than architectural quality. Perhaps too, the Japanese prefer practicality rather than prettiness in a land devastated so regularly by earthquakes and other natural disasters. Or is it that they like to focus on interiors?
Takayama does have plenty of characterful and historic buildings amid the drab modernity. We went out for a walk to discover them after a basic breakfast at the Best Western, a hotel that caters more for local tastes and large tour groups.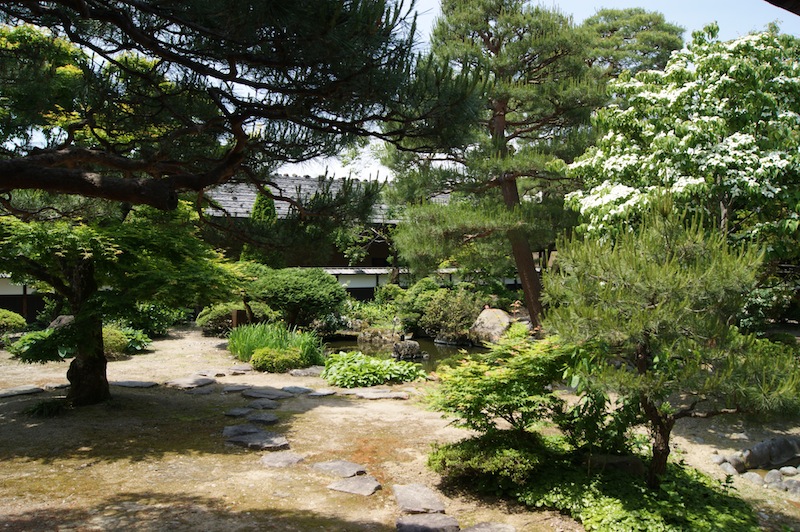 The weather was kind to us as we walked into town and stopped at the Takayama-jinya, a sprawling set of wooden buildings that had previously been government buildings. Typically Japanese, with paper screens and seductively soft tatami matting underfoot, the rooms housed the clan allies of the ruling shoguns, who sat in judgement on locals and issued the laws. It was all very attractive, despite the hundreds of school children who hovered around, and the gardens were predictably beautiful.
We crossed the river to the charming Sanmachi-suji district, the historic heart of the city, with streets lined with more wooden properties, which this time housed shops, sake breweries, cafes and restaurants. There was some stunning stuff on sale, including immaculate stationery, bottles of sake with colourful labels and beautiful lacquer work. We could've spent a fortune.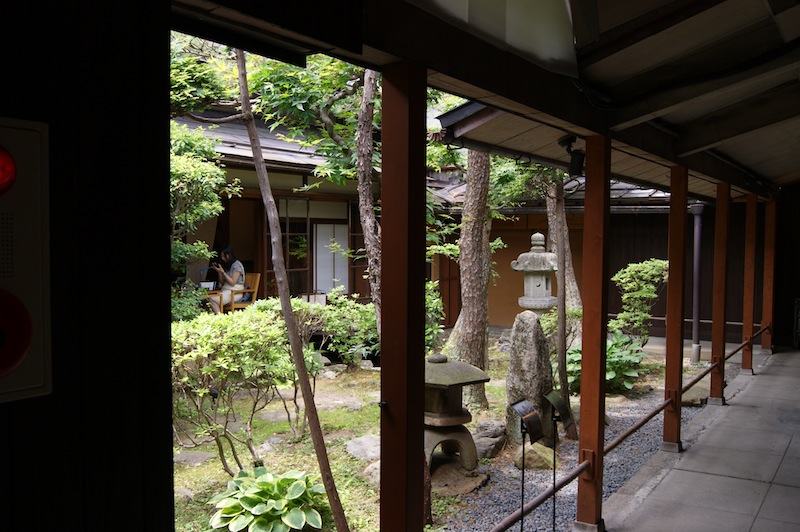 Instead, we stopped for tea and cake at one of the cafes, finding some peace away from the crowds. I tucked into green tea cake and Graham had the much more seductive looking Japanese version of trifle.
Later, to walk it off, we climbed the hills to the woods but our afternoon hike through Shiroyama Park ended up being a non-event. It was closed for repairs, and there were warning signs about roving hungry bears. Not wanting to encounter a particularly ravenous one, we clambered down a dodgy footpath to the Teramachi and Shiroyama-koen districts, where we could walk through a long line of temples, shrines and their landscaped grounds. On the outskirts of the town, they were surrounded by woods and large cemeteries. The temples were universally immaculate, gorgeous and mesmerising but there were lots of them and after a while I began to yearn for something different.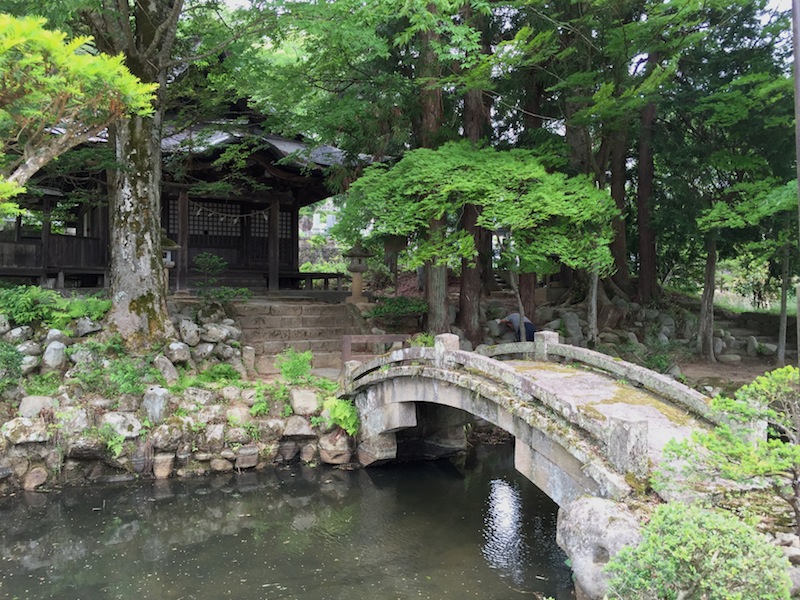 Back in town we crossed streams and explored quiet back streets and I realised just how much water there is in Takayama. It pours off the hills into channels that run along the sides of the roads, on into streams and the Miya-gawa river. Away from the traffic, all I could hear was the sound of water tinkling its way to the river under the force of gravity.
We stopped off at the Kusakabe heritage house, a large traditional building that showed us how (very important) people used to live in Takayama's past, along with the paraphernalia that furnished their home. And finally, with sore feet, we relaxed over a beer by the river. There we saw large carp in the shallow water, while above it were strung giant plastic fish that must've represented some sort of festival or celebration.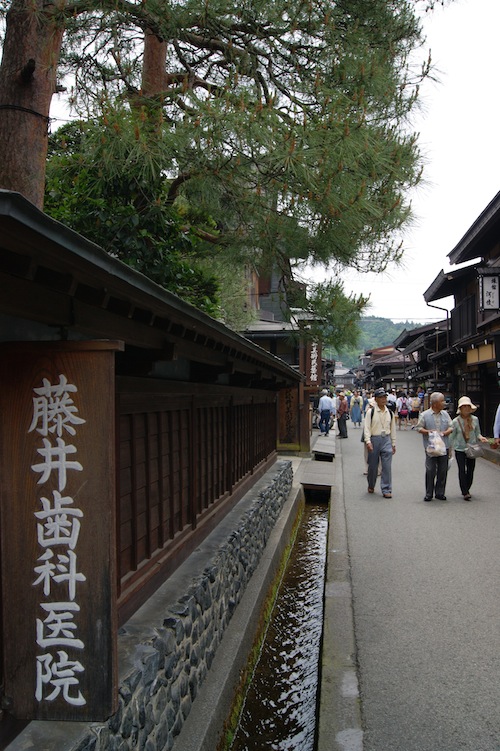 At night we found Center4 Hamburgers, a tiny restaurant hidden behind an antiques shop, that served some of the best burgers ever, made out of the excellent local Hida beef. Relaxed, friendly and popular, it was a real highlight of our stay.
Afterwards, having done our homework, we discovered the Red Hill Bar, a small red cave of a place with a delightful and friendly owner and a busy crowd of tourists. We chatted to an Aussie girl and her English friend as the drink flowed and the ciggie smoke swirled around. And I was grateful that we'd found ourselves some nightlife in Takayama.