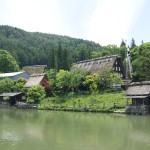 It was our last day in the Gifu city of Takayama, and we decided to go traditional. Or rather to spend a few hours in a tourist attraction that recreates the past.
The Hida Folk Village was on the other side of town, a bit of a trek away from our hotel through the unattractive modern sprawl of the city. The only thing that made the view bearable was a giant gold-roofed shrine that dominated the district, a creation of the 1980s that serves as HQ for a religious sect. I read later that it was set up by a Japanese businessman who one day got a message from someone on high. Or so the story goes…
It was a baking hot morning so we stopped off to buy hats to protect our balding pates, and then got lost and needed guidance from a couple of fellow European tourists and a charming local.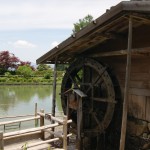 The folk village, reached via a street lined with touristy stores but nestled amid the woods, is not quite as tacky as it sounds for it's been responsible for saving a large number of traditional Hida homes and other characterful regional buildings that might otherwise have been bulldozed to make way for the modern.
With their steep, thatched roofs, they reminded me of the Asterix cartoons! We climbed among them, repeatedly and dutifully taking our shoes off and putting them back on again as we toured the interiors. One was much like the other but there were plenty of glimpses of the old ways, such as exhibits on silk farming and how locals coped with the immense local snowfalls. Many of the buildings housed workers demonstrating traditional crafts, such as weaving and pottery, and selling their wares in a typically Japanese way – in other words with nothing of the pushiness you'd get in the west.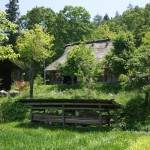 I bought a wooden spoon from a very old man who'd built up a huge pile of them and seemed mildly surprised and embarrassed that anyone would want to purchase one.
Some agriculture was being practised (no surprise that it was rice cultivation) and a water wheel churned, powered by a stream that emptied into a large pond at the heart of the village. We learnt that this was once a reservoir that helped irrigate the fields – before they got built on and became modern Takayama.
Exhausted by the heat and traipsing around, we got the bus back into town, ate a pasta ragu made from local Hida beef at a faux French restaurant and went shopping for a lacquer box as a souvenir.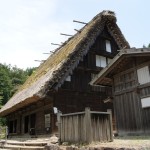 It rained a bit so, purchase complete, we sat and had a beer, watching the locals driving past in their ugly boxy cars, which we were later told were a perfect match for the narrow streets. Others wandered past with their cute dogs, because nobody seemed to have pets that weren't cute in Japan. And we pondered another weird thing about Japan – that while they've been at the forefront of technological advances over the years, they seem tied to some very old fashioned ways of doing things. For example, I've never seen a people so tied to the calculator for many a year! If you find a till in a shop that calculates what you owe, you've hit gold.
Come the evening we ate at an average place called Suzuya, which was pretty quiet apart from an American and a Malaysian girl, who was the noisiest eater known to man and revolted me to the core of my being. It sounded like she was having to suck everything through at least five sets of teeth. Bizarrely we bumped into them in the Red Hill Bar a bit later.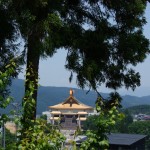 There, the charming owner discovered we'd recently been to see Bryan Ferry in Oxford, a city she had fond memories of visiting in her younger years. To celebrate, she put his new album on. And I liked her even more. I'm not sure what the others thought…
It had been a great bar for us. A real find. We had a good look through the guest books scattered about, filled with art and jokes and simple comments from appreciative visitors. We made a note in one.
But as is the way of things, I guess we'll never visit it again.