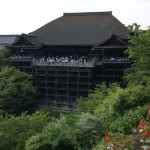 Our stay in Takayama was over and it was time to head to Kyoto, the historic heart of Japan and the climax of our trip.
Takayama had been an interesting diversion, a taste of a smaller Japanese city, but three days was quite enough. Indeed, many people we met there were surprised we'd visited for that long.
So we left the Best Western – a friendly if not outstanding hotel – and ventured the few yards to the station, to retrace our steps to Nagoya on the train. On the platform were many familiar faces, including the Europeans we'd followed to the folk village and the noisy Malaysian eater.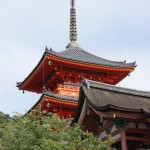 The journey and the landscape were familiar – the hills and mountains, forests and rivers, dams and hydroelectric plants, pylons and endless paddy fields. We positively raced down the line as I dived in and out of an Agatha Christie.
We changed on to the bullet train at Nagoya for the short jump to Kyoto, through an unexceptional landscape broken only by the occasional stretch of water.
Kyoto came as a bit of a surprise as we trundled through its streets in a taxi from the station to the Hyatt Regency. I was expecting the city to be a time capsule, all history and temples. In fact, most of what we saw was much like Tokyo or Takayama – modern and largely characterless. The hotel had a 70s vibe and a decent Italian restaurant, where we ate lunch and waited for our plush room to become available.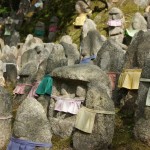 In the afternoon, in the sweltering heat, we walked to one of the city's million or so temples and UNESCO World Heritage Sites, the Kiyomizu-dera. A tiring climb up a hill past numerous souvenir and craft shop saw us joined by what seemed to be the entire population of Japan and China.
The temple was absolutely rammed so we found a quiet corner nearby, had a beer and chilled out for a bit, before battling our way through the crowds and grounds. They were full of buildings, some of them being restored, some a startlingly beautiful orange. Amid the woods stood a pagoda, which we walked to and that offered the best views of the main hall, which juts out over the hillside, supported by immense wooden pillars.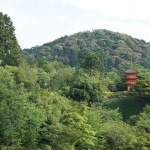 Below, a little waterfall had been turned into a shrine for the faithful, who queued to wash in the water and make their devotions.
I tried to get in the mood but it was very difficult with so many people around, all getting in the way as they took their photos and threatened us with selfie sticks. And there were so many little shops and stalls, it felt more like a market than a temple. I had a sinking feeling about Kyoto. Had its charms been devastated by mass tourism?
We had a nap at the hotel and later caught the metro to downtown, the main nightlife area. Crossing the river, where numerous young couples sat together on the banks in the gloom, we found a city buzzing – a relief after the dullness of Takayama.
We walked down atmospheric Pontocho, a long but bustling alley absolutely rammed with restaurants and bars, traditional wooden buildings and red and white lanterns. All hid their attractions behind screens and doors, making it difficult to make a choice. Many of the ones on the river side of the street had verandas built on stilts, standing above a little canal that ran parallel to the river. We stopped at one of the bars, Atlantis, for a drink.
We dined at Copain, a friendly katsu place where jazz played and our chef deep-fried one thing after another until we told her to stop. Mostly it was delicious. A friendly local helped translate, and talk was of a large earthquake that had struck in the ocean far to the south. Apparently it shook buildings on land and stopped the trains, but we hadn't felt anything.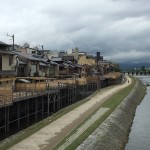 For drinks, we stopped at the oddly named jazz bar Hello Dolly. It looked like a cross between a traditional American bar and a British granny's living room.
It was a friendly place but I doubted the concept would ever catch on.