What a way to spend a birthday. 
I woke in our Kyoto hotel with dreadful back pain, aching legs and dodgy guts. Poor Graham – his big day and I was going to be no fun at all. However, I somehow managed to get to breakfast, ate lightly and swallowed ibuprofen. Outside it looked gloomy and rain was forecast.
I blamed Himeji Castle for most of my misfortune. I'd twisted myself tense climbing up and down the steep staircases there, which must've done something to my lower back. I also blamed the incredible amount of walking we'd done on our holiday, without proper walking boots or relaxing days away from the sightseeing to recover.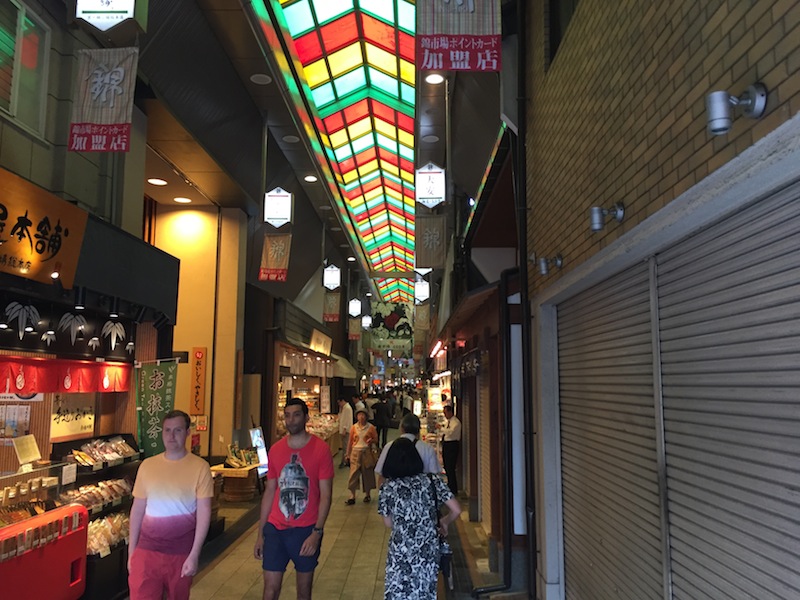 I couldn't face sitting indoors all day so we went out to Kyoto's main shopping district to have a nose around, buy tablets and heat pads (rather difficult when you can't understand a word on the labels in the pharmacy and the staff speak barely a word of English).
Clouds hung heavy but the rain stayed away and I limped along with a suspect mincing action, occasionally breaking for a rest. We made for Nishiki Market, the main food district of Kyoto. It was like London's Borough Market, offering a huge amount of produce, much of which I'd never seen before and some of which looked about as appealing as a plate of tripe. One thing about the Japanese diet – it's varied and colourful.
We found a stationery shop with lots and lots of beautiful things, all of which I could've happily purchased. Graham settled for some paper that would look great in plain frames.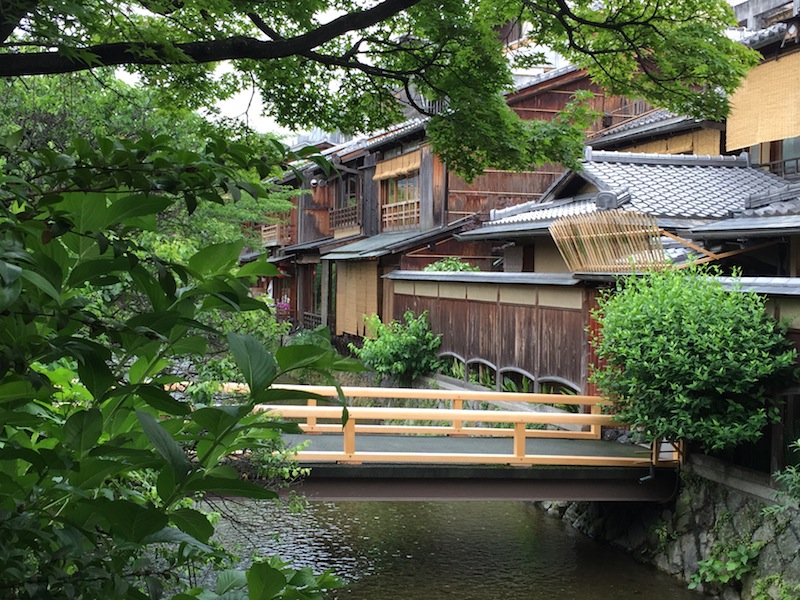 Later we crossed the river to Gion and the old Geisha district, Shimbashi. It's one of the prettiest parts of the city with a canal backed by traditional wooden buildings, which are mainly bars and eating places these days. Trees provided shade and a couple of herons posed for photos while waiting to nab some fish from a restaurant's little pool.
A hot bath later, we popped into town to meet Matthew and Paula – the couple from New York we'd met in Takayama. It was great to see them again and we took them to one of our local haunts, Bar Atlantis, sitting outside as the clouds began to draw away. I pondered how rare it was to meet people like this on our travels and we invited them to look us up when they're next in London.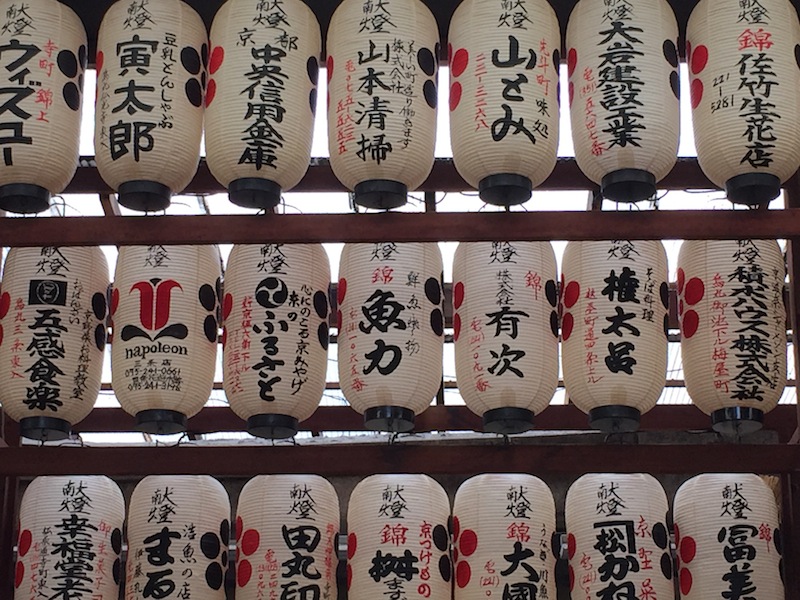 To mark Graham's birthday we ate at one of the city's best-rated restaurants – Chao Chao Sanjo Kiyamachi. Not that it was flash, more spartan, loud, basic, studenty. The atmosphere was great and the gyoza was amazing.
We ate heartily and returned to Atlantis for more beer, your host hoping that too many would numb the back pain. We chatted to a girl from Nara who was there with a boyfriend. She'd studied ballet in London so knew English well. Her other half didn't. So, in a sense, we were lost in translation…