Our last full day in Kyoto. And that meant we had to visit all those temples we'd promised ourselves when we were planning our holiday but had never got around to.
And that would be despite my bad back. A bad back that had given me another restless night. But at least it wasn't quite as bad as the day before, and we'd decided to take cabs to avoid too much walking around.
We kicked things off after breakfast with a trip out to the north east of the city and Kinkaku-ji, famed for its Golden Temple. And what a beautiful sight it was too, sitting by the water beneath a deep blue sky, shimmering in the heat of the June sunshine. Of course there were tons of people there, all jostling to take photos. And it was while we were amid the throng on the water's edge admiring the beauty of the place that we bumped into our friends Matthew and Paula again. It seems we were meant to be together on this holiday…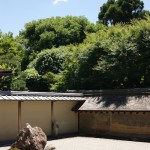 So we spent the rest of our visit walking through the temple gardens, chatting to them about this and that. Not that there was much else to see. Graham, however, got a talented craftsman to write a prayer in beautiful script in his scrapbook of our journey.
We moved on with our friends to Ryoan-ji Temple, one of their suggestions, famous for a centuries-old Zen rock garden. It's just a rectangular plot of gravel surrounded by low walls, with 15 rocks set down in small groups on patches of moss. Apparently, from any vantage point at least one of the rocks is always hidden from view.
I could've sat and contemplated – as one is doubtless meant to do – but it was difficult to get into the Zen thing with all the crowds hovering around us. So after a short attempt to get my mind attuned to it we walked off into the grounds, which included a large lake stocked with water lilies.
We said another goodbye to Matthew and Paula and ventured south on our mad dash around the city to the Fushimi Inari Shrine, a Shinto shrine and one that I'd particularly looked forward to seeing. After a lunch nearby of sushi, where we sat next to the noisiest Chinese eaters known to man, we walked through the busy grounds in the heat, admiring the orange buildings.
The shrine is best known for a pathway up to the summit of a nearby wooded hill that's lined with thousands of red and orange torri, the gates that mark the transition from the profane to the sacred. It's an incredible experience walking among them, snapping pictures, trying to find a moment free from other tourists.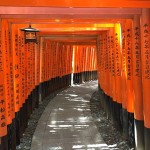 Coming downhill, we saw that the apparently plain gates – of varying sizes – are carved with the names and dates of the donors.
We wanted to climb to the top but my back just couldn't take it. So when we came to a natural break near a pond, we turned round and headed back towards the hotel to visit the neighbouring Temple of Sanjusangen-do.
Here, in a wooden hall dating from the 13th century that's the longest in Japan, are 1,000 standing statues of the Buddhist deity known as Kannon – and one giant seated statue at the centre.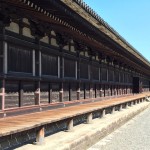 We traipsed through and admired them – and they too date from the 12th and 13th centuries – while the devout prayed around us. Later we took a little walk through the pretty grounds in the sweltering heat.
In the evening, and keen to try more of the incredibly tasty beef they produce in this part of the world, we went into the Geisha district of Gion  to find somewhere to eat, an experience that proved one of the most stressful parts of our visit to Japan. I wish that Japanese restaurants were more open to the world – in the sense of having windows so you can see inside!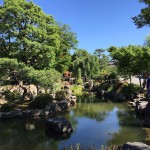 This time we ended up in a place with a private room (sadly) being served all sorts of things from a tasting menu. Not that we had much of an idea what it was we were eating.
However, there were clues from some of the other entries on the menu. These included such delights as arteries, intestines and rumen – things we'd never normally touch with a bargepole. At one point we had sushi with raw slices of beef and all I could think about were the dreadful bowel motions I'd be enduring next day. I just ploughed on, though, eating everything, hoping for the best… And some of it was delicious even if it did look disturbing.
We left full up and wandered across the river, its banks always busy with locals, and marked out last night in Kyoto in the familiar surroundings of Bar Atlantis drinking fine local lager…