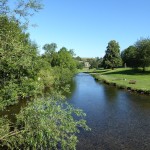 Bakewell is famous for its sweet and tasty tarts, as well as being a gateway to the Peak District National Park.
After a day in the rain and gloomy weather at Chatsworth, we drove to our hotel in the village, enjoyed a night of great French food at Piedaniel's and drank far too many bottles of Prosecco. Fortunately we woke to a sunny day and ventured out early.
Like so many of Britain's best towns and cities, Bakewell has a character all of its own, derived mainly from the stone used in its buildings. Limestone and gritstone give it a unity, and sensible town planning has kept a control on excessive development.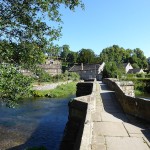 Even the post-war properties fit in well, alongside elegant mansions, cottages and terraces from an earlier time.
We explored some of the streets, popped into an antiques centre and had a walk along the shallow River Wye, through the flood plain and down to the old packhorse bridge on the outskirts. We bought Bakewell tarts and tried our first Bakewell pudding. And we agreed that it was a town we could happily settle in.
For lunch we drove out to meet family, through magnificent Peak District countryside and pretty villages to the borders of Derbyshire and Staffordshire. The views from the hilltops were amazing, reminding me in places of the Scottish mountains near Aberdeen.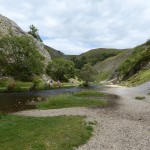 We dipped down past the proud peak of Thorpe Cloud – clearly a popular challenge for hikers – and stopped at the average Izaak Walton at Dovedale for equally average food and drink in their bar.
Suitably refuelled, we left Graham's dad and his partner behind and went off on a five-mile hike beginning in the National Trust's Dovedale. It wasn't exactly peaceful as we walked alongside the River Dove, steep hills either side of us, caves carved into the rocks on our left, scree slopes to our right. Families crowded the banks, especially where a set of famous stepping stones provided a useful crossing point.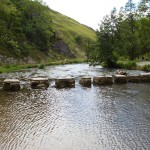 Dovedale is supposed to be one of Derbyshire's great natural spots but I found it a bit underwhelming, a bit too populated with daytrippers for my liking.
We left the crowds behind to walk up Lin Dale, climbing steadily with Thorpe Cloud to our right and sheep and sheep shit all around.
The ground flattened out at Thorpe Pasture (more sheep) before we dipped down into the village of Thorpe itself. Aside from the main road, it was a pretty little place with a dinky Norman church – St Leonard's – and some handsome properties. But I did wonder what employment there was for the locals.
We carried on downhill past more curious sheep towards the River Dove and Coldwall bridge, along a track which represents the old Cheadle to Ashbourne coach road – a track that must've been horribly uncomfortable for all those involved back in the day. An ancient mile stone sat beside the path.
The sun shone as we followed the rolling contours of the landscape, eventually coming out by the banks of the gentle River Manifold, which we followed all the way into the characterful village of Ilam. There, on what's become a roundabout, is a monument of white limestone built in 1841 by Jesse Watts-Russell of Ilam Hall. He was responsible for the Alpine-style cottages that make the village so distinctive.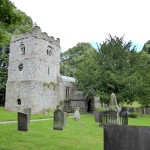 We didn't linger but continued on up into the hills and across the fields, back to where we started at the Izaak Walton. Cows grazed the pasture around us, bellowing to each other. Clouds scudded across the sky. And we jumped into the car for the return to Bakewell.
My feet ached but we managed a quick walk around the town, past the cricket pitch where a game was coming to a conclusion, enjoying a good nose into locals' homes and gardens.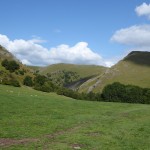 Bagshaw Hall in Bakewell was our hotel. Once home to a wealthy local, it had great views across the valley but our room was in the basement with no views at all! Still it was comfortable enough and in a quiet part of town.
That night we  tucked into classy grub at gastropub The Manners, which has rooms and seemed as popular with locals as it was visitors. A fine end to a busy day…