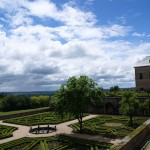 Madrid is such a great city that it's tempting to spend an entire visit deep in its wonderfulness. There's so much going on. So much of a buzz. So much to see. But with our love of a good palace, we just had to visit El Escorial.
This complex, which was both palace and monastery, was built by Philip II and his architect Juan Bautista in the 16th century. In one building, they brought together the power of the state and the king's beloved Catholicism. But it was, of course, funded in part by treasures plundered in a not particularly religious way from the new world.
These days it's about an hour away from the city centre by train.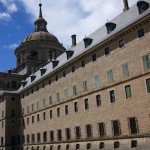 Our day began at a rather more modern edifice, Atocha Station, but one considered a destination all on its own. The old 19th century building, now overshadowed by a contemporary station building, is more a shopping centre these days but one that comes complete with an indoor tropical garden. I couldn't help thinking that in London they'd have scrubbed it to make way for another sodding Starbucks.
There was an air of melancholy about the place too because this was where 191 people were killed in 2004 when terrorists exploded bombs on four trains in the heart of Madrid.
We left Atocha behind on our commuter train, ploughed through the suburbs and out into the countryside, a landscape of trees, squat but plentiful, and giant boulders. It had rained so everything looked lush.
We saw deer, startled by the train, and quiet villages lying below the clouds. In the hills beyond I spotted the giant cross at the Valle de los Caidos, erected by ghastly 20th century Spanish dictator Franco and his henchmen as a memorial to their civil war dead. Political prisoners were forced to work on it so it's no wonder that it remains hugely controversial as a destination.
The sun had come out by the time we arrived at El Escorial, amid the hills, on the edge of the village of San Lorenzo de El Escorial. Part palace, part monastery, it held a commanding position and boasted impressive views of the neighbouring countryside. It also boasted long queues, one of the curses of 21st century tourism and a misery for someone as impatient and intolerant as I. While we queued, we got drenched in a sudden downpour. Talk about April showers…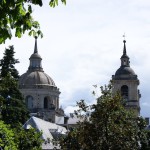 Inside, El Escorial turned out to be a bit of a mixed bag. Some rooms in the palace were incredibly drab, with leaden art and little to show for its glorious past. Others were intimate chambers that I didn't expect in a grand royal residence. In all, I couldn't help but think that the Spanish royals must've been a miserable lot.
But then other parts of the complex were a wonder, such as the Hall of Battles with its colourful collection of paintings depicting some of Spain's glorious military escapades. The library was a real highlight, as was the breathtaking basilica of San Lorenzo el Real with its dramatic dome.
And then there was the Pantheon of the Kings, a small but magnificent chamber with more than 20 marble sepulchres containing the remains of many of the nation's monarchs, from the Habsburg and Bourbon dynasties. Once, these men ruled a great empire but now they were nothing but rotten remains in pots. How the mighty had fallen…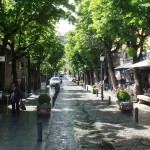 We walked through the Pantheon of the Princes, where the rather less impressive members of the royal family could be found. Or, rather, their remains.
Outside, we defied the crowds for a quick walk around the grounds and the village in the late afternoon sun.
It was a pleasant enough place, and a beer in a local bar helped bring our visit to a close. But there's something disappointing about a day where you spend longer travelling and queueing than doing the sightseeing…