I've been around a bit and seen some weird and wonderful things. But the Sedlec Ossuary at Kutna Hora, deep in the Czech Republic, has to rank as one of the strangest.
For those who don't know, an ossuary is a resting place for human skeletons. At Kutna Hora, which we found about an hour outside of the Czech capital Prague, that resting place is a church.
It's on the edge of town, in a suburb called Sedlec, and an easy walk from the train station. The outside of the church struck us as plain enough. It was when we walked inside that it all got very creepy indeed. There we found thousands and thousands of human bones, neatly stacked and arranged – the work of a woodcarver who brought order to the funereal chaos in the late 19th century. It satisfied the OCD part of my pysche.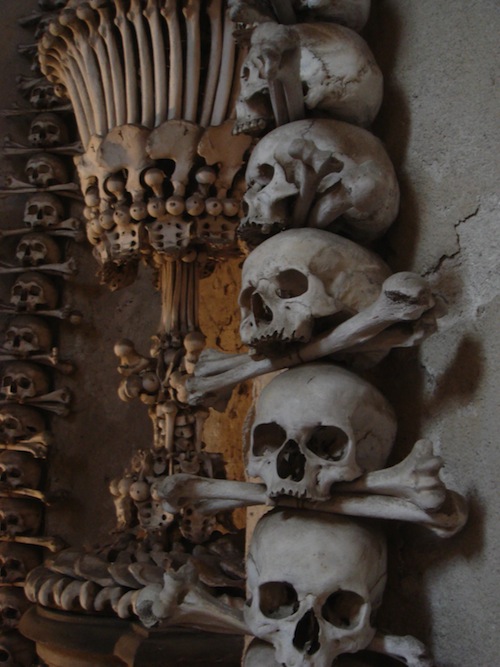 But while the stacks looked weird, I found a chandelier made out of bones far more macabre. Then there was a coat of arms of a fancy local family, also put together from bits and pieces of what were once living and breathing humans. The word 'why?' sprang to mind.
And why Sedlec?
The story goes that the church became a hugely popular place of burial centuries ago when an abbot brought back soil from the holy land and scattered it around the grounds of the church. The great and the good must've thought that this would be of benefit to them in the afterlife. But eventually the place became overwhelmed with remains…
Well and truly creeped out, and truly astonished at the sort of things we humans get up to when we have too much time on our hands, we walked into town and found it surprisingly and perhaps appropriately dead on a Saturday afternoon. Shops were closed, attractions shutting their doors.
Still, it was an attractive place to wander around, with plenty of historic buildings, appealing streets and a giant gothic cathedral, St Barbara's, to admire. It's a UNESCO world heritage site and offers some great views of the town – without the bones.