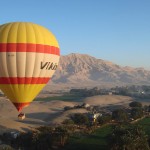 Hot air ballooning over Luxor counts as one of my most memorable holiday experiences. But while it was a few years ago and before Egypt's years of Arab Spring turmoil, it wasn't a trip without risk.
Before our flight and since, people have been killed and injured taking part in one of Luxor's great tourist outings. And the area has occasionally been targeted by terrorists bent on the killing of westerners and the destruction of the Egyptian economy. Our balloon trip was, thankfully, without incident and full of great moments:
Being served tea on a pre-dawn crossing of the Nile, a flotilla of small craft carrying plenty of us to the west bank and our coaches to the launch site
Astonishment at the sheer number of balloons being prepared by crews – and being amazed that we all managed to avoid each other once we were in the air
Being crammed into baskets with barely room to move, and enjoying a lift-off that was so smooth I could barely believe we'd left the ground
Watching the sun come up to the east, painting the landscape a brilliant gold
Seeing the stark delineation of cultivated, irrigated land and the beige of the desert
The peace, broken only by the background chatter of our fellow tourists and the blast of the flames keeping us aloft
Flying low over ramshackle farmsteads and hamlets, seeing locals getting ready for a day in the fields and some already at work on their crops
The mountains to the east bathed in that early morning glow, hiding the famous Valley of the Kings
Seeing the skies around us full of colourful balloons
Coming in to the gentlest of landings at the edge of the desert. Years earlier I'd gone up in a balloon over Surrey with my nan and had experienced the bumpiest of landings so this was something I really appreciated!
We have a video somewhere of our trip, which our guides decided would be much better with a Celine Dion soundtrack. That ranks as the only low point of an extraordinary morning…