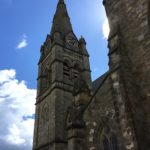 It's a lot easier doing family history when home is just miles from where ancestors lived and worked. It's a little more expensive if they hailed from over the water. In my case, Northern Ireland.
Some background: My maternal granddad, Ernest Moore, came from Donaghmore in County Tyrone, just a few miles from the banks of mighty Lough Neagh. But as a young man he left behind the village, his family and life as a weaver to join the Irish Guards and experience life in England.
It was in Croydon, Surrey, that he met my nan, Olive Wheatland, and they married as the Second World War engulfed Europe. He saw service in Norway, North Africa and Italy, but also fathered three children. I have just a few memories of the man I called grandpops because he died tragically young, back in 1969.
As a child, my mum had returned to his homeland once or twice – accompanying him on his annual visit to see family and friends. Now she wanted to go back. Perhaps we would find echoes of the Moore family and those that married into it, including the Raineys and Beggs.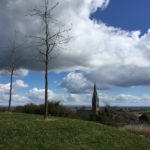 So Graham and I flew into Belfast International with mum and my stepdad, stayed a night in Antrim and the following morning went out to explore County Tyrone.
Dungannon was our first stop – a busy and hilly market town that my ancestors must've visited on numerous occasions for work and the big events of their lives. Money has clearly been spent on regenerating the town centre in recent years, but empty shopfronts hinted at the problems traders face in making a living in an era of out-of-town shopping centres.
We couldn't miss St Anne's Church, where Ernest's granddad James Moore married Jane Beggs in 1871. It stands commandingly over the town, looking handsome and boasting numerous memorials to the lords and ladies who ruled the district over the centuries. From more recent times there were plaques commemorating the victims of the world wars and the atrocities of the Troubles in the 1970s and beyond.
But there was no sign of our ancestors and no burial ground.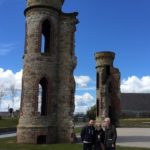 We stopped for tea in the excellent cafe at the clunkily named Hill of the O'Neill and Ranfurly House Arts and Visitor Centre. The hill – a strategically important site for centuries – is crowned by the remains of the Knox Hannyngton House, which in turn stood on the site of the castle of Hugh O'Neill, a noble who long fought the English for political and military control of the district. A former police barracks, in the beautiful Scottish Baronial style, stood neglected and forlorn nearby.
The views of the province from the top were amazing but whoever gave permission for someone to stick a giant mobile phone mast amid all the history deserves being stripped of their job.
The spire of St Patrick's Roman Catholic Church competed in the landscape with St Anne's down the road. In fact, Northern Ireland, so riddled with religious and political division over the centuries, seemed to me to have more churches than most other countries I've been to – catholic, Church of Ireland, Presbyterian, baptist and so on. They were everywhere we went, few of them of much architectural merit but many with big graveyards and ostentatious gravestones. Being a true atheist, Ireland's obsession with religion bewilders me and the dangerous cocktail it makes when mixed with politics I find even more disturbing.
The resulting divisions are evident everywhere. You don't have to travel too far to see Union Jacks flying in some districts, the Irish tricolour in another. There are few settlements without an Orange Hall and, when we visited, every other lamppost boasted a poster exhorting locals to vote for this party or that in the local elections. You'd rarely see that enthusiasm for politics in my neighbourhood back home…
So having failed to find the Moores or other ancestors in Dungannon, we moved on to Donaghmore. This attractive village just a few miles north of the town is surrounded by lush farmland and has much stronger links with my family. Ernest, who was known as Tony to most friends and family, was born there in 1917 to John Moore and Johanna Rainey. John died young in 1919 but his mother lived on and remarried.
The village has a grand grammar school and the usual collection of churches and graveyards, with the oldest being a prominent feature in the heart of the village. Close to it stands a 10th century High Cross, an important early Christian monument, while inside stands a memorial to the rebel O'Neill.
We went traipsing around the gravestones, found a few potential Moores but no sign of Ernest's mum. So we retired to the village's excellent gastropub, the Brewer's House, for a late lunch.
The countryside around Donaghmore is green and rolling, and very attractive indeed. It was in these fields that many of my ancestors toiled as farmers and labourers. Perhaps so little survives of them because they were too poor to leave memorials…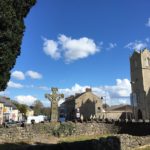 We drove on, through a landscape of wind turbines, yellow gorse and old stone farm buildings that had long fallen into disrepair. And I liked what I saw. But I didn't like the liberal use of grey pebbledash on so many homes and ugly UPVC here, there and everywhere.
As a Londoner it was good to see agriculture alive and well, even if it meant we were often stuck behind slow-moving tractors on the roads.
We eventually found ourselves in Pomeroy, the highest village in Northern Ireland and another place my ancestors knew. But when the rain, snow and hail arrived as we explored an old graveyard, we decided to call it a day and head for our hotel in Magherafelt. Again, we'd found no sign of the Moores.
In fact, we didn't find anything other than the few gravestones in Donaghmore and a couple more a few days later in Blackwatertown. This village stands by the River Blackwater in County Armagh and we stopped there en route to The Argory, knowing that it was a place where James Moore, Ernest's granddad, was living at the time of his wedding to Jane Beggs.
It was a Sunday morning and the village was dead, mainly because everyone was at church. And maybe it was a church that James knew well…
The next day we flew out of Northern Ireland, without having caught much sight of the old family. It was disappointing but not that surprising considering how hard it is to pin down the history of the poor in Ireland and the paucity of some records.
But when I see Donaghmore and all those other towns and villages on our family tree in future, at least I can say I've been there…