We have TV presenter Alex Polizzi to thank for our trip to Puglia. Her Channel 5 travel documentary a few years ago highlighted a string of treasures in southern Italy that we just couldn't resist.
Our stops at Matera, Lecce and Alberobello were all a result of watching the programme. And so was a quick stop at Locorotondo, billed as one of Italy's prettiest places, set within the plains and rolling green countryside of the Valle d'Itria.
It's an area famous for its wine production and is dotted with the conical roofs of Puglia's charming trulli.
I remember Alex walking dreamily through the streets of the hilltop town, gazing airily out over the sun-drenched fields. The way it was filmed, she looked like a character in a yoghurt or tampon advert.
Still, Locorotondo looked good enough to eat. Or rather it's centro storico did. The outskirts, as with all such places, were somewhat more rough and ready.
We parked the car on the edge of the historic centre and went for a walk, passing the simple but attractively Romanesque Chiesa della Madonna della Greca, a church that dates from around the 13th century.
We started our tour at the Villa Comunale, a small but shaded public park where the views over the countryside were excellent and a few locals sat on benches, passing the time of day. Passing through the Porta Napoli, we found ourselves in the intimate Piazza Vittorio Emanuele II – home of the tourist information centre and a cafe or two where we revived ourselves with a drink.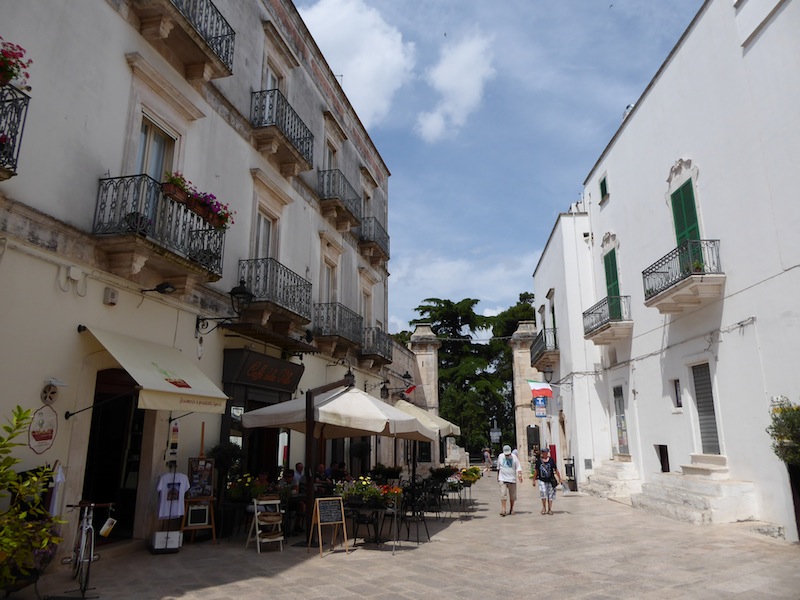 And then we dived into the alleys and streets. At the heart of the centro storico sits the grand Chiesa Madre di San Giorgio, where many locals were gathering in their finest outfits for a wedding, and several groups of tourists were hanging around waiting to spot the bride and groom.
The old town proved to be a maze of alleys lined with beautiful white-washed buildings, and not even a map from the tourist office could save us from getting lost.
Many of the properties boasted notably steep roofs, made of limestone slabs and designed to maximise the collection of rainwater in this arid land. They are among Locorotondo's defining features.
We ambled on, drinking in the beauty of the buildings, the quaint courtyards and streets, many decorated with delicious jasmine, bougainvillaea and bright red geraniums. It reminded me a little of Mykonos Town, which is perhaps no surprise considering southern Italy's long links with Greece. There was no graffiti, no litter, no dog shit. It was clear that the locals cared about the place.
For all its beauty, Locorotondo isn't exactly rammed with things to do and we'd pretty much seen everything within two hours. But as a pit-stop on the way from A to B, it's a treat.