In the district of Prenzlauer Berg, in what was once Communist East Berlin, is the undistinguished open space of Mauerpark. But it comes into its own on a Sunday when it hosts a famous flea market.
It gave us the chance to explore a Berlin beyond the historic centre and the popular tourist attractions we'd seen during our last visit in 2004. So in the morning sunshine we caught the underground to Senefelderplatz, me with a hangover in tow, and took a walk up quiet Schonhauser Allee in the general direction of the park.
We passed the old, atmospheric Jewish cemetery with its gravestones shaded by trees, and discovered the former red-brick brewery known as the KulturBrauerei, which is now a collection of cultural spaces. We had a quick nose around while a number of stallholders busied themselves setting up for a lunchtime food fest, sadly a bit too early in the day for us to appreciate.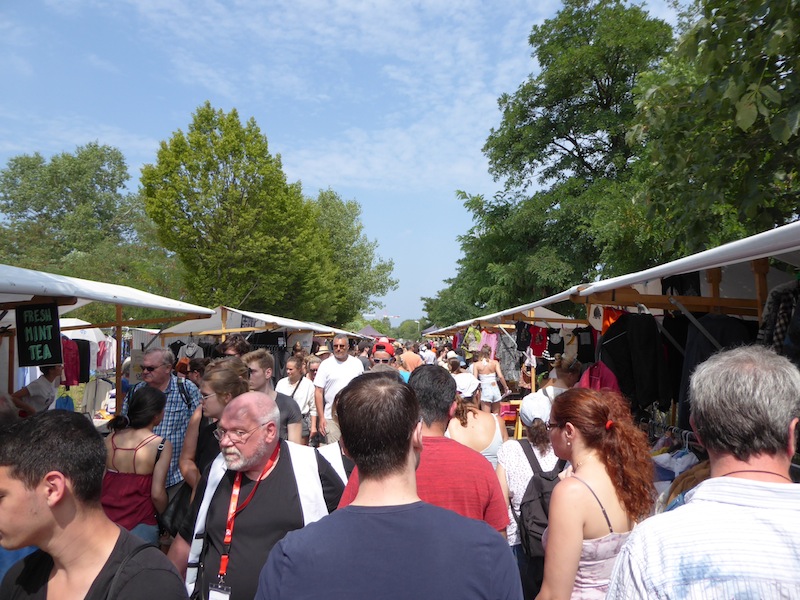 Nearby Oderberger Strasse was a delightful and leafy street, full of colourful and characterful town houses that had somehow survived the war and the demolition plans of city bureaucrats. It was full of bars, cafes and restaurants, with tables and chairs set up outside in the sunshine waiting for the lunchtime rush.
Just beyond lay the Mauerpark, and thousands and thousands of people. The market was more popular than I'd expected it to be, rammed with locals and tourists of all shapes and sizes. The streets were busy with traders, visitors snapped pix on their phones and we got carried along with the crowds. It was hot and dusty.
To call the weekly event a flea market is to undersell it. All manner of stuff was on sale, from food and drink, to art, antiques, toys, hand-made clothes and jewellery, as well as a mass of clobber gathered from lofts and house clearances.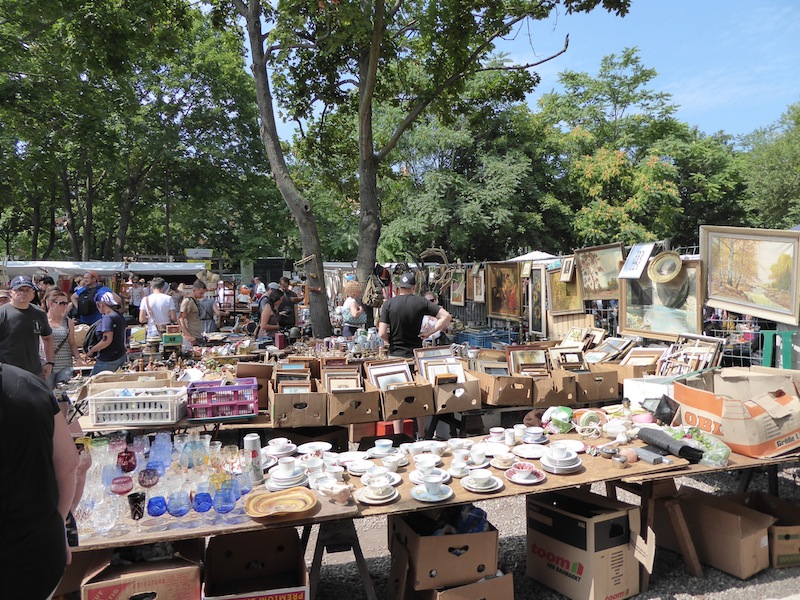 There were so many stalls and people that we were never going to see everything. And while there were plenty of bits and pieces I could've bought, we didn't have room in our cases for them so we ended up empty-handed.
With the dust being kicked up by thousands of pairs of feet, we escaped into the park proper but it was a pretty ghastly place. Arid, dusty, full of rubbish and graffiti, it wasn't somewhere I'd choose to hang out. A few locals were setting up barbeques and plenty more were gathered in the little amphitheatre that hosts a regular Sunday afternoon karaoke.
We had a wander around the district, stopped for a beer (having recovered from my hangover) on Gleimstrasse and then walked back to Oderberger Strasse for a relaxing and tasty lunch.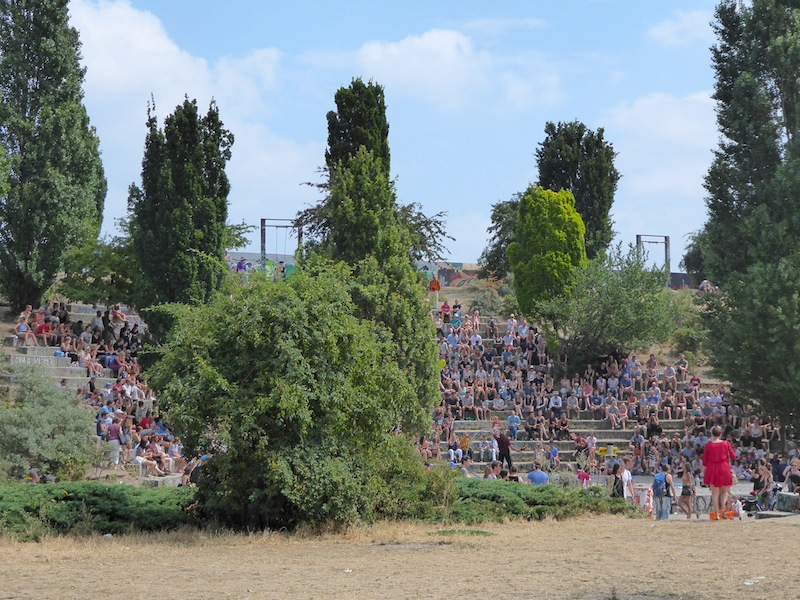 Prenzlauer Berg used to have a reputation for being radical, hippy and off-grid but as has happened to many other such districts in cities around the world, it eventually fell to the gentrification of the upwardly mobile. Still, it retains something of that leftish vibe if for no other reason than the people of Berlin as a whole are such an accepting bunch, socialist and inclusive. I'd experienced it at the Christopher Street Day events the day before and was particularly appreciative of it following the terrible result of the Brexit vote in the UK the month before. Berlin felt like the home of a big happy family, while back home we felt so divided.
After lunch we decided to do the Berlin Wall Memorial Walk, which begins near the park and continues along a stretch of ground adjacent to Bernauer Strasse that was once scarred by the wall itself. Initially there's little to see other than a collection of information boards and video screens, a few marks in the turf and footpath to show where it once stood. But the boards and films do a really effective job of telling the story of Berlin's division and how it impacted the locals.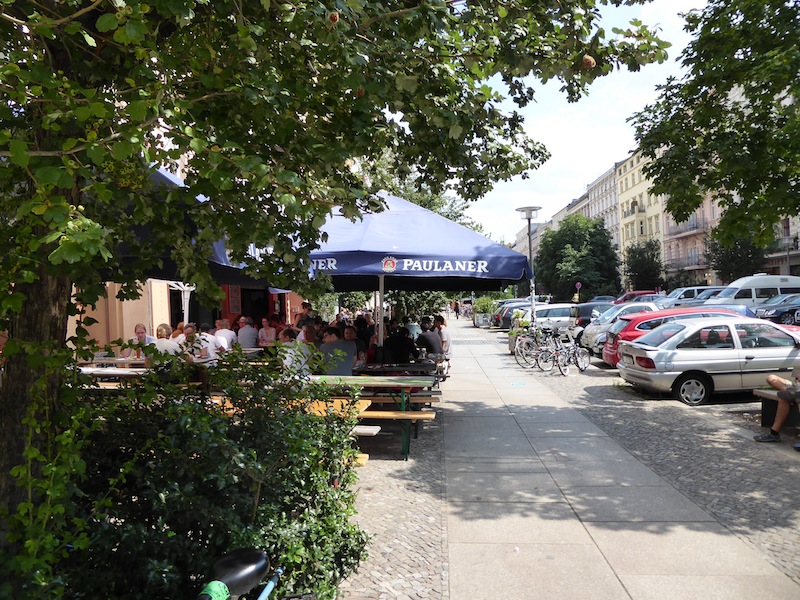 What was particularly poignant was the collection of modern apartment blocks between the footpath we were exploring and Bernauer Strasse to our right – modern because they stand on the no man's land that made up part of the deadly wall complex. Once upon a time, to stand on that ground would've invited certain death.
Despite the lack of wall infrastructure, I found the walk incredibly moving, partly no doubt because I could remember the emotions generated by seeing Berliners pulling the wall down back in 1989. But the stories we read and the pictures we witnessed were powerful too, of families divided for decades, of dramatic and daring escapes and senseless killings.
The empty spaces where the wall once stood were more powerful to me than the former border strip that's been preserved, complete with a section of the wall and a watchtower. It stands towards the end of the path and opposite a documentation centre, where an exhibit repeats much of the information we'd gleaned already. Still, we climbed a tower to get a better view of the surroundings.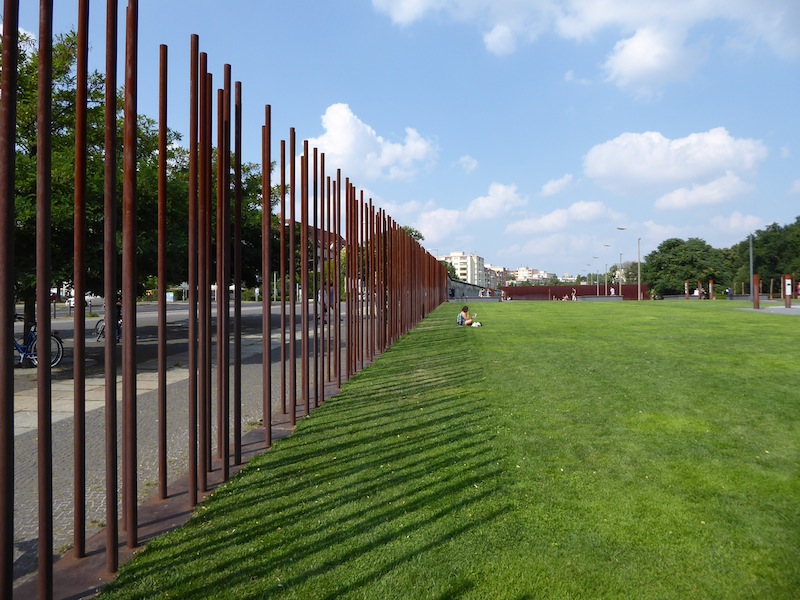 There too is a strikingly designed Chapel of Reconciliation, standing on the site of the Reconciliation Church that was blown up in 1985 by the East Germans because it stood right in the no man's land death strip and had become a symbol of defiance.
We finished our tour at Nordbahnhof station, where more info boards showed us how the transport system coped with being split in two after the wall went up. Curiously, western tube trains still trundled beneath East Berlin but didn't stop at the bricked-up 'ghost stations'.
Things were rather less emotional in the evening, when we went off to Friedrichshain, another Berlin district that's got a reputation for being on the edgier side. And sure enough, getting off the train in the soft evening sunshine, we were accompanied by the soundtrack of dance music from a bar somewhere near the tracks. The whiff of ganga was in the air and the achingly trendy bars, some of which looked a bit ruinous, were busy with folk saying goodbye to the weekend in style.
You can tell when a district is trendy in Berlin because it'll be absolutely covered in graffiti, and any spare stretch of wall will be plastered with layer upon layer of posters. Friedrichshain had that look but the signs of change were everywhere – a fancy restaurant here, a strikingly designed bar there, amid the run-down and derelict.
As happened in Prenzlauer Berg, gentrification is on the way and it probably won't be long before the graffiti and posters are a thing of the past.
Simon-Dach Strasse was our destination – recommended to me by a work colleague as a nighttime destination – and while it too had its grungier side, a dull middle class boy like me felt quite at home because the bars and restaurants looked welcoming enough, catering to a wide range of persuasions and nationalities.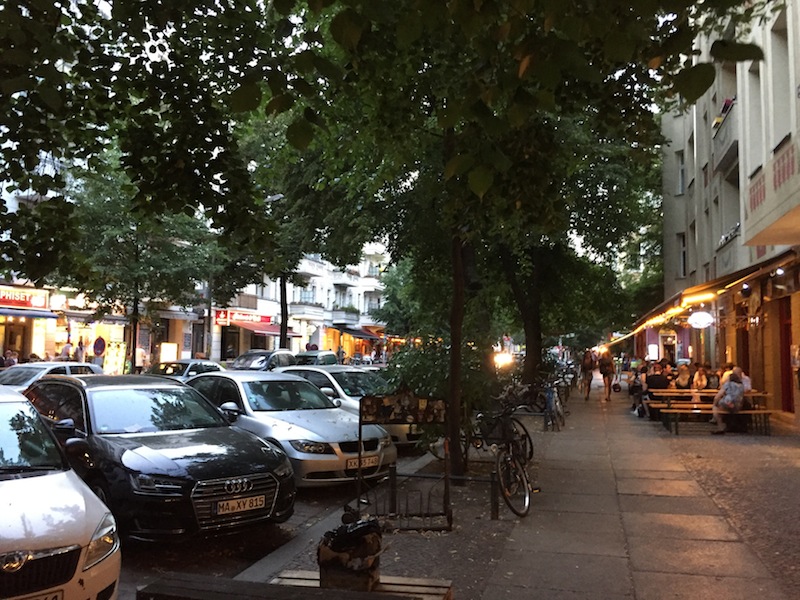 In fact, it had an air of Greenwich Village about it – leafy, with some attractive townhouses, the funky bars and a few of us queers hanging around. Being a Sunday, though, it was reasonably quiet.
We stopped for a beer and ate at Blech Bilder Bar, where I had one of the finest Wiener Schnitzels I've yet tasted, and then moved up the road a few yards to the gay bar Himmelreich. Again, it was hardly throbbing with life but we parked ourselves outside and watched the world go by. Sadly, come 10pm we were dragged inside to protect the locals from the noise of people enjoying themselves but it was a pleasant stop. It's just a shame it wasn't busier.
Not that that stopped me drinking too much…