A sweltering weekend offered the chance to escape the urban streets of London for a hike in the glorious heart of rural Sussex.
We opted for a 9-mile walk from Stonegate to Robertsbridge, taking in the manorial home of author Rudyard Kipling – Bateman's. And it was a walk that rekindled a few memories too. The downside was I ended up hotter and more bothered than I have been in a long time.
The walk is one of many compiled by the Saturday Walkers' Club that take in the counties of Kent, Sussex and Surrey. They're particularly useful for us as they start and finish at train stations.
Stonegate station was our starting point and the first couple of miles took us through farmyards, across freshly harvested fields, past sheltered ponds and over the quiet Rother river. The sun was at its strongest and only occasionally did we find much-needed shade and relief from the purgatory of perspiration.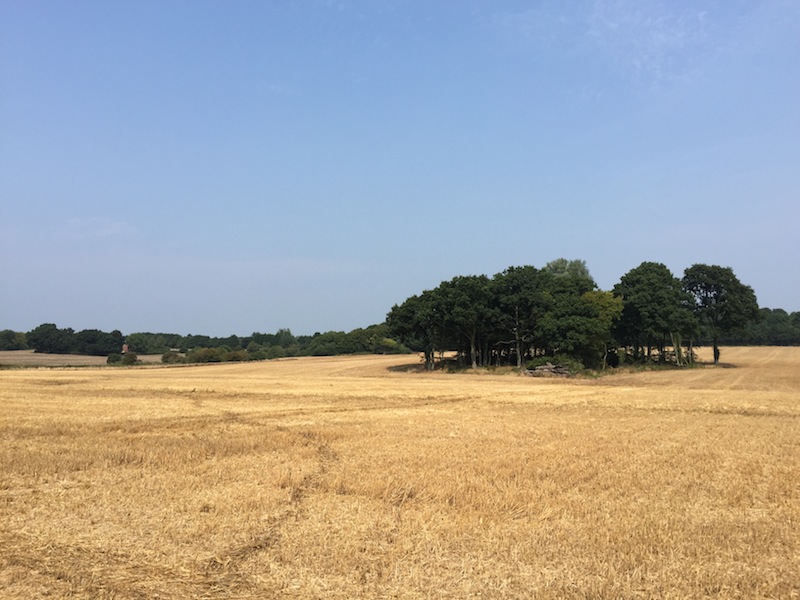 Our first goal was the village of Burwash perched atop the hills. I'd visited it – and Bateman's – a few times in the past with family and had enjoyed hearty meals in one of the local pubs. On one occasion I'd driven my beloved nan down in my mustard yellow MG and had eaten so much I couldn't stand up straight. But I wasn't about to make that mistake again with six miles or so left to walk…
We rested in the garden of the Rose and Crown, where I cooled down with cider and filled up on scampi. Graham made do with a sticky toffee pudding.
The village was very quiet, smaller than I remembered and offered excellent vistas but we didn't have much time to explore so we walked down through the fields towards Bateman's in the valley below, paid the large admission fee to the National Trust and took a tour of the Jacobean house and garden.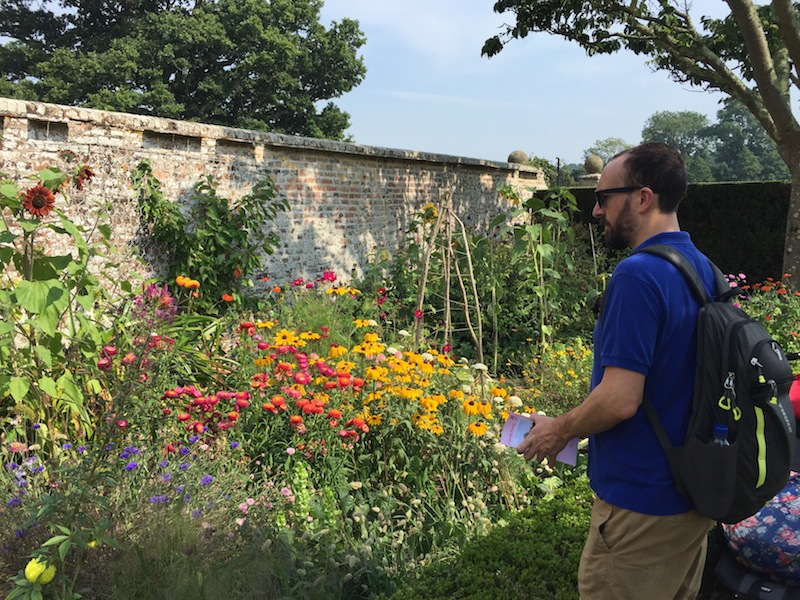 Built in the 17th century, the house is a fine-looking manor from the outside but a bit of a gloomy affair within, full of wood panelling and heavy wooden furniture. The amount of information available about the building itself and its history prior to Kipling was frustratingly limited, while the room guides ranged from the geeky and knowledgeable to the reluctant and withdrawn. But a large amount of Kipling's belongings had been donated by his late wife, and his study was dressed as if he'd just popped out to stretch his legs.
The gardens were more my style, with plentiful fruit trees and typical cottage-style planting. Although much was going over, the colours still managed to dazzle.
We left to complete the remaining 6 miles or so of the walk, the heat so overwhelming I reluctantly had to take my shirt off as we crossed fields, ploughed on through woods and ambled down country lanes. Fortunately there were few folk round to witness it… Grand farmhouses and historic manors were prominent features of the landscape, proving that Sussex has been a refuge of the rich and famous for many centuries.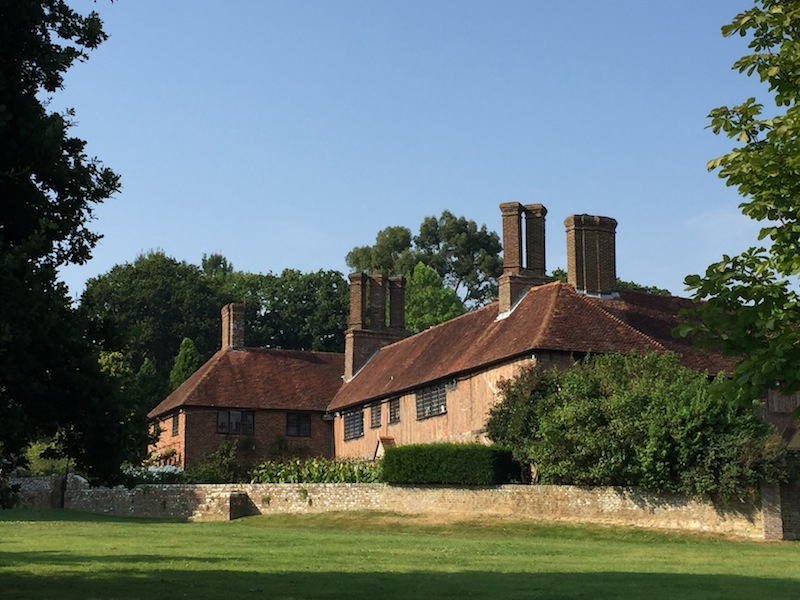 Most prominent of them was Socknersh Manor – a glorious red-brick affair dating from the 17th century, boasting a collection of farm buildings nearby. The grounds, complete with swimming pool, were just as impressive and we later found that the manor had once been owned jointly by singers Tom Jones and Englebert Humperdinck. Doubtless its walls had witnessed many a riotous party in the 60s and 70s when they were in residence…
We skirted the formal gardens, following the public footpath that ran between them and a lake below, heading for the woods that provided welcome shelter just beyond. Emerging from those into more fields, we spotted a derelict cottage that would make a grand renovation job for someone.
Hot, sweaty and increasingly footsore, we crossed fields where sheep grazed and experienced extreme alarm when, as we approached Robertsbridge, we had to cross a field populated by three sturdy and generously horned bulls. Fearing the worst, nervous as hell, we plucked up courage, strode purposefully across while dodging their steaming piles of shit and emerged relieved beyond words and undisturbed on the other side.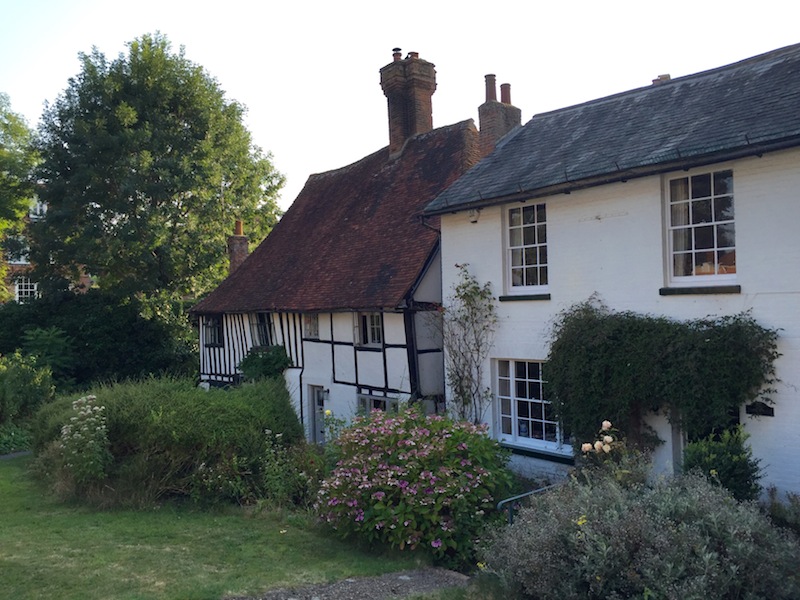 But we also encountered numerous ever so polite folk of all ages strolling in the sunshine and dressed in what Graham thought were Amish outfits. It turned out they were part of an Anabaptist community living and working just outside the village – the type of community that has dispensed with private wealth and shares everything.
We passed through their well-stocked farm as we began the final stretch of the walk, the temperature finally beginning to subside.
At Robertsbridge we crossed the River Rother again and took a quick tour of the village, discovering some exceptional 15th and 16th century buildings. It was as deathly quiet as Burwash had been but then most people seemed to be at The George, so we joined them, downed a few drinks, rested our feet and prepared for the long train journey home.