There was no mistaking that we were staying slap bang in the middle of Toronto's Entertainment district. Throughout our first night we were woken by police sirens and Friday night drunks shouting their way home from the bars and clubs.
I somehow managed to get some sleep despite the racket but a disturbed night and jet lag didn't make for a good start to our week in Canada. And as we peered out through the blinds on our first morning in the city, grey skies threatened rain.
We'd arrived on our first visit to the country on a BA 747-400, having enjoyed the luxury and Champagne of an upper deck business class service. We'd endured the long queues at customs, travelled into town on the UP Express and had emerged into a Downtown that was hot, sunny and humid, dominated by the giant CN Tower, broad streets and countless skyscrapers of glass, steel and concrete.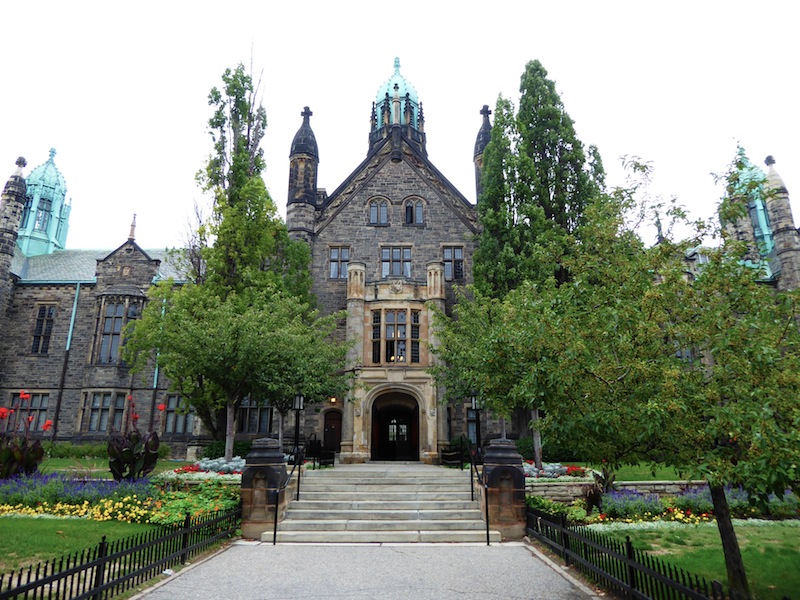 We'd trudged through the Manhattan-style streetscape to the modern and stylish Le Germain Hotel Mercer, checked into our large black and white room and explored the nearby streets. They were busy with good-humoured, after-work crowds, so we stopped for a beer or two in the pubs and then had a burger at one of the Jack Astor chain of bars before collapsing into bed.
So Saturday dawned with rain forecast. Clouds swirled around the top of the CN Tower as we defied the weather and walked to the Royal Ontario Museum, soon leaving the gleaming skyscrapers behind as commercial buildings gave way to down-at-heel residential properties and the University of Toronto campus, with its jumble of architectural styles and green spaces. Trinity College stood out, looking like a refugee from Oxford or Cambridge.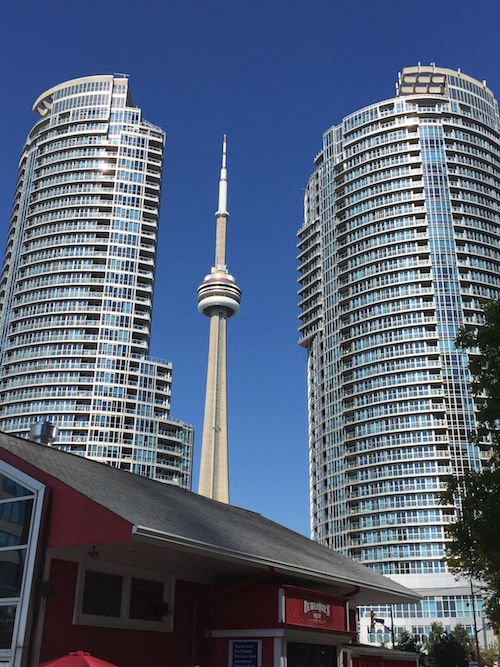 The museum was also a jumble of styles – part Victorian gothic, part striking modern extension called The Crystal by Daniel Libeskind. And inside we found an extraordinary range of exhibits, from dinosaur bones to Egyptian and Chinese treasures, aboriginal artefacts, old furniture, art and a dazzling display of minerals and meteorites.
It was a real mish-mash and typical of such museums. Some of it was fascinating, but other rooms were best avoided.
A metro ride later found us in what passes for Old Toronto, a district of two and three-storey Victorian buildings as well as more modern properties. There we stumbled across crowded St Lawrence Market, a foody haven with a mouth-watering range of stalls selling everything from oysters to local wines. The sheer range of seafood, fish and meat put many of our markets back home to shame.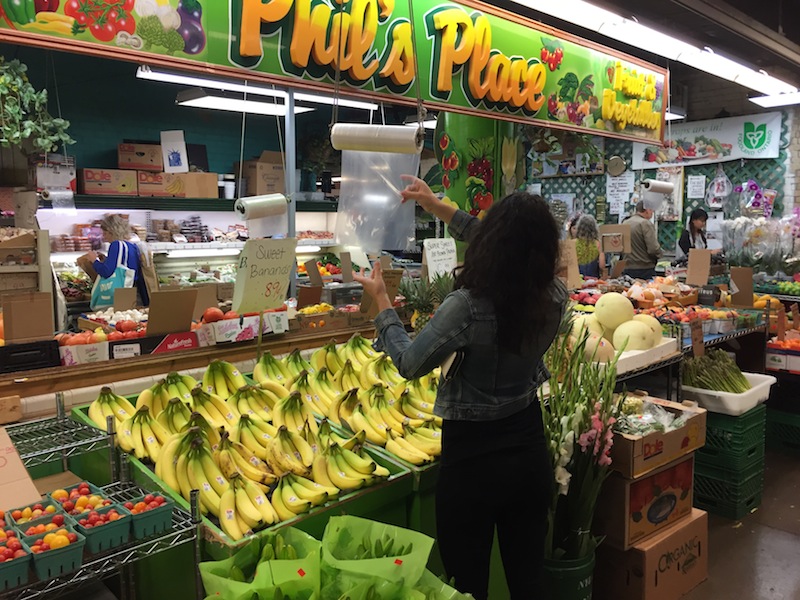 Buskers played, the atmosphere was great but after a quick tour we squeezed our way through the crowds onward to the Historic Distillery District.
Once the Gooderham and Worts Distillery, its heritage buildings are now home to galleries, restaurants and homeware and specialist stores. But it looked sadly bedraggled and rather empty in the rain and a team of wet Hockey World Cup fan zone volunteers ambled around looking disappointed.
We dodged the showers and dived into Pure Spirits for something to eat and had one of the best tuna nicoise salads ever, accompanied by an excellent Riesling from the Niagara wine region and the sort of great service you get in a culture where tipping is a way of life.
We visited a few shops and artists' workshops but generally the distillery district was a bit of a let-down. Perhaps it would've been better with more visitors in sunny weather.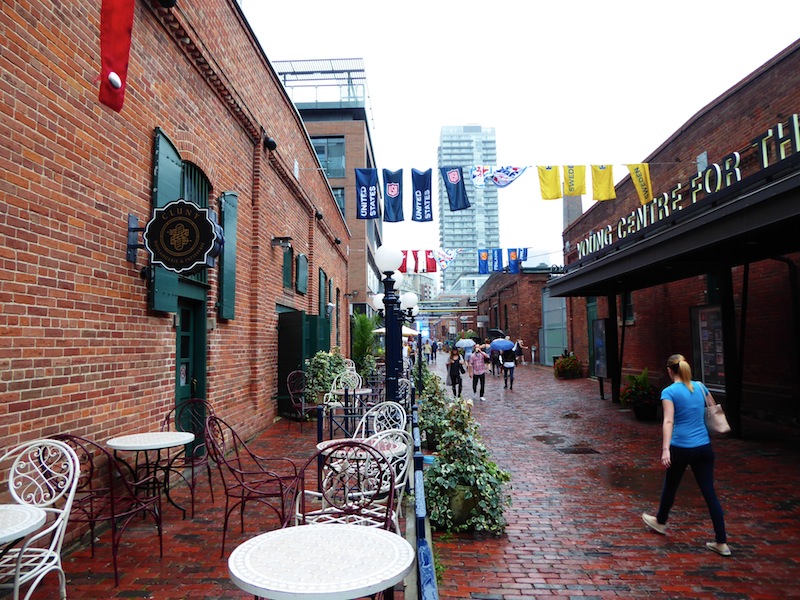 After a nap at the hotel, we walked to the attractively planted St James' Park in the shade of the city's modest cathedral. We'd reserved a table at Pearl Diver, famous for its fish and seafood, where I feasted on excellent sardines and pickerel, washed down again with a Niagara Riesling.
A few metro stops north and we were in the thick of the gay district at Church and Wellesley, a village full of clubs and drag bars but one that struck me as old-fashioned and a bit lacking in style. Back in London gay bars are becoming a thing of the past, perhaps something of an anachronism in the 21st century, but they're obviously thriving in cosmopolitan Toronto. The crowds were a real mix too, from older single men, to bears and twinks. And there were the usual straights and bands of roaming hen parties.
We planted our butts in Woody's, which gradually filled up with a wide range of guys as the music got louder. The dance floor became a magnet for many but with jet lag gripping me by the balls, it was time to head home for bed.