Wherever we went in Toronto, the soaring CN Tower haunted us. The city's trademark building dominated the skyline by day and by night,  when it was illuminated in a rainbow of colours. I loved it.
But before we took our inevitable trip to the top, we had a few other stops to make on the tourist trail.
We kicked off the morning with a walk to City Hall via the most bonkersly well-stocked antiques shop I've seen anywhere, Cynthia Findlay's. It was one of those places where I could've spent a fortune on art glass but, conscious of our baggage allowance and unnerved by the assistants studiously following us around, I left my wallet in my pocket and browsed nervously instead.
City Hall, in the heart of Downtown, is no antique. Designed by Finnish architect Viljo Revell, it opened as recently as 1965 and looks very much of its time. A pair of curved towers wrap themselves around a low-level council chamber with a white domed roof that looks a bit like a child's vision of a UFO, while out front is an expansive public square with ponds, fountains and lots of concrete. Apparently it looks like an eye from above and while it's a bit stark and has never been popular with critics of modern architecture, I like it.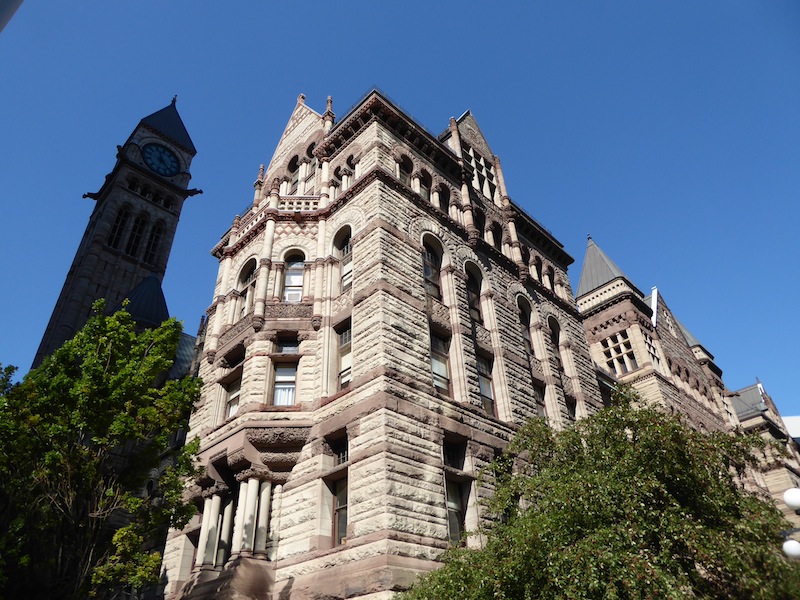 The 1960s version is the fourth of Toronto's City Halls – its predecessor stands next door and is a very different building. Designed by EJ Lennox, the man behind Casa Loma, it's in the Romanesque Revival style and was built in the late 19th century with rich red and grey sandstone. Its pomp, grandness and tall clock tower were clearly designed to reflect a confident and growing city but nowadays, amid all the modern tower blocks, it looks a little stranded in the cityscape.
Moving on, we caught the metro to Wellesley to explore another of the city's many distinct districts, Cabbagetown. Toronto has always been one of the most cosmopolitan cities in the world and has been attracting immigrants from the four corners of the globe since its birth. Settling in their own neighbourhoods, these newcomers gave their names to such areas as Little Italy, Chinatown, Little Portugal, Little Tibet and so on.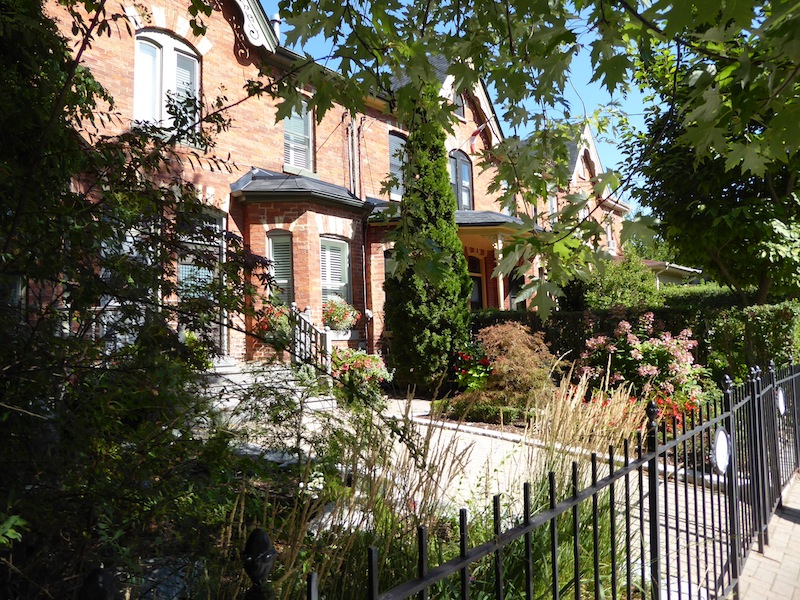 Cabbagetown was largely home to Irish immigrants, many of whom had fled the famines of the 1840s, but today it's one of the most attractive parts of town thanks to waves of gentrification and restoration. What was once an area riddled with poverty is now very well-to-do, with street after street of beautifully restored Victorian homes and gorgeous gardens bursting with hydrangeas, grasses, box, hostas and sedum. A few even boasted a cabbage or two, a reminder that Irish residents of times past used their gardens for vital vegetables rather than fancy flowers. Small parks and a well-tended cemetery allowed the streets to breathe.
We walked around and about, absorbing ideas for our garden back home and questioning how Canadians managed to grow so many hostas without them being ravaged by slugs.
Cabbagetown is a charming survivor thanks to the efforts of residents and conservationists who fought plans to tear down the old to make way for new roads and buildings in the post-war years. A mile or two away towers and inner-city motorways dominate the landscape, where the old has been swept away. The result is a city that has grown over the years to be one of many varied and sometimes mismatched districts and suburbs, bolted together in what can be an uneasy aesthetic partnership.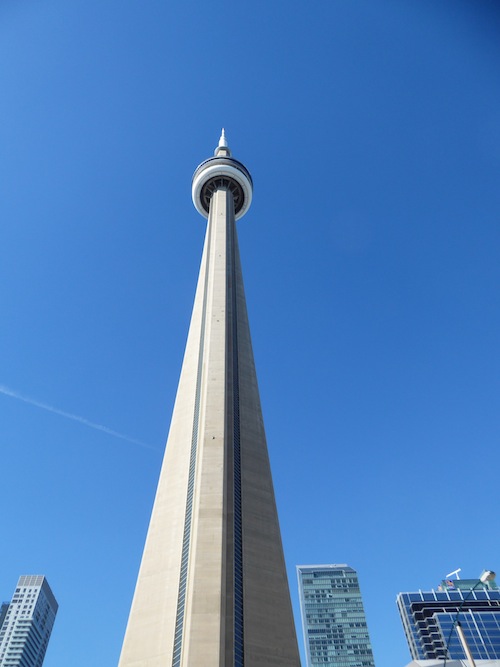 Leaving the cabbages behind, we caught the bus back into town for our appointment with the 553.33m CN Tower. Standing beneath it is an awe-inspiring experience. The tower curves its way majestically upward, its perfectly poured concrete creating a beautifully sinuous look that reaches all the way to the observation decks and transmitters more than 500m above. It may be a tourist trap but it looks stunning framed by a brilliant blue sky. We dodged the inevitable souvenir shop and flew into the sky in a lift with glass doors that gave us an ever-changing picture of Lake Ontario and the Toronto Islands to the south.
From the main observation deck the views were exceptional. Toronto – a city that had seemed to me to be mostly skyscrapers and concrete – turned out to be a lot greener and lot more low-level beyond Downtown. Along the shoreline of Lake Ontario, though, the development seemed to go on and on and on.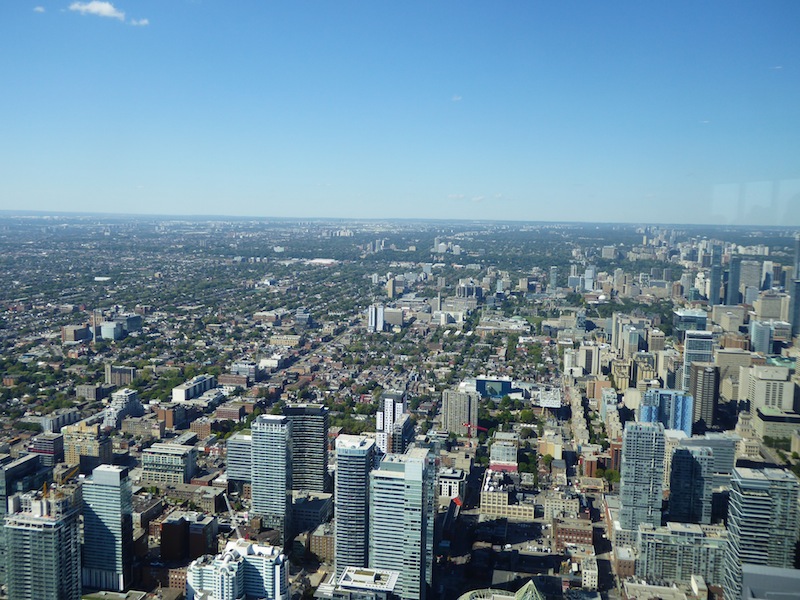 We did the daring thing and walked across a vertigo-inducing glass walkway, then took the lift up to the Skypod some 30 storeys above, from which the Toronto Islands looked tiny and the planes coming in to land at Billy Bishop Airport looked like toys.
Apparently it's possible to see Niagara Falls from the top but if they were there, they were lost in the haze. Still, up in the Skypod we could content ourselves with the knowledge that this was the highest we'd ever been outside of an aircraft. For, until it was overtaken in 2010, the CN Tower was the world's tallest free-standing structure and the world's tallest tower from its completion in 1976.
Far below us we could see the semi-circular John Street Roundhouse, built for the Canadian Pacific Railway and now home to a museum. Surrounded by parkland, old engines and carriages as well as heritage station buildings, we stopped there to tour the Steam Whistle brewery, one of the tenants. We'd enjoyed their excellent pilsner several times but were disappointed to find all the tours booked solid so we made do with a free sample, then settled for a beer or two at The Office Pub round the corner from our hotel. The charming Polish waitress suggested we go to Queen Street West for the evening, a district known for its nightlife and arts.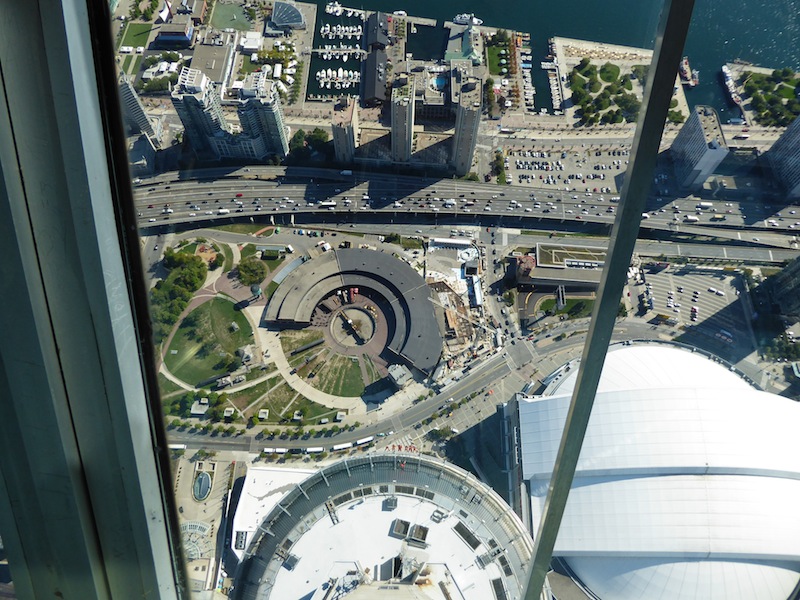 So a few hours later we were enjoying the craft beers at a bar called Rivoli and then taking a walk along a street packed with tattoo parlours, Japanese restaurants, homewares stores and various alternative joints. We ended up eating at an Italian called Stelvio, and watched the world go by.
We finished our evening at a branch of Bar Hop on Peter Street. Up on the roof terrace, we drank fine craft ales surrounded by the towers and lights of a non-stop city. It was our last night in town and come morning we would be moving on to Niagara, a very different destination.
Toronto had been good to us and had offered a wide range of sights and attractions, from the tranquil beaches of the islands to the towering buildings of Downtown. It was a city that, visually, I'd not fallen in love with easily but the food and drink had been top-notch and the people friendly and welcoming. And that was good enough for me.