I had no idea that Canada had a wine industry. As far as I was concerned it was too far north and far too cold. But as we discovered, Ontario is positively Mediterranean in its latitudes and its summers are hot and sunny.
Planning our Canadian trip, we read that the Niagara Peninsula is one of the country's biggest and most successful wine-producing regions. And then our local off licence in Sydenham, Bob Wines, featured a Niagaran white on its shelves. So a tour of the vineyards had to go on our itinerary.
We plumped for an evening wine and dining tour with Niagara Vintage Wine Tours while staying at Niagara-on-the-Lake. We were the only guests, which on the one hand meant we got the full attention of our guide Rick but also meant we couldn't hang back when the salesmen started their spiel in the winery shops!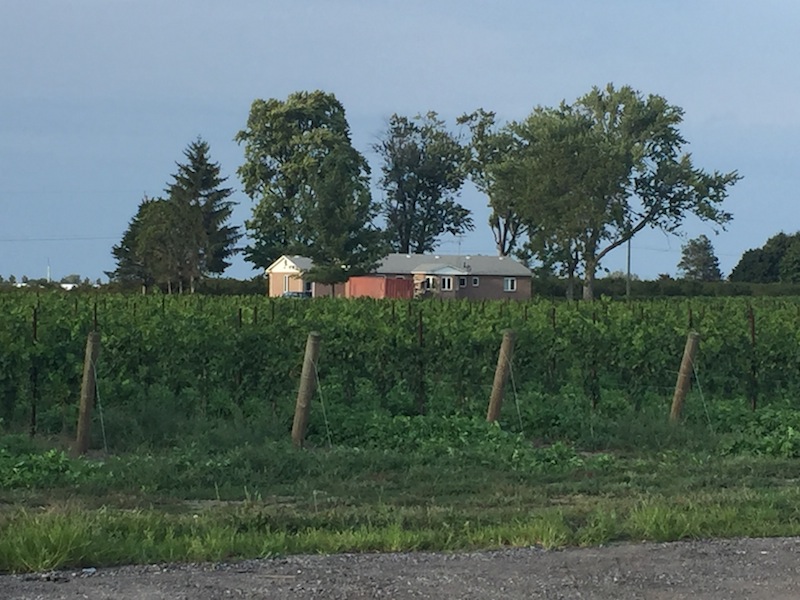 Rick proved to be an expert and entertaining guide, driving us on a warm afternoon to our first stop at the Reif Estate Winery while outlining the story of wine production in the region.
Vineyards have been a feature of the Ontario landscape for centuries but the wine they produced was notably average and the vines themselves prone to disease. Things began to change when vinifera vines were introduced and a new breed of growers arrived, often European families with experience of producing wine in their native countries. Niagara, it turns out, also has one of those microclimates that allows for successful viniculture courtesy of the winds that blow around Lake Ontario and the Niagara Escarpment, helping to cool things in summer and warm them up a bit in winter. Still, Rick pointed out some wind machines that can help draw down warmer air at times when its just too chilly.
In the 1970s, Inniskillin Wines was granted a winery licence and over the next few years the industry expanded dramatically. In fact, the rise of the vineyards meant that the orchards of peaches, plums, apples and other fruit that had previously dominated the landscape went into sharp decline. I couldn't believe that an industry that today looks so mature has only existed on such a scale for a relatively short time.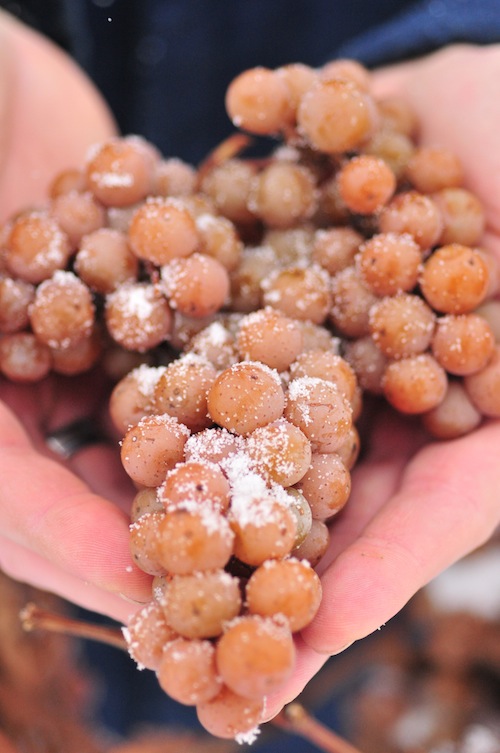 Rick explained that the big name grape varieties in the district are Chardonnay, Riesling, Pinot Noir and Cabernet Franc and we were soon inside the Reif shop, trying some of them. Now I'm no expert and doubtless the wine snobs out there would have their criticisms of Canadian wine but what I tasted was excellent. In fact, throughout our stay in Canada I'd been particularly taken by the quality of the Niagaran Rieslings.
It was at Reif that we got our first taste of Ice Wine. Now this, apparently, is the Canadian wine that's been exported widely but I'd never heard of it! As a dessert wine it's incredibly sweet and made from a number of different grape varieties, often Vidal, but what I tasted was full of utterly delicious lychee, mango and passion fruit notes. We just had to buy a bottle.
Rick explained its production. Grapes are left on the vine until winter, awaiting a hard freeze of between -8 and -12C. When the the temperature is right, which is invariably at night, out go the harvesters. But the amount of juice extracted from each frozen grape is tiny and fermentation takes a lot longer than normal wine so it can be a bit of a labour of love. Fortunately the result is more than worth it.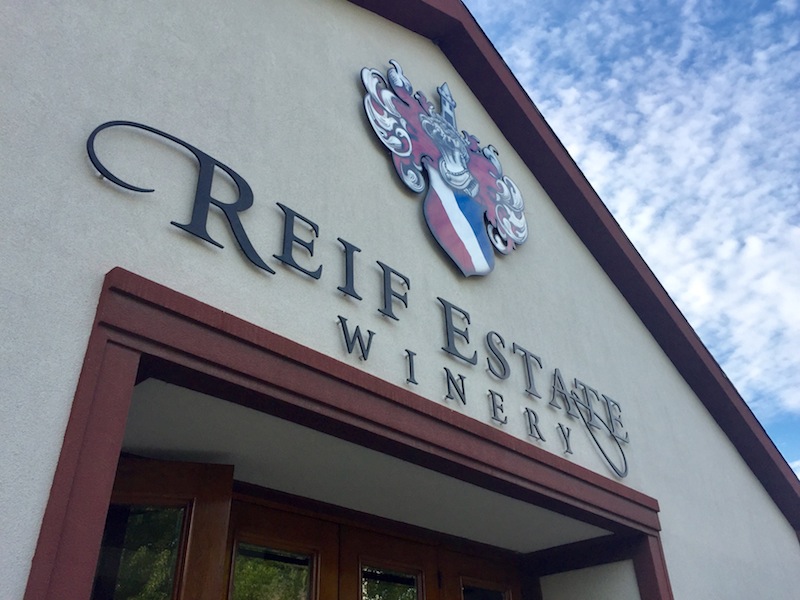 We drove on past vines and vines and more vines, spotting a surviving orchard or two, to the smaller, family-run Between the Lines winery, where harvesting was clearly in full swing and the wasps and midges were having a field day. The hard-working Wertsch family that owns the winery are typical of the Europeans that have brought so much expertise to the local industry, hailing originally from Germany and generations of wine makers. We bought more wine.
Our final stop was the Pillitteri Estates Winery. This Italian family arrived in Niagara-on-the-Lake in the 1940s and successfully farmed orchards before switching to vines. One of their team gave us a tour of the facilities, including a cellar that's home to one of the longest poured-concrete tables in the world. We tasted some of their wines. And we bought more.
Laden down with bottles and feeling ever so slightly drunk, we drove on to our final stop at Niagara-on-the-Lake – the HobNob Restaurant at the historic Charles Inn. While Rick relaxed in the bar, we ate excellently and had our wines paired for us by a happy and extremely pregnant waitress. By the time I'd finished the ice wine, I was as drunk as the skunk we saw the following night on our walk home to the hotel.
All we had to worry about was how to transport all that wine we'd bought back to Britain in our suitcases without drenching our dirty washing… Thank goodness for Rick's successful bubblewrap harvest.