Sydney is huge and we were only going to scratch its surface during our Australian jaunt. But I was keen to explore the suburbs away from the famous beaches and their crowds, so we opted for Balmain.
I was also keen to explore a part of the city that would've been known to my ancestors. Peter Finch, my 3rd great uncle, had emigrated to Australia with his family in 1869 and as a bricklayer was doubtless in high demand in the ever expanding cities and suburbs.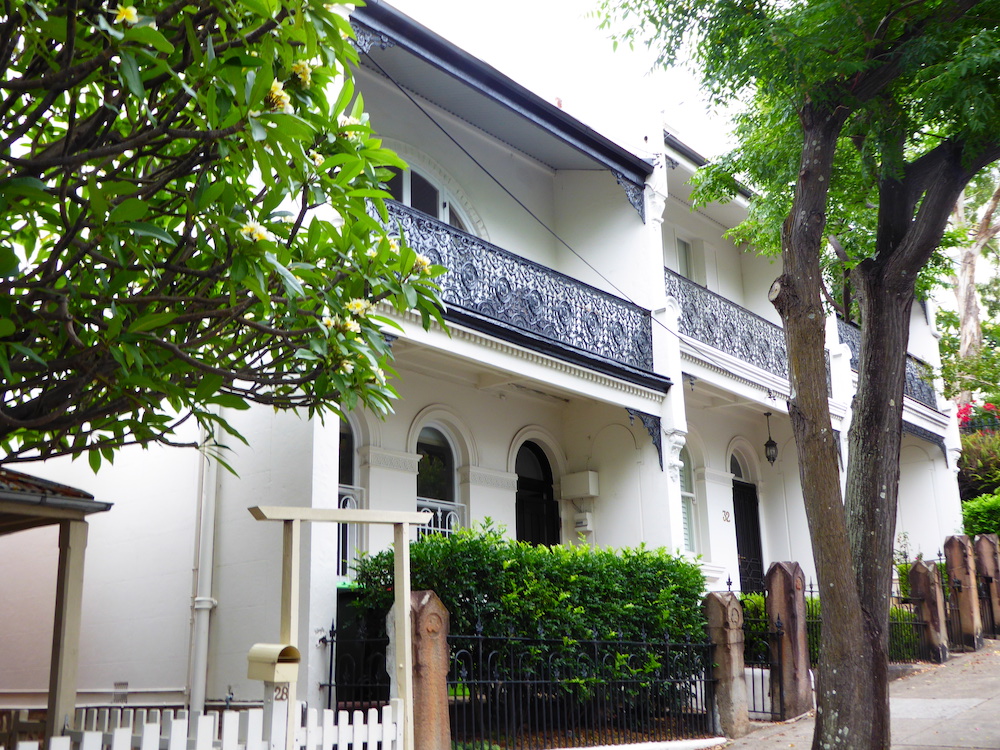 Although he moved around a fair bit, he was in Balmain – named after a surgeon on one of the early convict ships – when two of his children were born in 1879 and the early 1880s. He would later move to nearby Leichhardt, where he died young of cancer in 1891. Our Lonely Planet guidebook billed Balmain as a handsome, quiet Victorian suburb with many original buildings, but I was intrigued at the thought of looking at houses that Peter may have built in what was mainly a working class and industrial area at the time.
So we jumped on the ferry that took us under the Harbour Bridge and out to the stop at East Balmain, past the Luna Park amusement centre and attractive waterfront districts.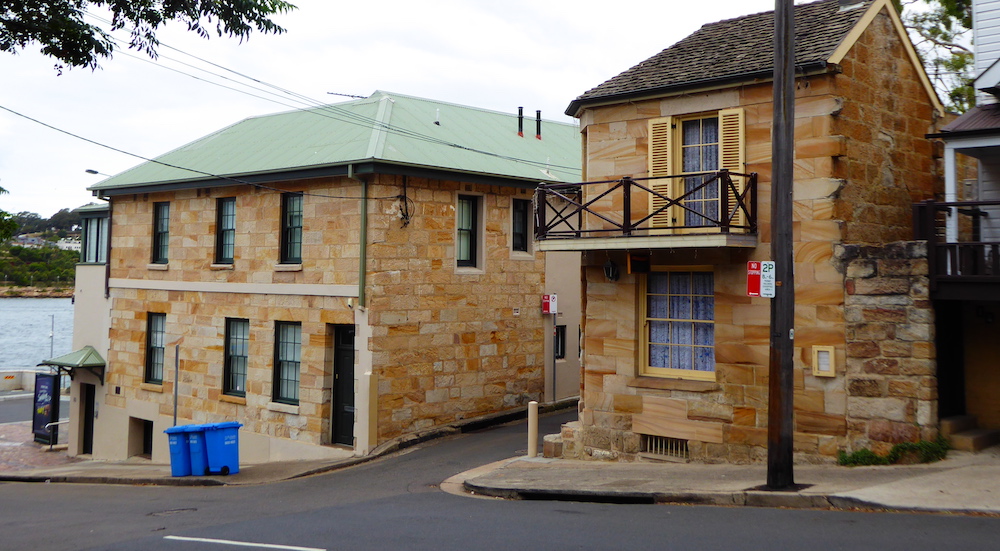 The historic colonial buildings were there by the shore, including an old warehouse restored in 2012 and a former pub in sturdy sandstone that would have kept the salty sea dogs in beer on a daily basis. Nearby, also on Darling Street, is a little sandstone cottage that the local ferryman called home and a collection of modest but beautiful Victorian cottages in wood, sandstone or red brick, many with elegant iron lacework and shaded verandahs.
Turning off Darling Street, we found ourselves in a little park overlooking brash Darling Harbour. Several dog owners were walking their pets but we were distracted by the generously proportioned Ewenton Mansion, standing on a hill with excellent views. It's a mish-mash of styles as it was extended considerably on several occasions but it looks great, especially surrounded by lush planting.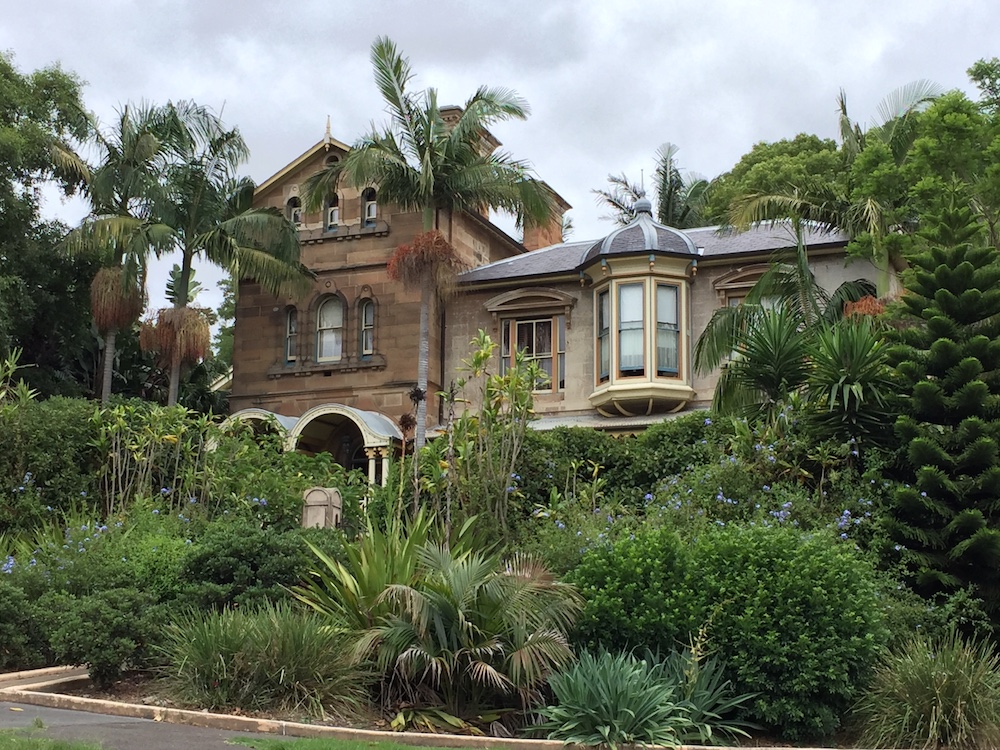 We walked on up James Craig Road, overlooking the more industrial landscape of White Bay, and explored the side streets and their handsome homes. Back on Darling, we stopped for a refreshing cup of tea near the old Watch House. Dating from the 1850s, it served as a gaol for locals in trouble with the law.
We ended our walk at Balmain Wharf, ready to get the ferry back to Sydney. But when we discovered we'd have to wait for ages, we opted instead to get the earlier one to hilly Cockatoo Island. And what a curious and disappointing place it was.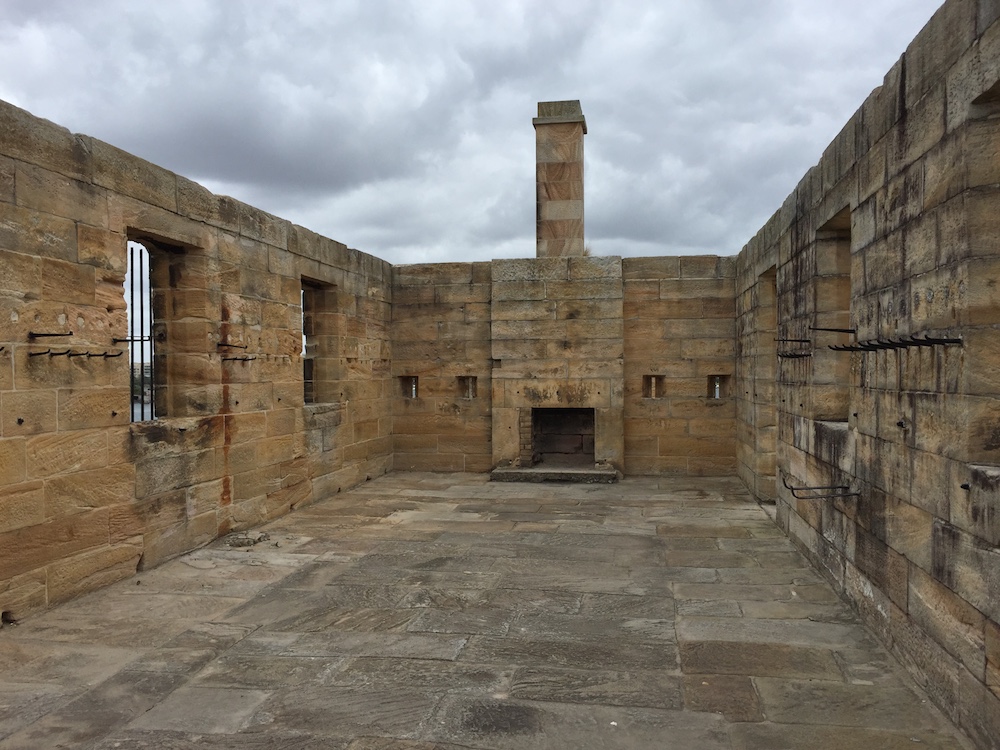 Part convict settlement for men who re-offended in and around Sydney and part shipbuilding base, it's neither these days and exists instead as a tourist attraction.
We stopped for a beer and something to eat but eventually realised that the stressed staff had forgotten our food order so we gave up and went for a walk. It was cloudy and drab and the island felt the same as we climbed up the stairs to the sandstone summit. Up there are a large number of buildings, most of them related to shipbuilding and the navy but they were very quiet and of little interest to us.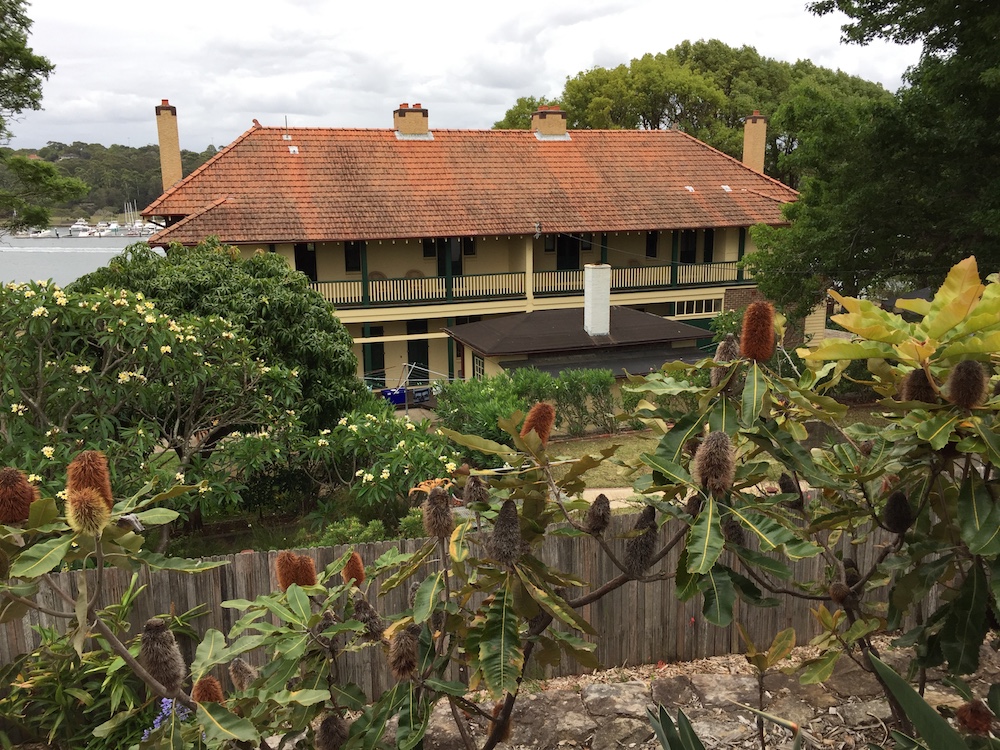 So we walked on to what remains of the convict-era sandstone structures. There's not a huge amount of them left and it's difficult to picture what life would've been like for those sentenced to spend time there. Remains of some isolation punishment cells were discovered in the cliffs a few years ago but there's no way of seeing them now as most were wiped away when the cliffs were remodelled. The remains of some vast cisterns built by convicts are, however, visible.
Several 19th century wooden cottages remain, some of which are now holiday lets, and one has some interesting old photos of Cockatoo Island over the years. We walked back to the ferry, past hysterical and screeching seagulls fearful that we were going to steal their chicks, and left for the scenic journey back to the CBD.
In the evening we had a quick bite to eat before watching the musical Beautiful, the story of Carole King, at the Lyric Theatre. Graham's brother had given us tickets as a Christmas present and very good it was too thank you – an enjoyable end to a mixed Boxing Day.