Our last full day in wonderful Australia and we found somewhere I'd be happy to call home – East Melbourne. But sadly I can't see our budget stretching that far…
Just a short walk from the central business district and the Laneways, East Melbourne is overflowing with the most glorious houses and cottages, perfectly manicured gardens, quiet alleys and the occasional inviting cafe. Like many a gentrified district, I'm sure it's had periods of poverty and deprivation but there's no denying that today it's highly sought after.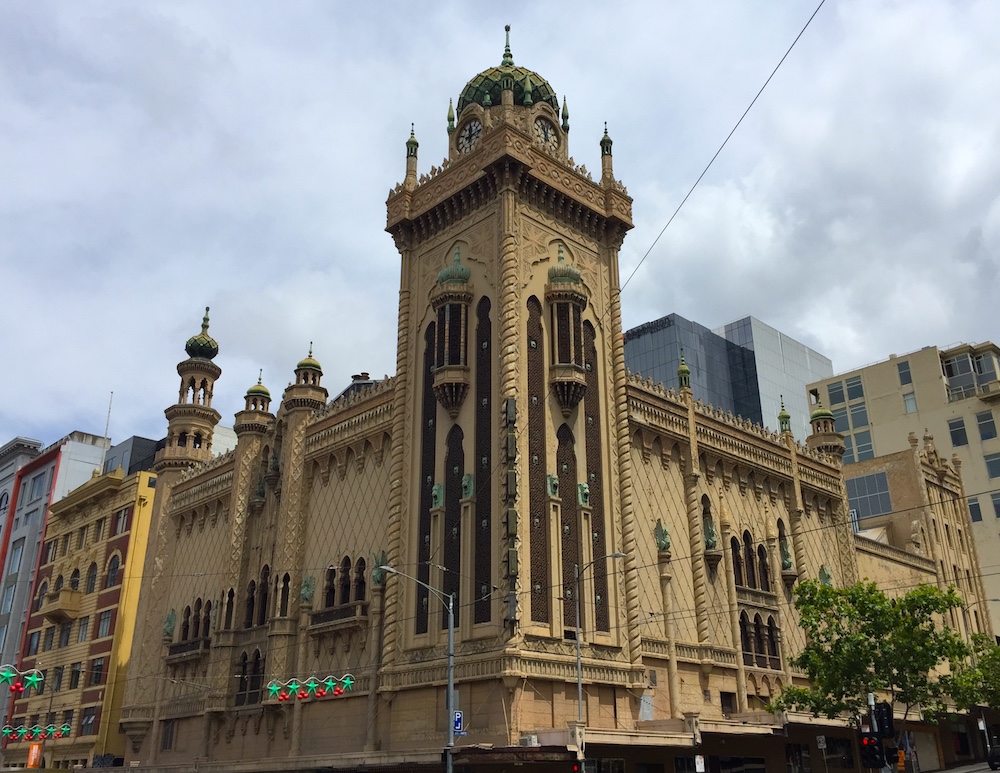 But while East Melbourne was our target, we began by catching the tram down to the river and walking along Flinders Street, a main drag with several notable buildings including the extravagantly Moorish Revival Forum Theatre. By the time we reached the end of Flinders and the start of our walk, I realised we were just around the corner from our hotel – an epic failure of navigation.
Just beyond lay Fitzroy Gardens, an elegantly landscaped park with massive trees, shaded avenues and lush beds. One of its curious attractions is Cooks' Cottage, the home of James Cook's parents that was shipped over from England and rebuilt brick-by-brick. Quite why escapes me but doubtless it had much to do with the fair captain's 'discovery' of the eastern coast back in 1770.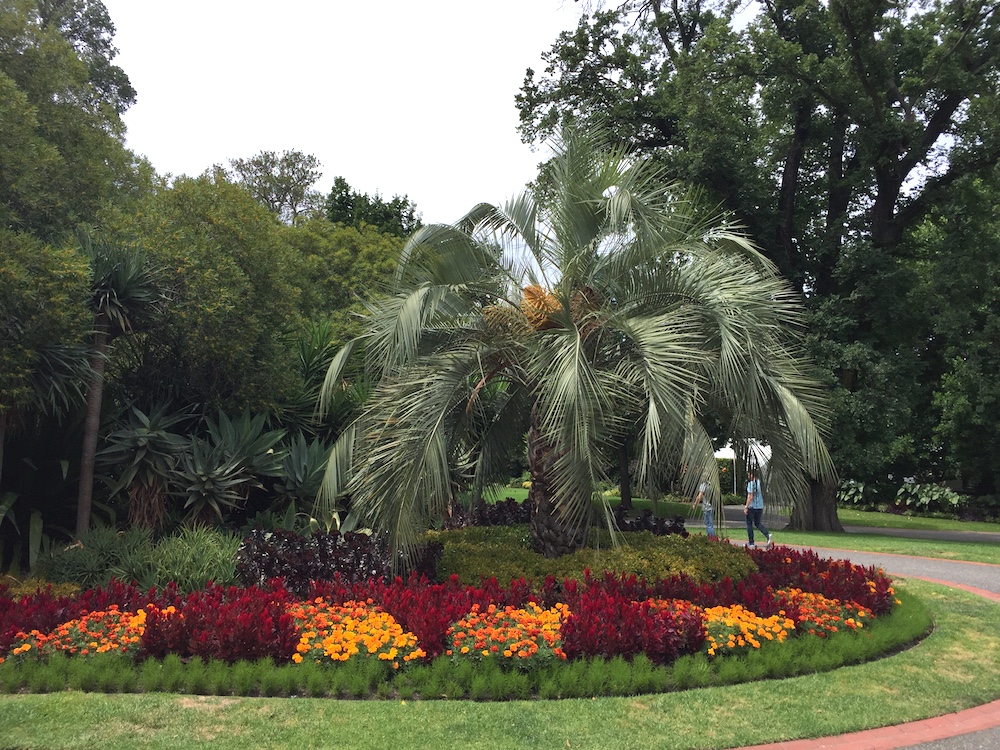 We didn't stop, partly because it was populated by those embarrassing people who dress up in daft costumes, pretend to be characters from the period and try to get you involved in their tedious enactments. Far better was a conservatory that was awash with colour, including aromatic lilies and vibrant fuchsias. We pushed on through the park to the residential district beyond and roads like George and Hotham Streets, which boasted a whole series of stunning Victorian homes. A few were mansions, most were a lot more modest and quite a few had the intricate ironwork and verandahs we'd come to expect.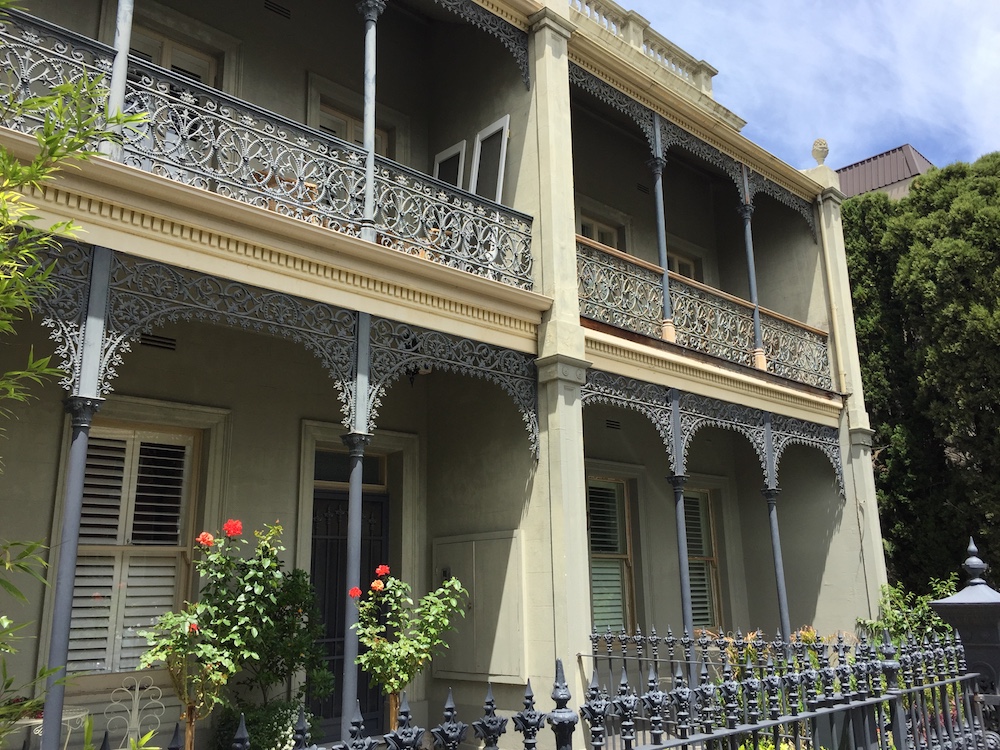 Some streets boasted stylish Art Deco properties, including a former Post Office and a block of flats on George Street, while Powlett Street showed off Canterbury Terrace – Melbourne's longest terrace with 16 homes, built in 1878. The 1861 bluestone Gothic House designed by architect Joseph Reed was notable for being somewhat different.
By the time we'd finished our walk back in Fitzroy Gardens we were both drained of superlatives, in love with the district and all set to pack our bags and buy a home there. Instead, we had a quick lunch.
In the afternoon we spent an hour at the Old Treasury Building, a grand old Victorian building that now houses a museum. Surprisingly it was designed by a very young man called JJ Clark, who was just 19 at the time. How could that even be possible?
In the basement are the original gold vaults where bullion was stored during gold rush times but these are nowhere near as interesting as the displays built up around the historic documents from Victoria's Public Record Office. Much was given over to the founding of Melbourne, with some fascinating old photos and a panorama of the city. So much has changed (understatement of the holiday) but what's amazing is how green cities are now compared to how they looked back then. Back in the 19th century, what became the city of Melbourne looked more like a desert but today it's trees, trees, trees.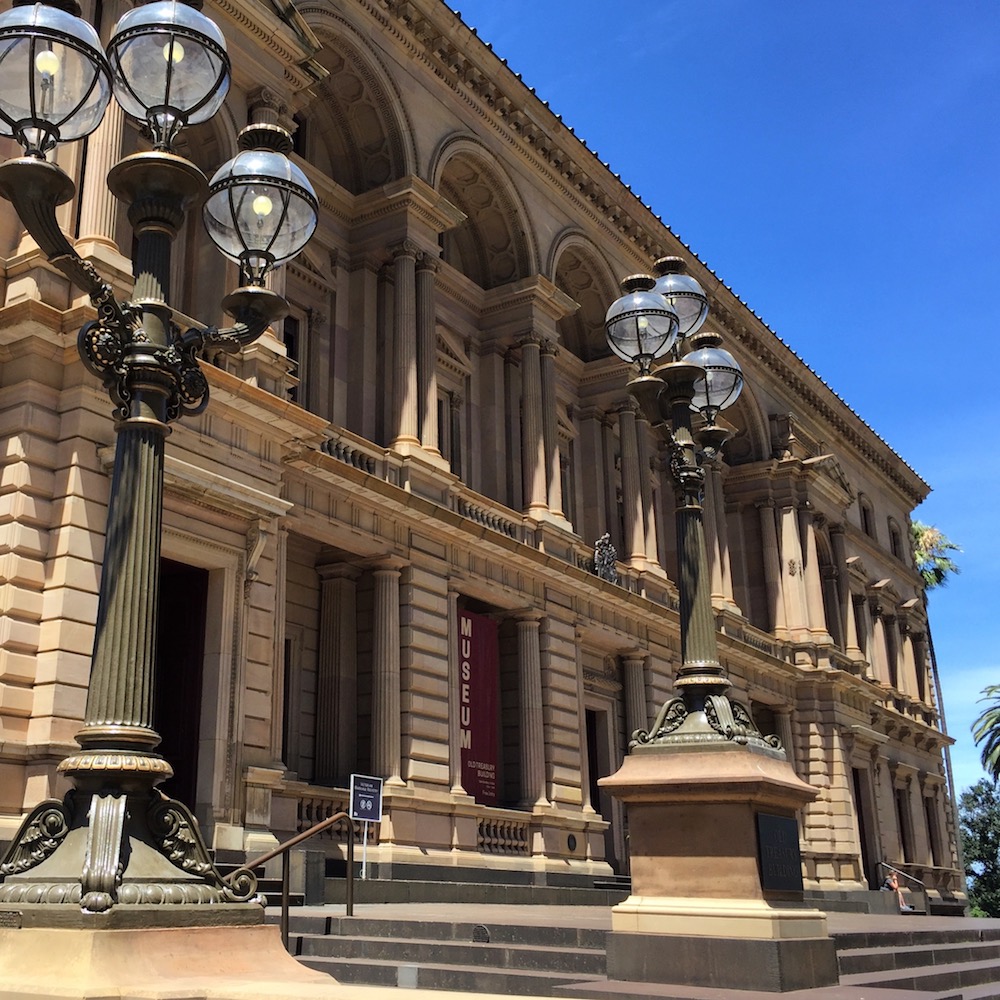 Another temporary exhibit featured the story of the state's notorious bushrangers, the men who lived the life of outlaws, including the notorious and violent Ned Kelly gang. Their stories were truly disturbing as was the death mask of one such villain, Mad Dan Morgan.
All in all, the museum was excellent as well as free. And the staff were as friendly, helpful and enthusiastic as pretty much every Aussie we'd encountered on our 3-week trip.
But that trip was coming to an end. We had to pack our cases, ready for our flight back to Sydney and our onward trip to Europe. My mood that evening was tempered by that knowledge as we sat and ate in a popular French bistro called The European, just around the corner from our hotel and over the road from the stately Victoria Parliament building.
We concluded the evening drinking on the roof terrace of the neighbouring pub, the Imperial Hotel. It was cool, the stars were out and a little mouse darted around on the floor looking for scraps.
I didn't want to say goodbye…