After a day of exploring Charleston's historic heart it was time to drive into the countryside, to visit a couple of the plantations that helped the south so rich and so notorious for slavery.

The road to Drayton Hall took us through industrial and nondescript suburbs, along dual carriageways lined with fast-food joints and out-of-town stores. Later we turned onto Ashley River Road, which was a far more picturesque avenue lined with live oaks and magnolias that enveloped the road so much that it was like driving through a tunnel made entirely of vegetation.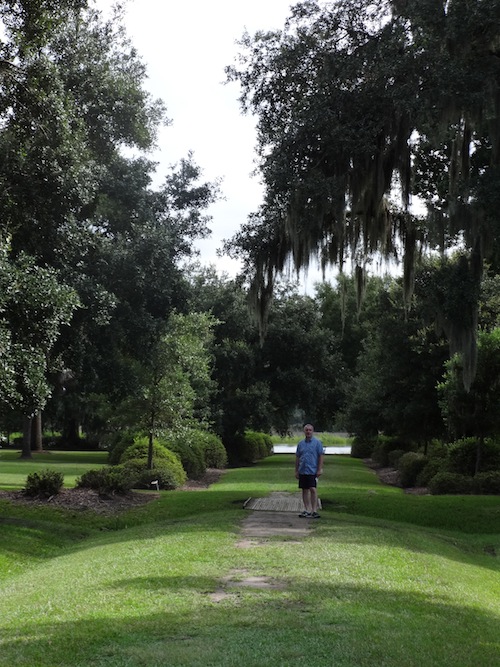 Drayton sat in beautiful grounds on the banks of the Ashley River, the hall standing proud on a slight hillock, overlooking an ornamental lake. A fine example of Georgian, Palladian architecture in red brick, it was the work of an Englishman who'd come to the Americas to make his fortune.
The grounds were lush, dotted with familiar oaks and magnolias, many draped in Spanish moss. The river flowed lazily, its banks a forest of reeds. It all looked magnificent in the sunshine, which itself made for a pleasant change to the cloud of the day before.
We were given a guided tour by National Trust staff, accompanied by a mainly rotund and elderly group of Americans. For a change we weren't the only Europeans either for a German couple joined this particular outing.
It turned out to be a shell of a building and we had to use our imaginations to picture the lives of the Drayton family and their army of slaves. Because, like the Aiken-Rhett House yesterday, the hall had been preserved rather than restored. There was no furniture, no portraiture, no decoration. In a way it was disappointing to see a house so starkly presented, but I understood why it had been done that way.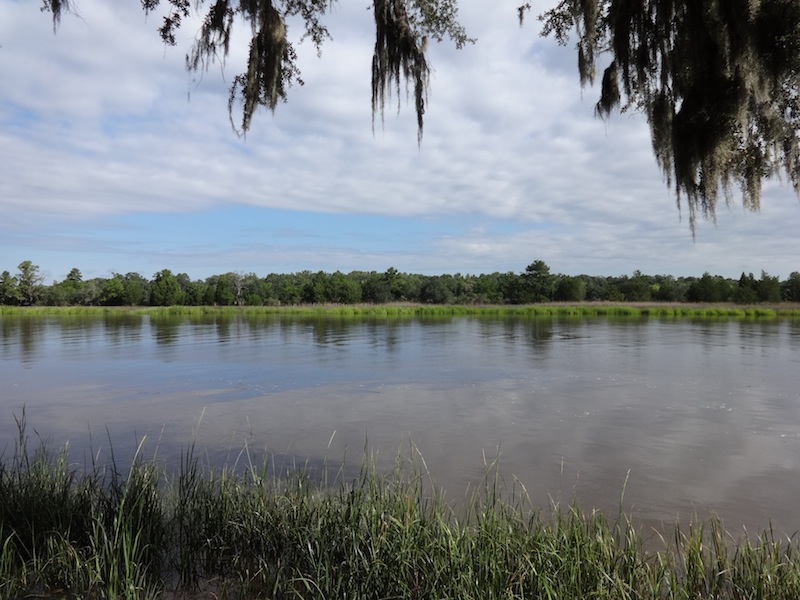 It was a shame too that there was such little information about the Draytons and their slaves. An exhibition would've been good, to help bring the story of the place to life more.
We jumped in the Mustang and drove a few miles up the road to Middleton Place and lunch. Southern Fried Chicken was on the menu for me, a typical southern dish.
While Drayton had managed to survive the destruction of the Civil War years and its aftermath, Middleton Place wasn't so lucky. The main house was trashed by fire and earthquakes and all that remains today is a pile of bricks. However, one wing wasn't as badly damaged and was restored to become the family home of the Middletons, who lived there until the 1970s. It proved to be homely but elegant, richly furnished, cool and airy. For a change we also got a bit more about the family on this tour.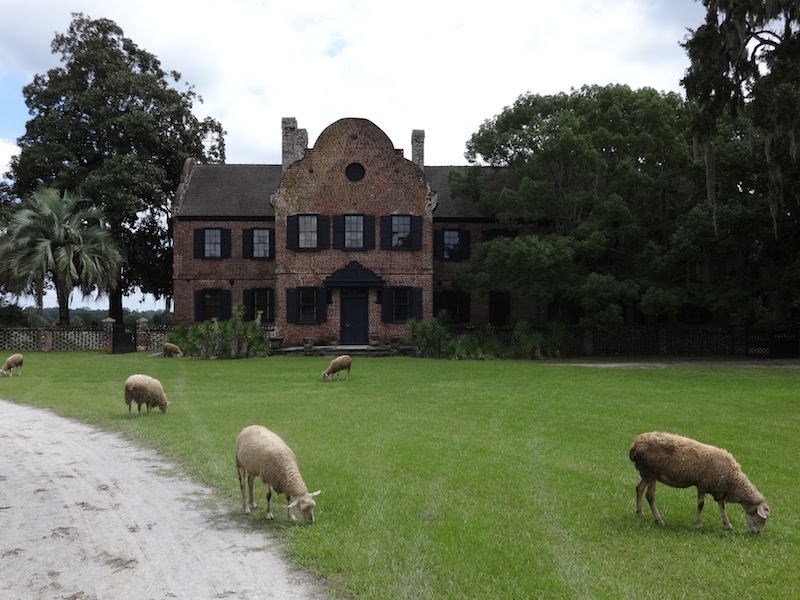 The house was attractive, but the grounds at Middleton were extra special. Looking out over the Ashley River, they were landscaped in the European style with lakes, ponds and formal gardens. Sheep scampered nervously around as we explored.
A slave family's home, now restored, gave us some idea of what life would've been like for those who were bought and owned by the family – but it didn't go far enough. In fact, I was beginning to get the feeling that the posh, elderly ladies who hosted the tours, and the trusts running these places, didn't really want to talk about something so shameful and painful.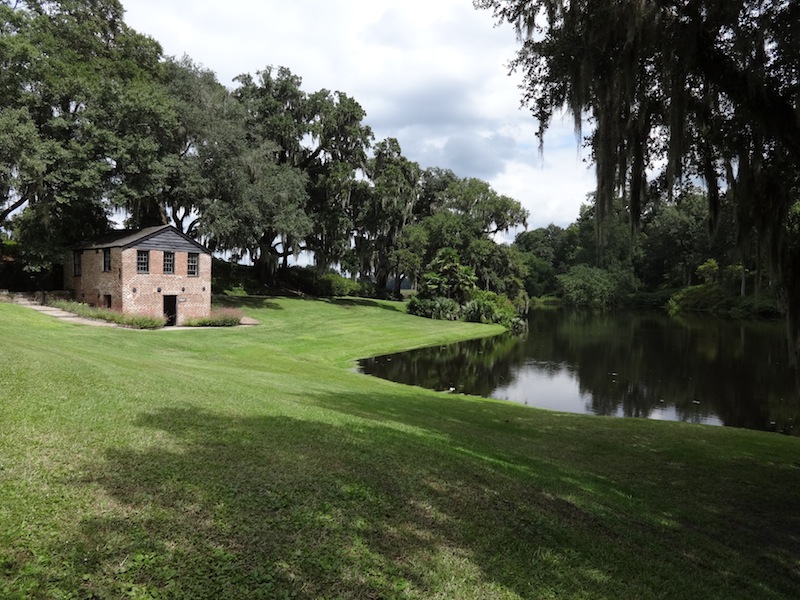 Elsewhere, we walked through Middleton's farm, populated by cows and horses, water buffalo, goats and chickens, and workshops that recreated life back on the farm in the 19th century. Wildlife was everywhere, from birds and turtles to alligators basking in the heat by the side of the mill pond. OK, they weren't giant but it was strange seeing them outside of a TV documentary so I kept a safe distance.
The grounds were exceptional and a photographer's wet dream. Giant oaks dominated and provided some shade, but the intense humidity eventually left me gagging for the air conditioning of the car.
We had a few beers back in the city at Tommy Condon's Irish pub and then spent our last night in Charleston at our fabulous hotel's restaurant, the celebrated Peninsula Grill. We sank a prosecco or two in the bar first, surrounded by local moneyed folk.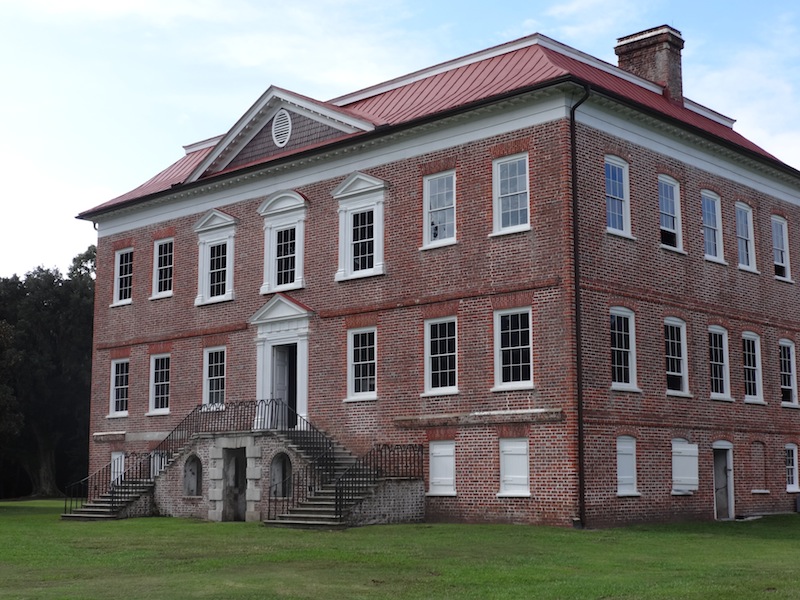 This was old-school dining, with waiters who knew precisely how to deliver great service. My main was a delicious offering of scallops, served with a glorious bottle of Sancerre. And all very nice it was too.
We ended the evening, again, at the rooftop bar of the Market Pavilion Hotel. Our last night in a memorable city.