Flying from Heathrow to Tokyo's Narita airport is tough. It's 11 hours stuck with aircraft air-con, which always leaves me feeling as if every last drop of moisture has been sucked out of my body. But at least we had a better experience than most.
Thanks to BA and Amex, their companion vouchers and Avios, we were flying First for the price of an economy ticket. And before boarding we enjoyed luxury in the fancy Concorde Room at Terminal 5, tucking into a slap-up breakfast and plenty of champagne.
Our mood was only dampened by our idiotic mistake in leaving behind the expensive Japan Rail Passes we'd bought to cut the cost of train travel. And then there was the bitter taste left in my mouth over BA's inability to resolve the fraud carried out on my frequent flyer account 2 months earlier.
However, the champers helped ease the bitterness, as did the first class cabin, the expansive seat-cum-bed, the great service and fine food. I even slept for several hours.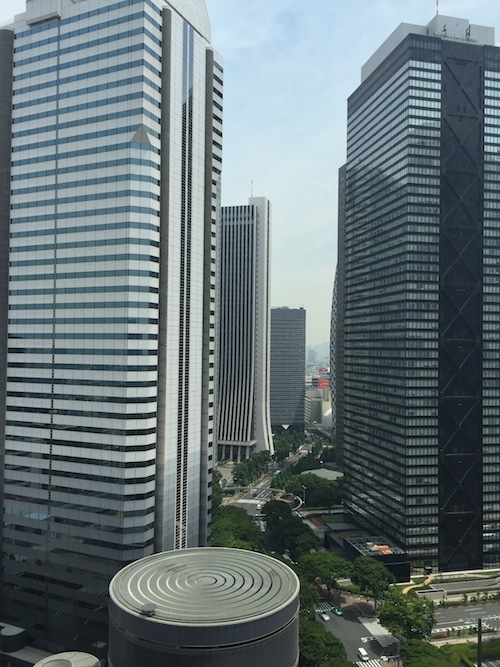 I could easily get used to first class travel and that feeling of knowing you're one of just a few people on a Boeing 777-300 getting the very best treatment.
But no end of special treatment can solve the jet lag problem. We arrived in Tokyo at 9am but it felt like the end of the day.
We both experienced some minor interrogation at customs but then caught the limo bus service into town and our hotel, the Hilton in Shinjuku. Station staff ensured it all operated smoothly, bowing as we made our departure but delivering the longest announcements I've ever heard on a bus or train anywhere. Not that we understood a word of them.
It was a long journey into the city, along dual carriageways and motorways on a hazy spring day. Paddy fields rapidly gave way to an endless landscape of industrial estates, tower blocks, factories and out-of-town shopping complexes. As an introduction to Japan, it was unattractive.
In the heart of the city, we scaled flyovers that soared almost as high as the buildings – making me ponder what would happen if an earthquake were to strike.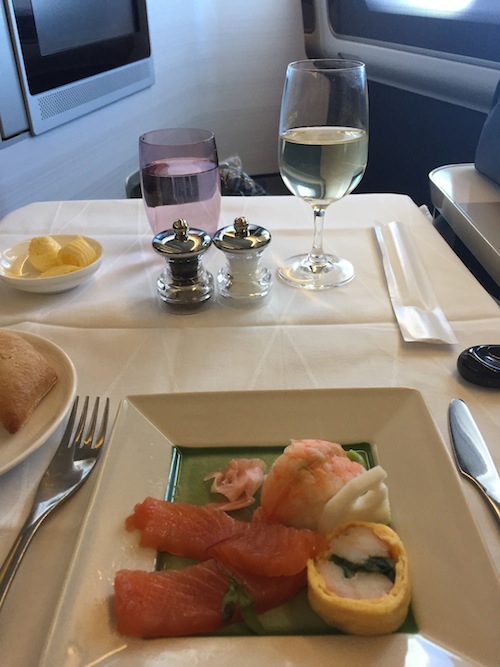 Our swanky hotel in Shinjuku was in the heart of the financial and local government district, all soaring tower blocks of glass and steel, and canyons filled by wide roads lined with trees and row after row of pink azaleas. Our room in the Hilton, on the 28th floor, had great views.
We didn't want to hang around though for fear we'd fall asleep. Our plan was to plough on through to try to beat the jet lag. But as we went out for a walk, in the sticky heat, I could feel exhaustion washing over me. I felt as if I were hallucinating, struggled to put one foot in front of the other, as we battled through the crowds around the architectural mess of Shinjuku station.
Eventually we succumbed and grabbed an hour of sleep back at the hotel, which helped to refresh us without too much damage to our sleep pattern. Later we visited the Hilton's smokey St George's Bar (how can smoking be allowed indoors but not on many of the streets of Tokyo?) and ate in their international and hugely expensive Metropolitan Grill, served by the campest but friendliest waiter ever to come out of Brazil.
A few beers later, I was ready for bed and ready to begin our big Japanese adventure.