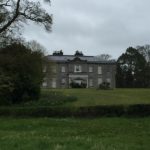 Pondering Northern Ireland, my thoughts are all too often coloured by the Troubles. It's easy for me to forget that life went on despite the bombs, shootings and the hectoring background noise of politicians that filled my formative years.
It's weird to think that the National Trust was busy there despite all that trouble, doing its preservation thing on coastlines and properties while chaos and death reigned all around. The Argory is one example of a country house that it took over, when the last in the MacGeough–Bond family line handed it over to them in the 1970s.
We spent a gloomy May day exploring the house and gardens, defying the drizzle.
The Argory was built for a family of wealthy merchants in the 1820s on high ground by the River Blackwater in Country Armagh. Built of grey Caledon stone, it's compact and surrounded by lush woodland and landscaped grounds.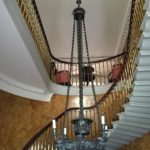 The house can only be viewed on a tour but our guide was entertaining and informative, and fortunately mixed plenty of family stories into the usual details of furniture and architecture. The most famous story involves Captain Shelton, who survived the terrible Birkenhead disaster at sea.
Generally, they weren't very good at keeping the family line going.
The Argory isn't as grand as many country houses I've visited over the years but it's much easier to relate to as a result. It helps that the rooms have, in the main, been left looking as they did when the last owner died. He also left the Trust huge amounts of family belongings, which are now on show throughout the building.
Highlights of the house include the cantilevered staircase in the West Hall, a drawing room that looks as if the owner has just popped out for a cup of tea, a lobby complete with its own organ and a light and airy dining room.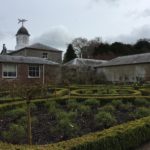 Later we ventured into the grounds for a walk, dodging the rain along the river. And we made sure we had a clotted cream tea in the cafe that nestles amid some of the estate's former agricultural buildings.
Sadly, we were just too early in the year to see the gardens in all their glory…