Deep below the fields, farms and villages of Puglia lies Grotte di Castellana, a cave system that's something like 90 million years old. It made for a great stop on the road to Alberobello during our tour of southern Italy.

Italy's largest subterranean network of caves was created by an underground river but, remarkably, it wasn't discovered until 1938 by caver Franco Anelli. Remarkable because there had long been a big hint in the landscape that something odd was going on – a giant hole in the ground.
Locals didn't see it as anything other than a place to dump their rubbish. In reality, it represented the point where part of the roof of a giant underground chamber had collapsed during an earthquake.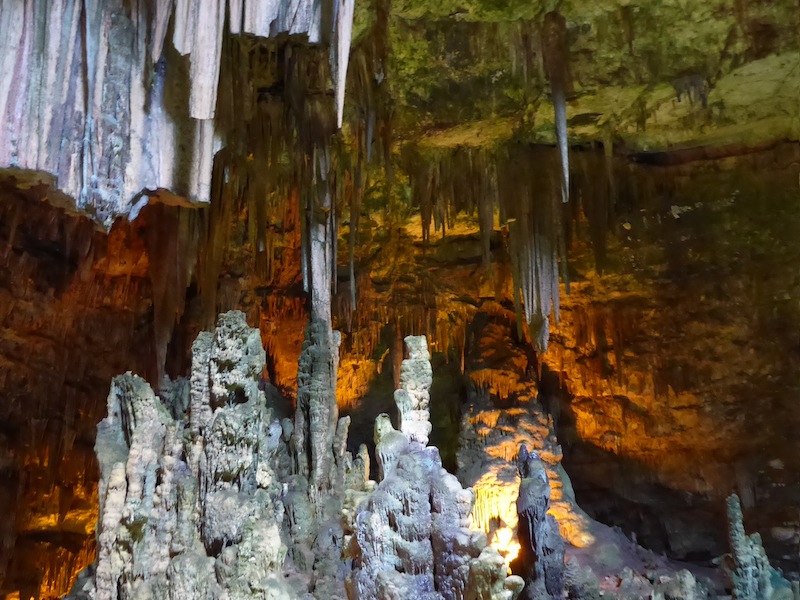 That chamber is called La Grave and it's something like the Pantheon of Rome, the light pouring in through the hole to brighten its grey walls. Franco Anelli accessed it by lowering himself down but we had the benefit of a long flight of slippery steps at the start of our guided tour. As we descended, the temperature fell noticeably to the mid-teens C.
Suddenly the giant cavern of La Grave opened up before us – 100m long, 50m wide, 60m deep so the guide told us.
Not that I really needed facts and figures to be taken aback by the cathedral-like space. In place of pews and altars, we were confronted by giant stalactites, stalagmites and rock pillars in a variety of reds, greens, browns and pastels. In the dampness, green mosses flourished.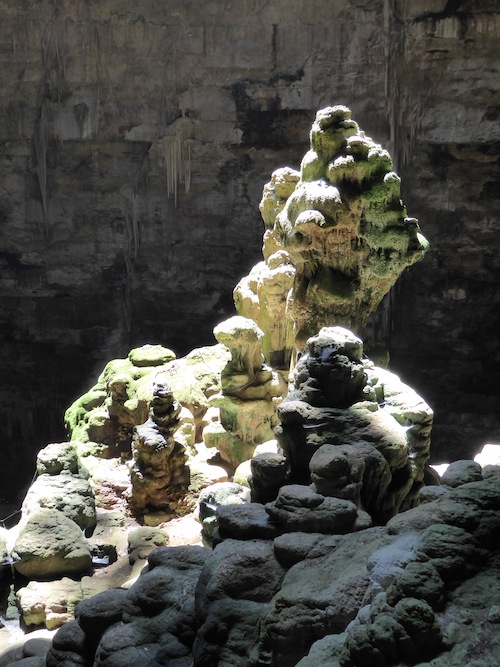 Our guide didn't hang around so we continued on, through a maze of tunnels and other vast chambers that lacked openings to the ground above. Careful lighting ensured that brightly coloured crystals glinted before our eyes.
But we could also see where visitors in years gone by, who were allowed to roam without guides, had broken off various pieces of rock to take home as souvenirs.
At various points the guide pointed out rock formations that supposedly looked like people or animals, including owls and the Virgin Mary. I didn't get most of them but the so-called she-wolf in the Black Cave was certainly familiar from the founding myth of ancient Rome, Romulus and Remus.
Further on we came to the Cave of the Monuments, the largest space without an opening to the ground above. And vast it was too. Elsewhere, a formation similar to an altar was surrounded by pillars and stalagmites that looked just like wax candles.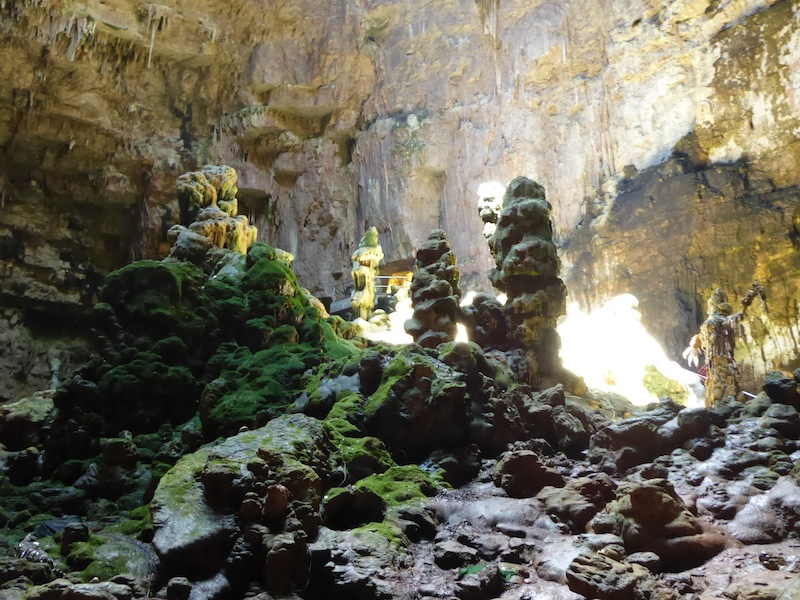 Sadly, we could only join a short tour in English so we missed the chance to explore the system's crowing glory, the White Cave, some way further down the network.
How much more there is remains to be seen. The caves have yet to be fully explored, so many more may come to light in the future.
Outside, we grabbed lunch amid the touristy restaurants and souvenir shops clustered around the attraction before driving on to Alberobello. We drove through an agricultural landscape of olive groves and vineyards. Like much of the Puglia we'd driven through, the roads were dodgy, the villages looked poor and derelict buildings littered the landscape. A prostitute sat on an old tin amid the rubbish of a dusty country road, tempting the (desperate) truck drivers who were using it as a cut-through.
We also couldn't miss the trulli, Puglia's famous dry stone huts that boast Hobbit-like conical roofs. They peppered the countryside, some ramshackle, some smartly converted. But however many of them we saw on our drive, nothing could prepare us for the sight of Alberobello itself…