After months of stress and aggravation at work we needed an easy week away to relax and recuperate but October's an iffy month in the Med, and low season can mean storms and rain.
But we had nothing but warm sunshine during our week in Malta, the small but perfectly formed island beached between Sicily and Libya. That meant we could spend plenty of days lazing by the pool at the swanky Hilton Hotel in Portomaso when we weren't visiting Valletta and Mdina, two beautiful if very different cities.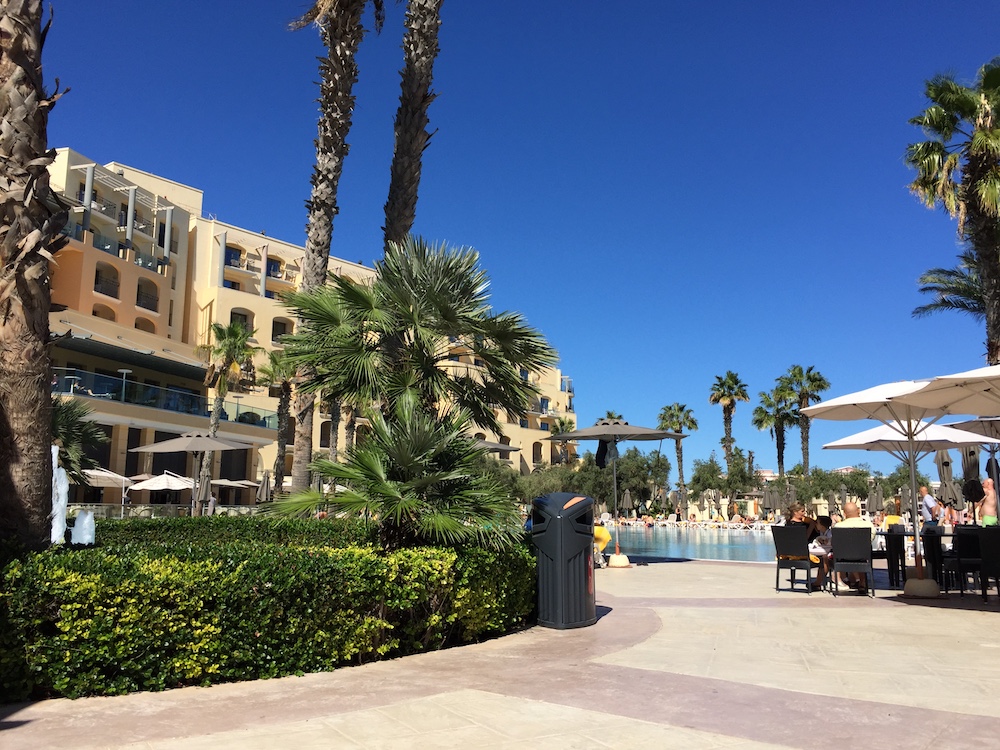 Malta's Luqa airport is around three hours away from Gatwick and we flew in on a British Airways A320, enjoying the early morning business class service and a few glasses of Champagne. The bus ride to the hotel that followed revealed an island that I'd struggle to describe as 'pretty'. Sure, arid fields divided by ancient dry stone walls and hilltops crowned by stately churches looked good enough to feature on postcards but there was grot too. Amid the modern industrial warehouses were run-down and decayed buildings, litter and tat. Big highways had been carved through towns and villages, a sign that the car is king in Malta. Traffic jams proved it, pot-holes made the journey uncomfortable and the island's drivers had evidently never heard of speed limits.
Boxy houses, built with the climate in mind and with hints of Arabic and Italian about them, made for uninspired settlements. It wasn't until we hit the outskirts of the cities that the architecture became more interesting, with grander apartment blocks and balconies in varying styles that give so many buildings their character in Malta.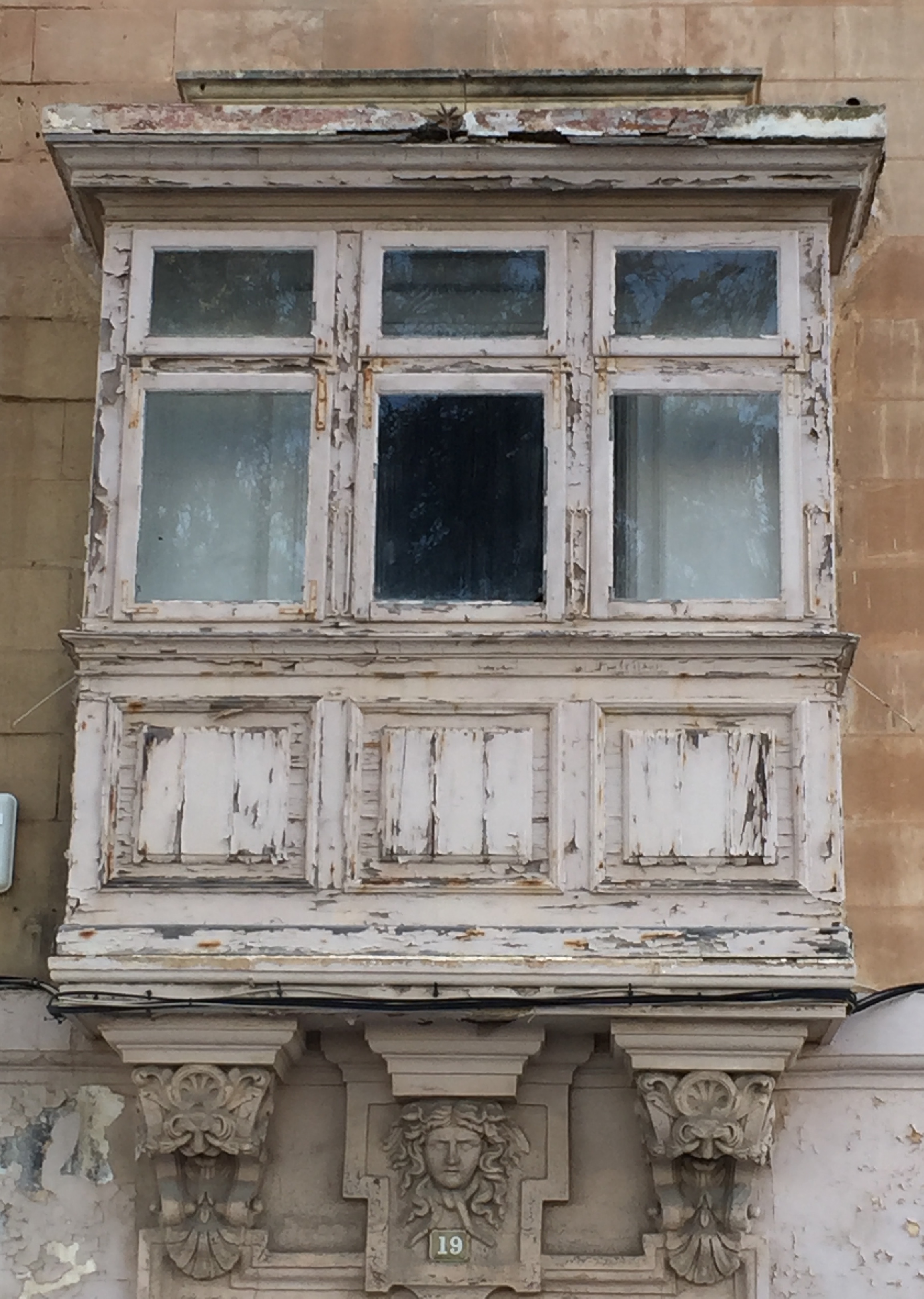 My heart sank as we stuttered into St Julian's. A mix of cranes, redevelopment and streets lined with tatty buildings and low-rent shops made me think we'd made a huge mistake in choosing the town as our base, but at least our hotel was part of the smarter and modern Portomaso marina development. Sterile yes, but it looked a bit smarter.
I'd consciously tried, when booking our stay, to avoid the town's Paceville district, which is as notorious as San Antonio in Ibiza for its ghastly, chavvy nightlife. A quick walk down its piss-smelling streets confirmed my opinion of the place as a hell-hole, full of strip joints and the sort of bars I wouldn't frequent if they were the last places on earth.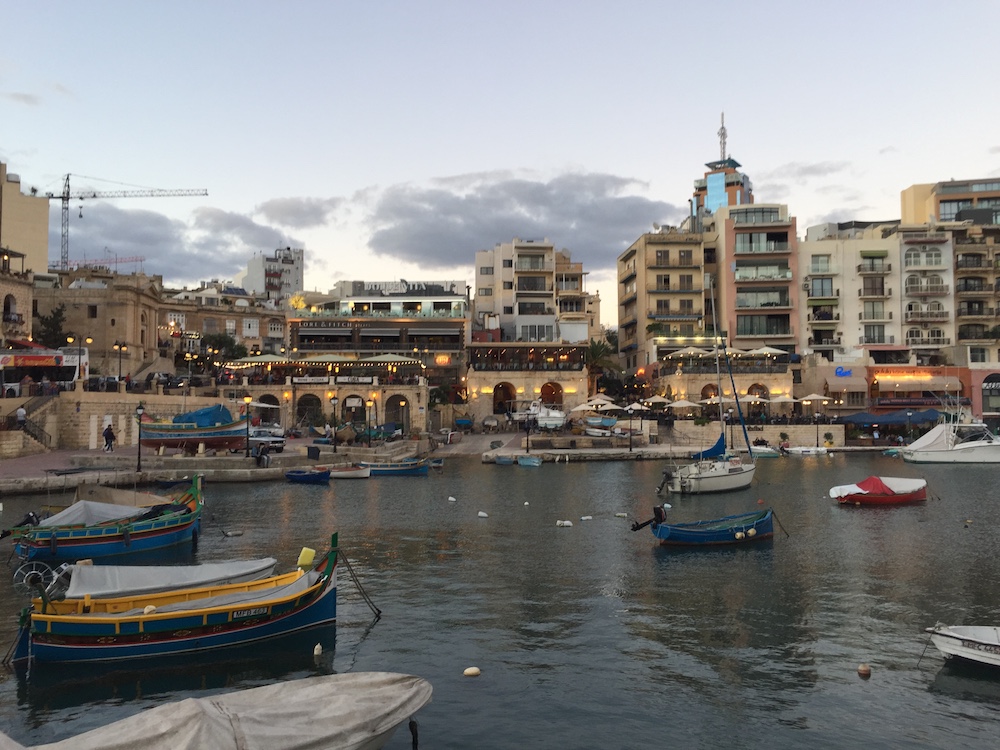 Spinola Bay, the picturesque seafront of St Julian's, is touristy but manages to avoid the worst excesses of the industry, perhaps because it's still a working harbour. There are numerous bars and restaurants around about and they vary wildly. Pubs such as Dick's Bar and the Crow's Nest Pub are stuck in some strange time warp from 70s and 80s package holiday nightmares, when tourists wanted the comfort of home-style hostelries, although the latter was friendly enough.
Two Buoys Bistro was an odd mix of restaurant and art gallery, with handsome waiters, slow service, excellent views of the bay and no end of tables. The fish cooked in salt was excellent if expensive. We  also ate at Cuba on the advice of the Lonely Planet guide, and the food was reasonably priced and tasty even though it had a confused menu.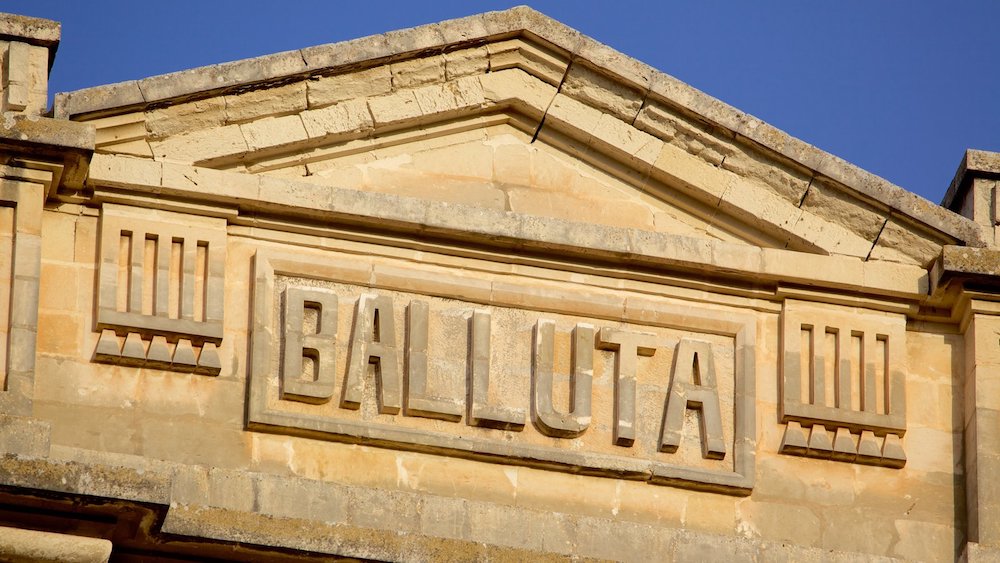 On another evening we walked further around the bay, stopping at Le Meridien Hotel for drinks in their Villa bar and then for food at the Electro Lobster Project. It was painfully quiet and the supposedly excellent position on the seafront promised by the guide book wasn't quite up to the billing but the food and service was very good indeed. It's in part of the Art Deco Balluta Building that overlooks the bay, a monumental and slightly forbidding piece of architecture.
We'd spotted early on that Malta isn't short of casinos and it was inevitable that we'd end up in one of them for a flutter. We opted for Dragonara, perched at the end of a little promontory near our hotel and with staff who are leading nominees in my 'worst customer service' award for 2017. Built in 1870 as the summer residence of the Marquis Scicluna, the handsome palace building became the island's first casino in 1964.
We had nothing to fear in terms of minimum bets either as we could gamble on the roulette tables for as little as 1 euro and, as we had luck on our side, we made our investment last for hours. Despite downing far too many vodkas, I walked away with a profit of around 70 euros.
So I felt a warm glow with those notes in my wallet. And, in fact, I felt good about Malta all round thanks to its great cities, good food and excellent weather. It's an island I'm sure I'll return to.