Back when I had youth on my side, apres ski was as integral to my winter holiday as the skiing. Shame, then, that I didn't discover Ischgl in Austria back in my 20s.
Back then I could've stayed up until the early hours, swilling lager and dancing. And I did in places like Val Thorens and Livigno. Sadly, in Ischgl I only had the energy to watch the younger ones gearing themselves up for a night in the town's many wild bars and clubs. Hey ho…
Our holiday started badly. Our accommodation had been downgraded because of a double booking the day before leaving but our holiday company were not interested. The flight was on time from Gatwick, but we were diverted from Innsbruck (a notoriously tough airport for pilots in bad weather) and ended up in Friedrichshafen over the border in Germany. Then we waited for hours while our tour operator, Inghams, organised the coaches to pick us up.
Then we discovered the roads to Ischgl were blocked because of bonkersly heavy snowfalls. So we ended up being put in a charming hotel in Wattens – home, incidentally, to the Swarovski crystal outfit and their popular visitor centre.
Finally, 36 hours behind schedule, we got to Ischgl itself.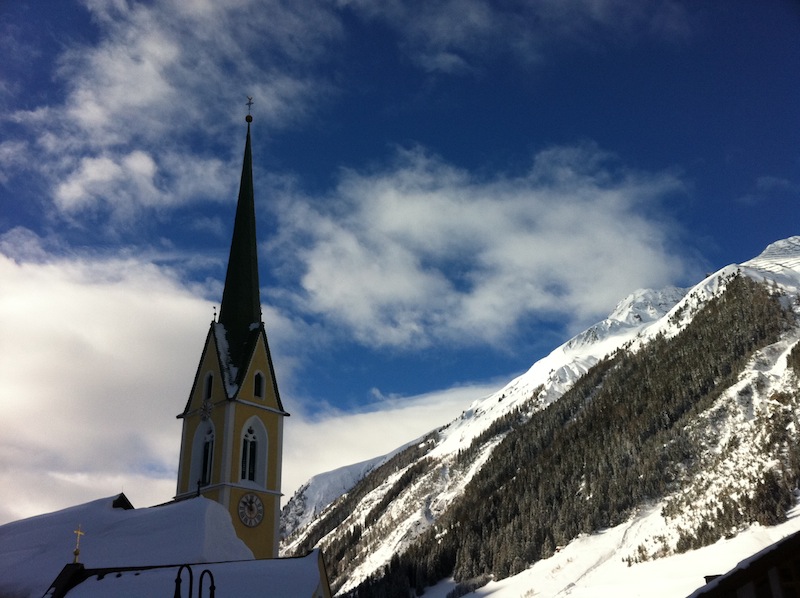 Long popular with Austrians, Germans and Scandinavians keen on booze, skiing and boarding, we soon discovered that this ski resort is fun, noisy and busy, but in a good-natured way.
High up in the Paznaun Valley at 1,400m and in the far west of Austria, it's surprising that it's taken so long for skiers elsewhere to cotton on to its attractions. The village may lack the pretty Alpine charm of some places but it has a good snow record. Indeed, when we were there there was so much snow that at times the resort was closed because of avalanche risk.
The extensive snow-making certainly wasn't needed!
The ski map showed 40+ lifts and a large number of runs – about 230km. The longest was 11km, the steepest a terrifying 70 degrees – a run that a sometimes nervous intermediate like me would definitely avoid.
I joined a ski school but struggled with a rather advanced group while Graham did his beginner stuff – for a few days anyway. Then he broke the news, as we sat over lunch in a mountain restaurant, that he hated skiing and was giving it up. I knew then that skiing holidays would never be the same again, if we were to go at all.
I did at least manage another day on the slopes after that blow, leaving G to get on with things. I'd decided to give the ski school a miss having lost my nerve on the previous day and only too aware that I was holding the others back. My lift pass covered duty free Samnaun in Switzerland – as part of the Silvretta Arena ski area – so I ventured over in the intense sunshine and tried the above-the-treeline action on my own. Skiing alone is nowhere near as fun and I felt strangely exposed, not knowing anyone to turn to for help in case something went wrong.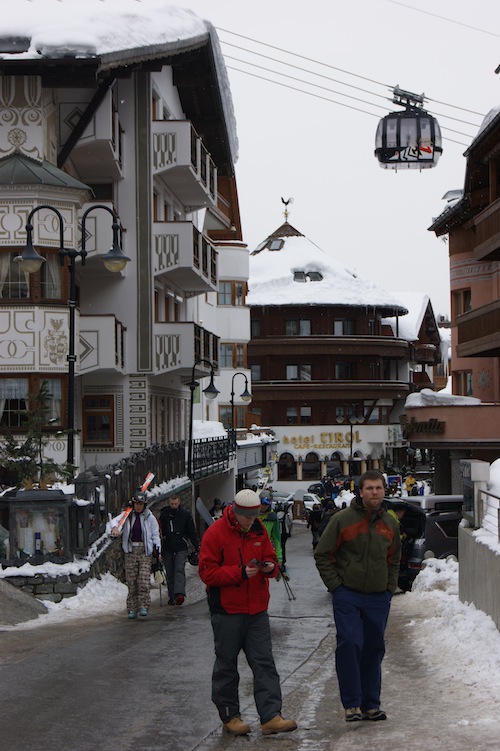 I got there from the Idalp area, a large bowl where the ski school meets and lifts fan out across the valley. The three gondolas from the town to Idalp are speedy but at peak times there can be some queues.
At the end of the day, skiers and boarders meet up in a variety of bars and clubs. Feuer and Eis, Kuhstal and Tenne were particularly popular during our visit. Nikos Hexenkuche was more of a draw for the middle-aged (like me), with music to match. All of them were a good laugh, a great way to chill out after the exertions during the day.
We enjoyed the food at the hotels Silvretta and Sonne but had poor service at modern Testa Rossa.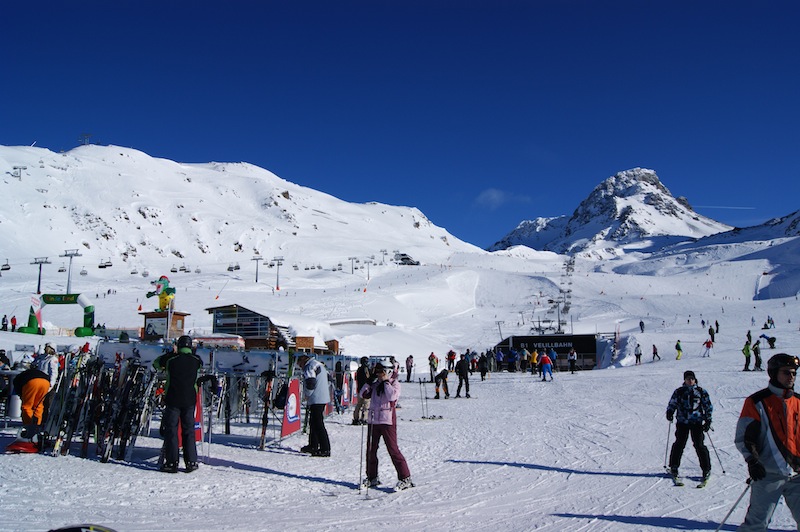 Our accommodation – an average B&B – was on the lift side of the bypass and far enough away from the main drag to avoid being disturbed by the noisy revellers making their way home. Most of the streets around us were also pedestrianised.
With skiing a no-go activity, we moved on to other things. We found the village swimming pool and spa and had a dip in the warm waters, then went for walks in the valley. We also donned cross country skis, and headed out into the valley for some exercise and stunning views in the sunshine. And we realised how exhausting langlaufing can be, sweating profusely in our downhill gear as we skied past evidence of avalanche in the valley. A few miles up the road, we got to see just how deep the snow was in these parts – walls of it more than 6ft deep!
We also took the bus up to the village of Galtur at the remote end of the valley, stopping for a hearty lunch and a walk in the hills. It wasn't a pretty place but made for a change of scene.
Fortunately, the end of the week saw us home without disruption. The only downside – the massive queues at Innsbruck Airport and the slowest check-in staff anywhere in the history of the world…