Morzine had given us a mix of weather but our final full day in town dawned with blue skies and sunshine.
So after studying our maps we decided to spend the day walking on Le Pleney – the hill opposite our hotel – and then down to the nearby village of Les Gets, returning via the Express Chavannes lift.
Our plans were thwarted, however, when we discovered that the chairlift up to Le Pleney stopped halfway up the mountain because of all the work going on to install new lift equipment.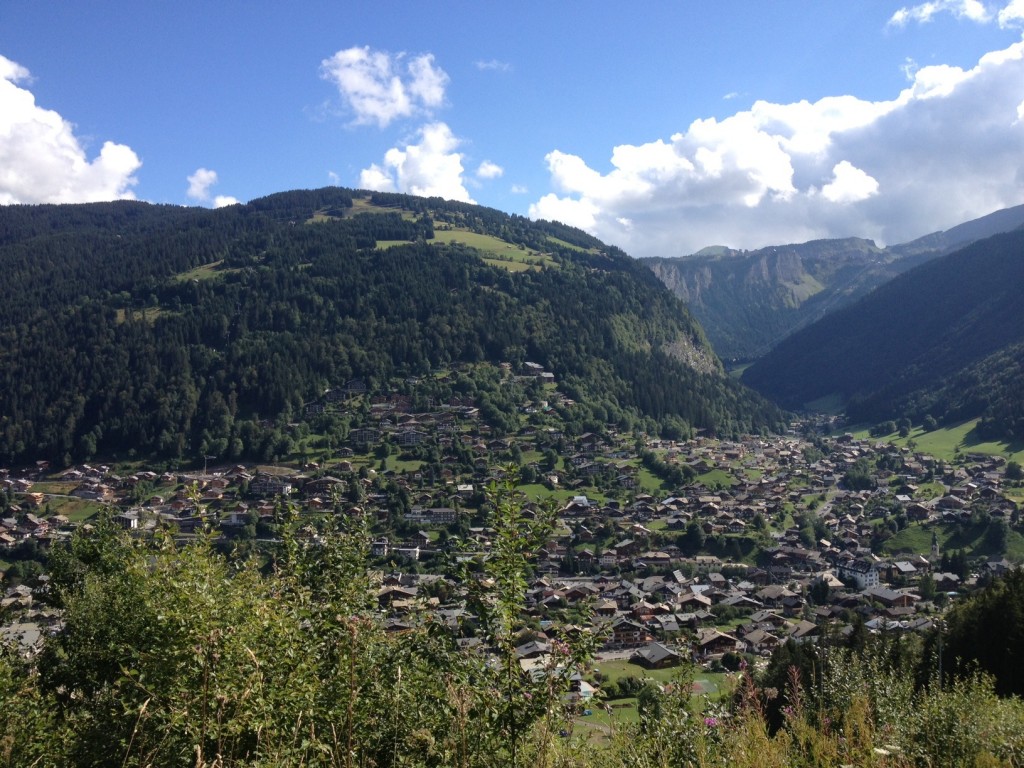 Thanks to lousy signage, it was only when we got turfed off the lift that we found out what was going on. And by then we were stuck in the middle of nowhere. A climb up to the summit soon got dropped as a plan – it was too far and my sciatica would never stand it. So we headed across the mountain instead, in the general direction of the Nyon waterfall that we visited earlier in our stay. To say we were both vexed is an understatement…
We struggled on through the woods on paths that were pretty dodgy and slippery before emerging into the sunshine and rather more solid ground. It was hot and sweaty work, climbing up and down meadows that, come winter, would be pistes for skiers and boarders.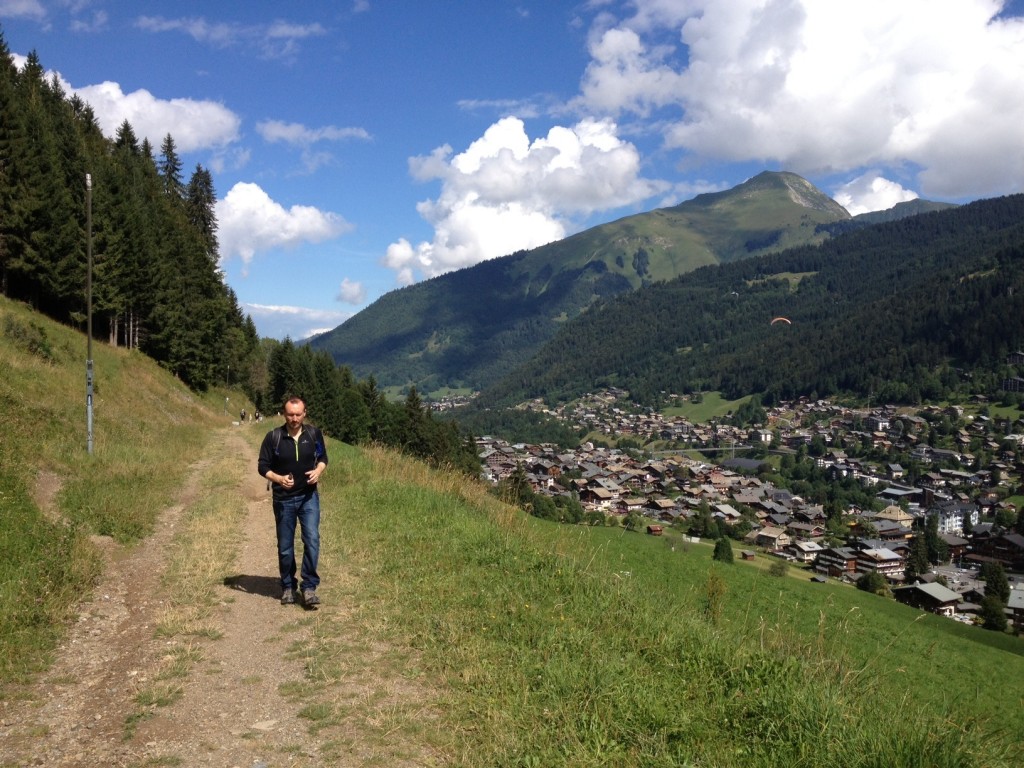 Back in the valley, we picked up the Dranse river and it looked beautiful dappled with the sun's rays as we tracked it back to town using the Chemin du Reynard footpath.
We stopped for lunch at La Dez'Alp, where I opted for an OK salad, a beer and the stunning views across the valley.
In the afternoon we decided to take a hike downhill after riding the Telecabine Super Morzine, on a route known as the Woodpecker Walk. Perhaps if we'd known what was coming we'd have decided against it!
At first it was all pretty simple but soon some of the tracks in the woods became deadly, thanks to the wet weather of previous days and the fact that mountain bikers had churned up the paths. Laughably, the guide to walking in the area claimed the route was banned to bikers.
At one point I lost my nerve completely as we struggled on very steep drops with no grip on our mud-bound boots. The lack of signposting didn't help.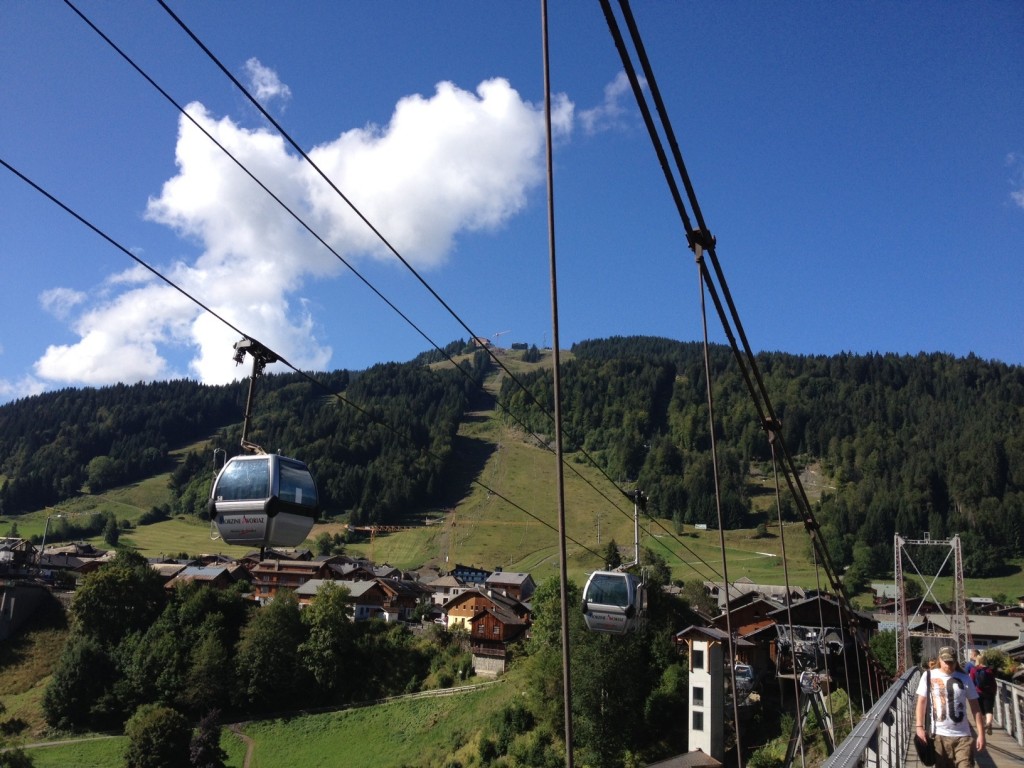 Somehow, and with legs like jelly, we made it down in the end with our dignity intact and without breaking and bones.
I needed lots of food and booze after the traumas of the day so in the evening we ate at La Chamade again, but only for pizza rather than the strange fancy stuff we'd had earlier in our stay. Looking at the diners around us, there were some puzzled looks when they were served some of the more peculiar side dishes.
One couple had their dinner spread across three plates – a monumental pile of food, half of which went to waste.
Weird indeed…
The next morning it was time to say goodbye to Morzine and drive to the hellish airport at Geneva.
We ended up circling it several times just to find fuel and the car hire HQ. Once checked in, the queue for security was horrific. A well earned glass of wine was required in the British Airways lounge after that…
I looked back on Morzine with mixed feelings. It was a much bigger village than I was expecting and the weather could've been better but in parts it was delightful, with flowers planted in abundance and glorious scenery, and there were plenty of places to eat and drink. Slate, which is still mined locally and helped make Morzine rich, is everywhere – from key-fobs in hotels to architectural features on buildings.
But there are plenty more villages in the Alps to explore…