We couldn't go to San Francisco without visiting wine country for a day. But not wanting to drive, and on the recommendation of a friend, we opted for a trip on the Napa Valley Wine Train.
Our week in San Francisco coincided with one of the hottest Septembers in years, and it was another magical and sunny morning in the city when we arrived at the Ferry Building for the start of our journey to Napa.
As we scurried across the bay from the city to Vallejo, a bank of fog appeared behind us, concealing some of San Francisco's greatest landmarks. Only the tops of the tallest buildings and the hills peered out above it, giving the appearance of a city floating on the clouds.
On the ferry were a dozen or so others heading off for a day on the train. Generally we'd avoid these highly organised, mass-produced tourist trips, preferring a bit more independence. But what do you do when you have little time and the journey is complex?
So we were collected at Vallejo and ferried by minibus to the McKinstry Street Station in Napa, where any illusions we had that our rather expensive Ambassador Winery Tour would be small and exclusive were instantly dispelled.
Several hundred folk were gathered, displaying that sense of controlled panic you get in a group of people when free drink is involved – a panic driven by the desire not to be left at the back of the queue and empty-handed.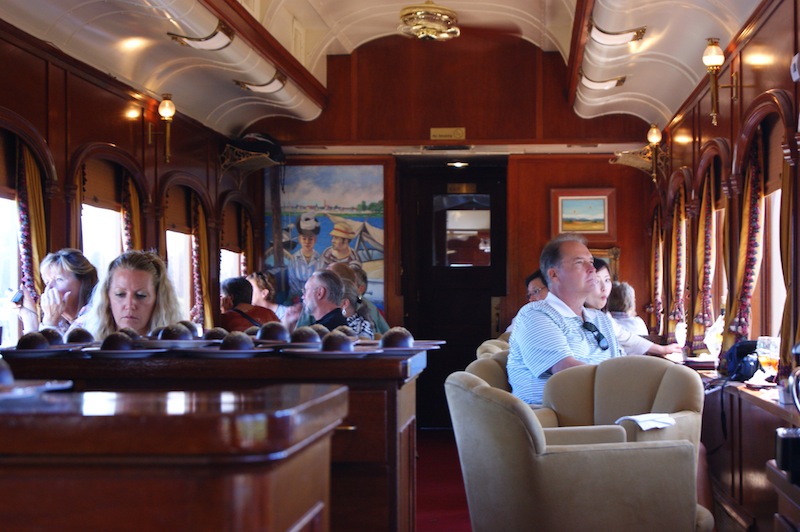 It was still early but we helped ourselves to a glass or two while one of the 'wine educators' (an awful Americanism) gave us a quick guide to the valley and its drinks. It ended with a none-too-subtle invitation to visit the souvenir shop, where folk could relieve themselves of yet more cash.
Ushered to the train, we had to pose for one of those embarrassing souvenir photos, which just added to the bill.
But once we got aboard, we really were impressed. And who wouldn't be by classic Pullman dining cars, beautifully restored to reflect the golden era of first class train travel?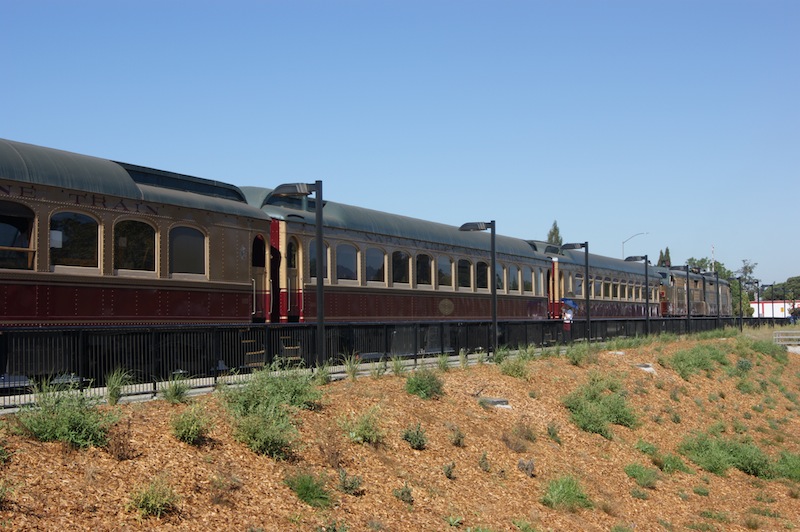 The train rumbled out of the station, on tracks built in the 1860s that originally reached all the way to the spa town of Calistoga. These days the line is just 18 miles long, running through Napa, Yountville, Oakville and Rutherford before terminating at St Helena. And it's probably the slowest rail journey I've experienced, doubtless because at full tilt the train would be at its destination just in time for our starters.
Fortunately we were sat with a friendly family from New York, who were visiting California on vacation, rather than a silent couple from hell. And we were all impressed with our lunch – mine, a perfectly cooked steak with blood oozing, accompanied by a delicious ZD Wines Pinot Noir. I think we'd both feared that mass catering on the train would result in average fare but we couldn't have been more wrong.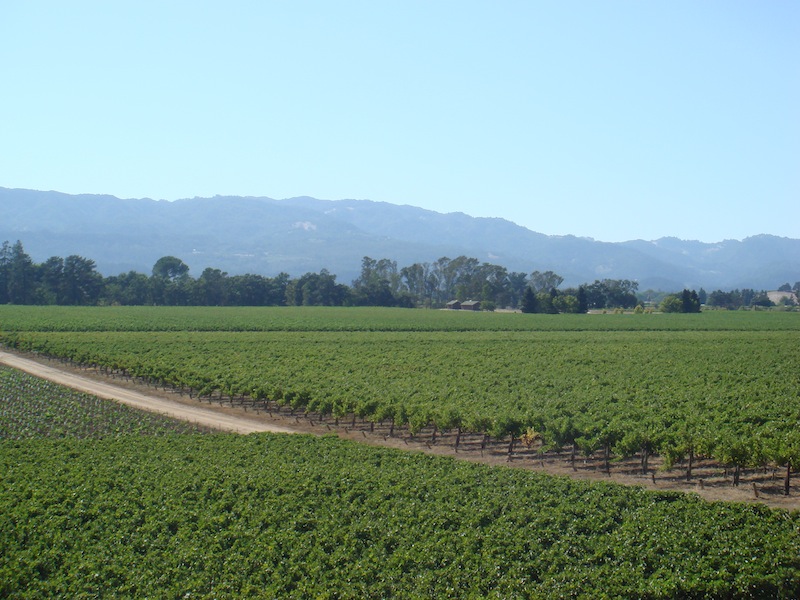 We withdrew to a beautiful 1915 Pullman lounge car for dessert, coffee and port, and watched the valley drift by – vineyard after vineyard drenched in sunshine, the green hills beyond. Other than the towns and villages, it looked like every square foot of the valley had been turned over to the production of wine. As far as landscapes go, it wasn't that exciting.
We ventured to the other end of the train for a hurried wine-tasting session (more expense) before leaving the train early to continue our Ambassador's tour by road.
We disembarked into a furnace, scurrying for the air-conditioned minibus that would take our much smaller party on the rest of the tour. How did it get that hot in such a short space of time? And how could grapes survive that heat?
We drove out past row after row of vines and the occasional winery, heat haze shimmery through the valley, before we stopped at Raymond Vineyards. I thought for one hideous moment that we were going to get a lecture outside in the burning heat but we were soon ushered indoors to hear about their history and the wines they produce. A family-operated winery, it's been a Napa Valley fixture for decades. We tasted more excellent plonk and, inevitably, were invited into the shop on the way out.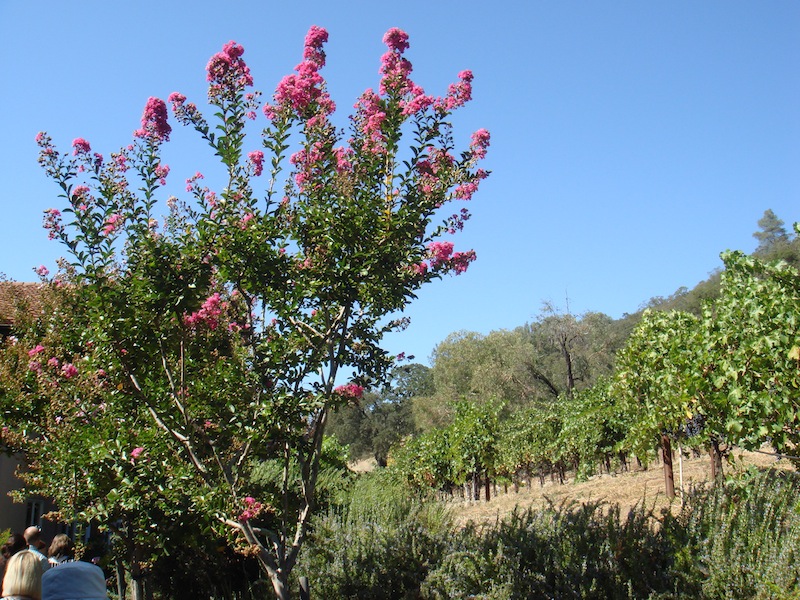 Our final stop happened to be ZD Wines, maker of the Pinot Noir we'd relished in the train earlier. Organic, family run, small-scale, this was a charming winery in beautiful grounds planted with colourful flowers. The views across the valley were to die for.
We were treated to an enthusiastic presentation, which was followed by more wine tasting. By now, I had had far too much alcohol and was gushing my appreciation for their products with just a little too much enthusiasm.
We were ferried through the shop on our way out and I bought a bottle of their organic Pinot Noir.
I fell into the minibus, followed by Graham, and tried to keep my eyes open as we headed south back to the ferry but I was asleep in minutes.
And I knew that my evening in San Francisco was going to be, well, interesting.