I went to the gambling mecca of Las Vegas expecting to hate the place but ended up falling for it, despite its love of everything tacky and the horrors of materialism gone mad.
But why go to Vegas if I was expecting to hate it? Simple. Because we needed a base for visiting the Grand Canyon, one of those few places on earth that everyone has to go to at some point in their lives.
And then there was the gambling…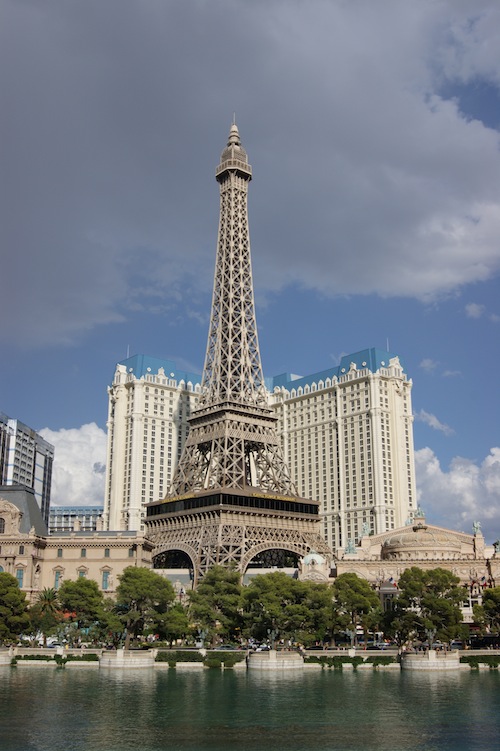 The city would be our home for just a couple of days, the start of a longer trip to the USA that would include Santa Barbara and San Francisco.
Arriving early evening in the city in the desert, it didn't take us long to discover what Vegas was all about. We dumped our bags at the Mandarin Oriental Hotel and went out for a few drinks, fighting our way through the crowds parading up and down the famous Strip. Vegas that night (and probably every night) meant noise, crowds, colour and spectacle, making it resemble something like New York's Times Square on speed. It was also about the endless plinking of fruit machines, of excess in all its forms and of the largest collection of obese people I've ever seen anywhere in the world.
There were skyscrapers, ads for escorts and a fake Eiffel Tower amid the numerous copies of world-famous monuments. In places it resembled a giant toy town.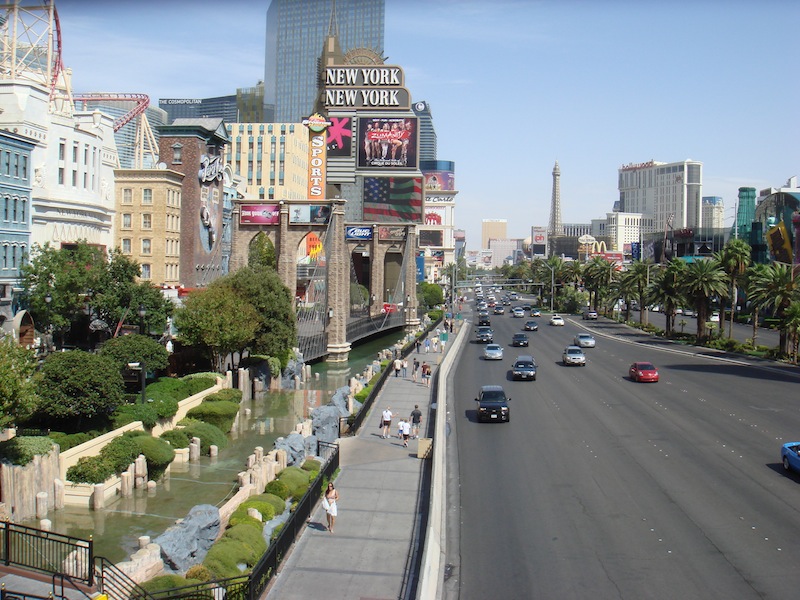 Few cities can claim to be as insane as Vegas. And few seem to attract such a wide range of people, from the super-rich who fly in to gamble away their wealth, to the budget-conscious trailer trash on stag and hen parties. It's a city where the hotels are as much a tourist attraction as they are a place to stay, where cheapo takeaways sit nextdoor to Michelin-starred restaurants.
Shopping malls are two a penny and, when we visited, smoking was still permitted indoors in many places. Where it was, the overwhelming and rather caustic smell was of air freshener. But at least the malls, like the hotels, provided an air-conditioned haven from the intense heat outside.
Back indoors, as we looked out from the window of our swanky room in the fabulous Mandarin Oriental hotel, Las Vegas exploded in neon in stark contrast to the arid desert beyond.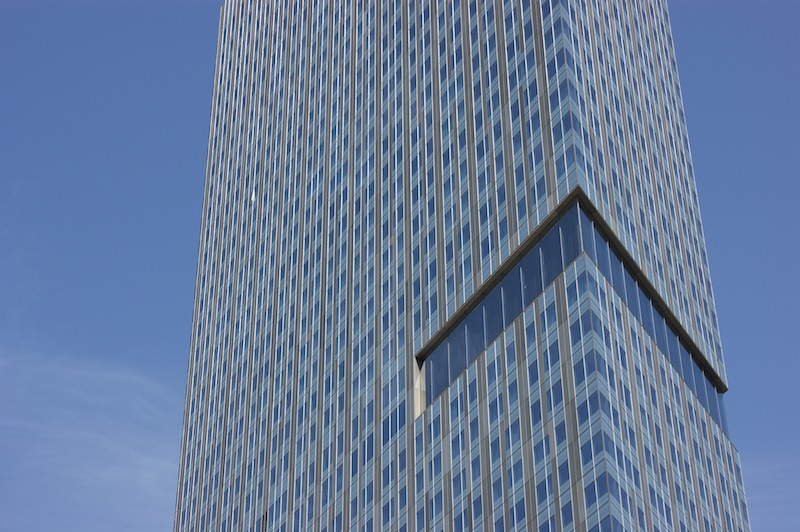 We only had a few days to experience what the city had to offer but we did the obvious.
For a start we went gambling. It's what the place was invented for after all. We tried the casino at New York New York but much preferred the one at Bellagio, partly because it was more affordable with lower minimum bets and also because it had fewer surly croupiers. The Black Jack table was our destination of choice and we somehow managed to make our cash last much longer than expected (all that practice on the iPhone app came in handy). Free drinks helped the night pass and us to build confidence. Overall, I ended up with only small losses, Graham with slightly more.
Winning or losing, the casinos were great for people watching.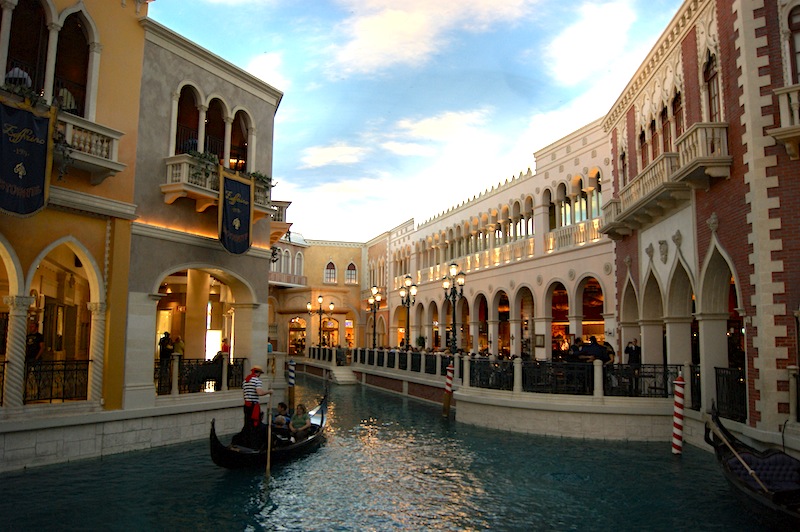 We explored some of the hotels too. Some of them were truly awful but a few were truly extraordinary, not least the Venetian with its recreation of the historic Italian city. Ludicrous and audacious it may be but it's amazing what they've created there. Luxor looked a bit tatty and dated on our visit but we popped into a fascinating Titanic exhibition while we were there and stopped for drinks. The hotels are strung along The Strip and it got a little too hot to walk it at times so we opted for the monorail to get around.
The big themed hotels really were like small towns – with queues to check in and out at the front desks that were at times as bonkers as the architecture. I was more than grateful that we'd avoided them. But full marks for the Bellagio and their musical fountains show – it really is worth stopping off for.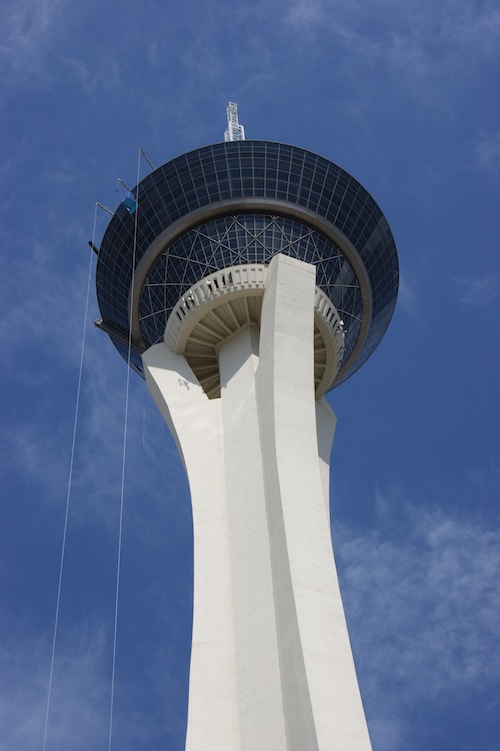 We headed up The Stratosphere, Nevada's tallest building, on a sweltering morning. It's located on Las Vegas Boulevard, looks gloriously retro but was actually built as recently as the 1990s. It offered expansive views from the top but we avoided the white-knuckle rides that hurled other visitors out from the top into thin air. Back at ground level we found ourselves in older Vegas, beyond the glitz and glamour of The Strip. And there was dereliction too, signs of the post-credit crunch depression that had hit Vegas particularly hard.
More of the old Vegas is found in Downtown, which is centred on Fremont Street a couple of miles north of the main action and that was the original heart of the city. In Diamonds are Forever, James Bond races his car through the district but these days it's mainly pedestrianised. We went during the day, found those famous old Vegas neon signs clinging to the oldest of the casinos but sadly missed the spectacular night-time light show, which was a bit disappointing.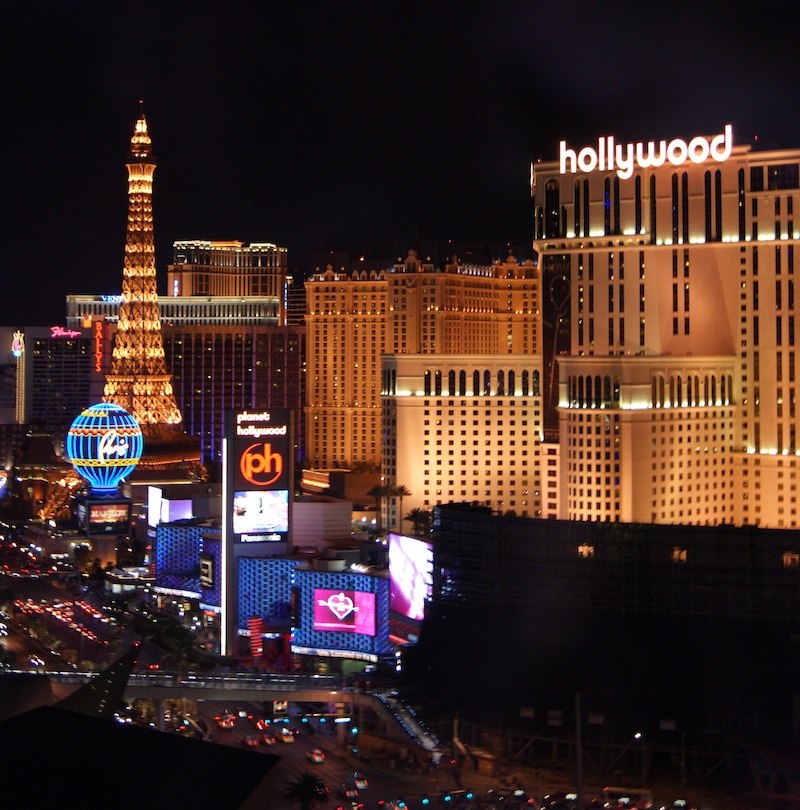 At night we ate well – if expensively. We had stunning steak and roasted brussels sprouts with bacon at Mastro's Ocean Club in the modern CityCenter development and the next night dined at Olives at The Bellagio, handy both for the casino and the dancing fountains.
Our couple of days were up and it was time to move on, but I'd been won over to Vegas' curious charms. And I wouldn't mind returning one day…