The Macau we'd discovered on our first night in the city was modern, glitzy and built for tourists. Known as the Cotai Strip, it was a stark contrast to the old and atmospheric city that we discovered on our first full day in town.
But we started the day with a treat – breakfast in our rooms at the Conrad Hilton. Decadent? Yes indeed, but we had a suite to fill with things. And if it's any consolation, the eggs benedict was disappointing (in a hard-boiled kinda way).
Without having to fight our way through crowds at the breakfast buffet, it meant we could start the day early and get some serious sightseeing done.
The weather? Humid and murky but the sun eventually shone through.
We got a cab to the main island and the historic UNESCO World Heritage heart of old Macau. But en route we found the Cotai Strip to be a development of two halves. Looking one way it was like Vegas, with old favourites such as The Venetian standing proudly on the reclaimed land. Looking the other there was nothing but barren land and an entire neighbourhood awaiting development, with cranes dominating the skyline. We could've been anywhere.
Looking beyond there were more skyscrapers, although most of them were apartment complexes for workers. Some were modern, others were being built, some looked as if they'd seen better days. But they were all absolutely massive, beyond anything I'd seen in the West.
We crossed the water and arrived at the A-Ma Temple ready for our walk, and discovered the crowds. The 'attraction' was rammed with residents, the devout and tourists. The stench of incense was overwhelming and Graham found himself struggling with his asthma while he snapped away on his new camera.
We moved on through the back streets, all dominated by creaky looking, aged apartment blocks. They were colourful in places but the humidity had clearly played havoc with the rendering, much of which was afflicted with mould, algae or moss. Many of the metal balconies were rusting gracefully. It was all quite tatty, yet it was also charming. Graham seemed a bit taken aback at how poor and overdeveloped the place was and it's true that, with the crowds included, there seemed precious room to spare.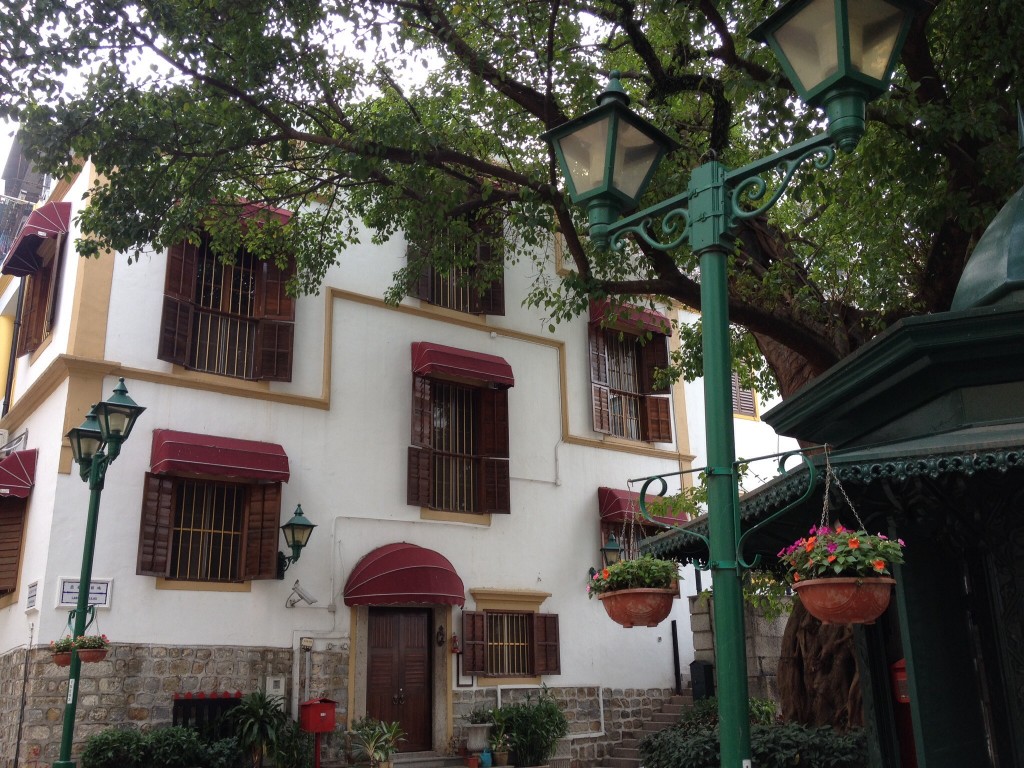 But in between the rammed blocks of flats and shops, the narrow streets lined with scooters and the posters advising against spitting and littering with dog shit, there were occasional reminders of the city's Portugese past. The Moorish barracks were a riot of yellow, while quiet and shaded Lilau Square was surrounded by some fine old buildings. There, locals out for a quiet morning of stretching and chatting were snapped by roaming bands of rather insensitive tourists.
Nearby we found the grandly restored Mandarin's House, a rambling collection of rooms and courtyards that made for a delightful break from the noise and bustle outside. Like all the attractions in Macau, it was free to enter.
Our route took us past and into some impressive churches – St Lawrence's and St Joseph's but two. The picturesque St Augustine's Square continued the trend of colonial buildings on a human scale, colourful and Mediterranean. There, we visited the small Dom Pedro V theatre and St Augustine's Church.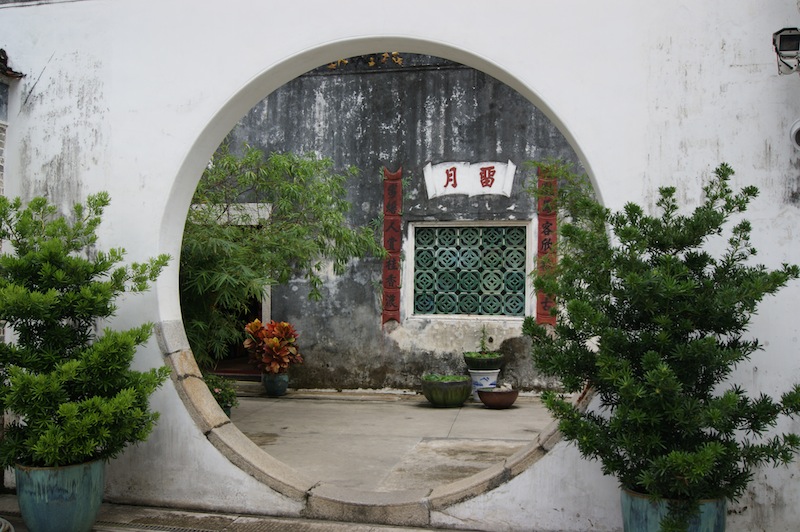 Suddenly, emerging from the quiet back streets, we found ourselves in the busy heart of the old town. Senado Square was colourful and exciting, dominated by the grand Leal Senado building – a charming and important part of the city's government in years gone by. These days the square is rampant with commerce and people milled around watching the Grand Prix on a giant TV screen.
Shops were a mixture of familiar names from the west (oh the horrors of globalisation) and local outfits. Bakeries and other take-aways filled the gaps, many of them selling a strange and rubbery, much-processed gloop that was supposed to be meat but was clearly very popular with the locals.
Eateries were thin on the ground for lunch, at least places where we could sit. And I needed to sit. Lunch is on the go in Macau and we struggled to find anywhere, plumping depressingly for Starbucks. I didn't feel proud about it…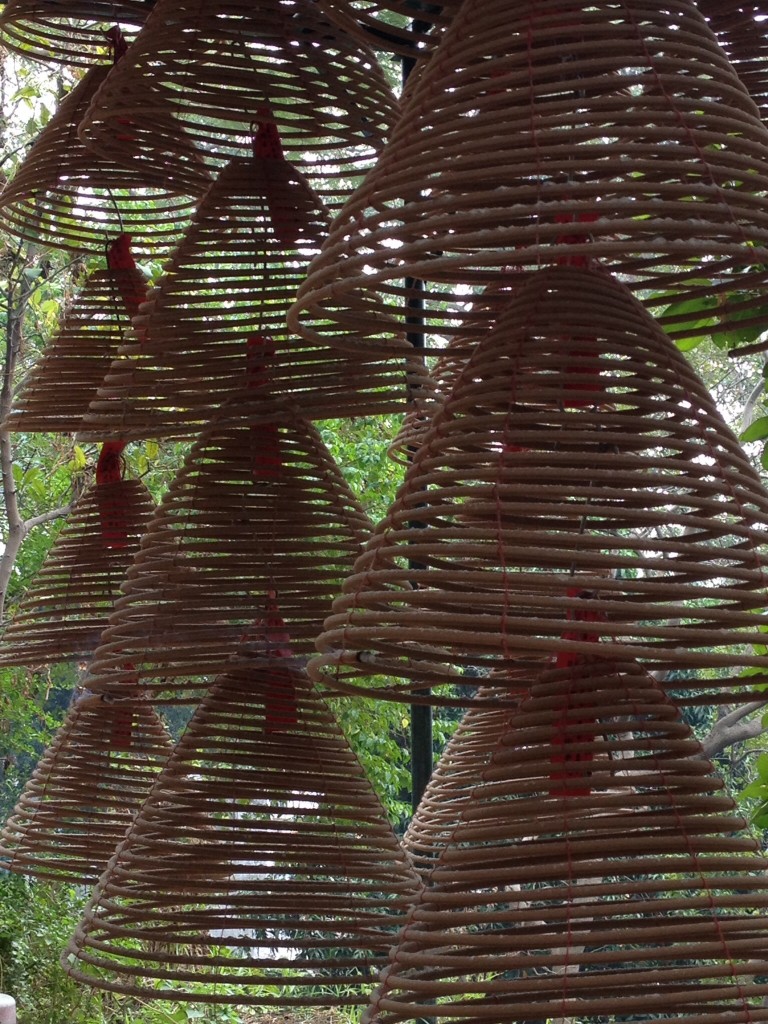 In the afternoon we visited the city's premier tourist attraction, the ruins of St Paul's. Sure, they dominate the view but I'm not quite sure what all the fuss is about bits of an old church. Apparently it was destroyed by a fire during a typhoon in 1835.
So we wandered around the nearby fort and got some great views of the city across the rooftops, revealing a jumble of development, new and old, high and low-rise, some glam but most old and shabby. In the hazy distance, the towering blocks of modern China stood proud.
With my legs suffering, we moved on a little further and discovered a street of antique shops and the Casa Garden and Protestant Cemetery – both of them quiet and green.
One quick cab ride later, back at the hotel, we grabbed a beer, got a late afternoon nap and then headed out. My tummy was struggling but we went for food at Canton, a lovely restaurant in The Venetian, where my diced pork and chianti was a real delight and the service excellent.
To our delight, we found a roulette table with a minimum bet of $25. I lost $500, G broke even. It proved to be a very different experience to gambling in Vegas and London – you can't find a beer anywhere and the locals take it all so, so seriously! Again, the baccarat tables stretched on for ever and the black jack tables had far too high a minimum bet for us.
Before we crashed out, we grabbed a few more drinks back in the bar at the Conrad. And I nursed my broken bank balance…