It would be a day of striking contrasts – of beautiful gardens and choked and dirty streets, of seclusion and overwhelming crowds. But that's probably like every day in Kowloon.
In the morning we took the metro to Diamond Hill after another giant breakfast at our hotel. Our destination – the Chi Lin Nunnery to the north of the beating heart of the territory, Nathan Road.
Linked to the nunnery is the Nan Lian Garden, a beautifully landscaped green space that was fortunately rescued from being built on just a few years ago.
Inspired by gardens elsewhere in China, it exists in stark contrast to the giant tower blocks, jagged green hills, shopping malls, dual carriageways and concrete that surround it. These little parks and gardens dotted about the crowded territory are vital to the wellbeing of the population but it seems the authorities are only just waking up to the fact.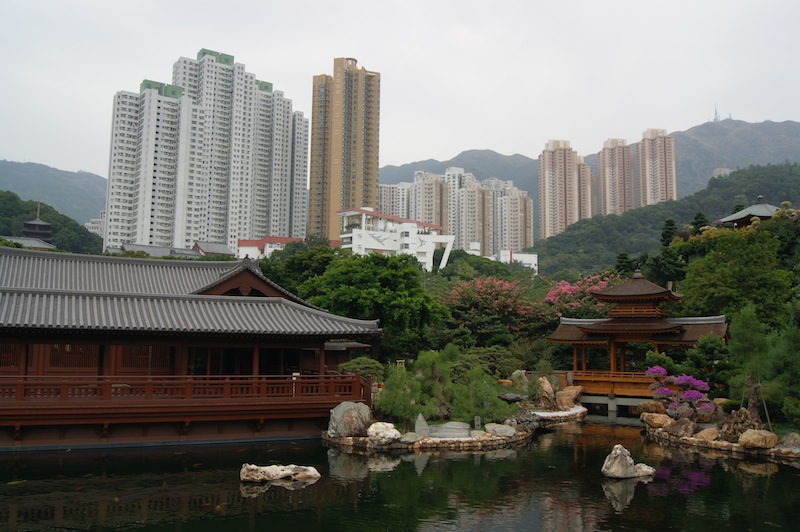 Together, the nunnery's traditional Buddhist buildings and the garden are a haven from the noise and pollution outside. As with so many other public places in Hong Kong, we were greeted by countless signs telling us what's allowed and what's not (don't spit, don't feed the fish, don't climb, hold on tight to hand rails and so on, ad nauseum). The authorities just can't resist telling people what they can and can't do, whether it's on the metro, in a park or just walking down the street.
Leaving the signage behind we toured the garden, admiring the handsomely manicured trees, plants and bushes, separated by giant boulders representing China's geological make-up. We passed traditional wooden buildings, and stopped at an exhibit that featured impressive wooden scale models of historic Chinese structures. Beyond, a waterfall tumbled attractively beside a vegetarian restaurant.
The nunnery was an oasis of peace (and prayer for those of a religious bent), with various small chapels dominated by giant Buddhist statues. Nearby ponds were covered in colourful water lilies.
It really was a lovely place.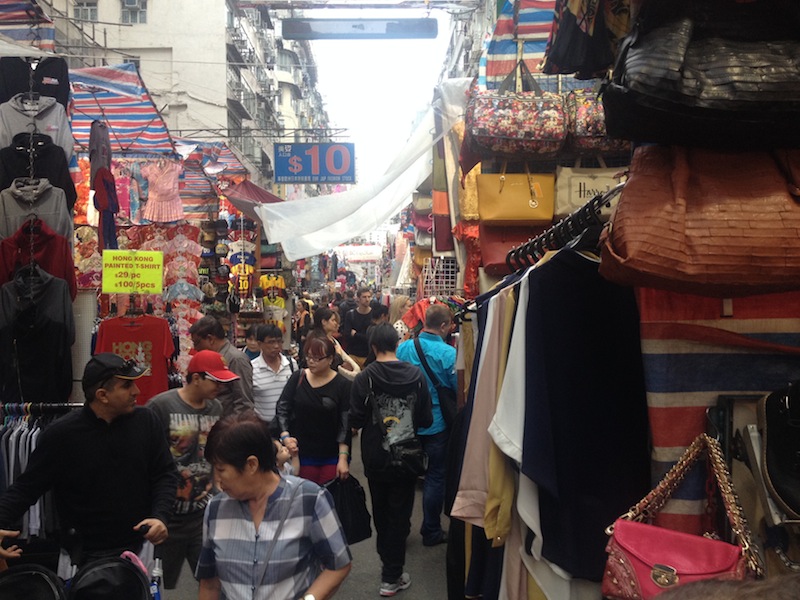 Refreshed, we made our way to Prince Edward station to do a Lonely Planet walk through some of the markets of northern Kowloon. The flower market was a riot of colour and greenery, scents clashing with the rather more urban odour of festering drains that seemed to follow us around. There was a street lined with aquariums selling tropical fish, and pet shops with kittens and puppies disturbingly crammed into small glass boxes.
We visited the jade market but found little that we liked, and forced our way through the tat of the Tung Choi Street market. It was rammed with fake designer goods and cheap everyday stuff but was, at the very least, atmospheric.
Around us, run-down apartment blocks sprouted rusting neon signs that hovered precariously above the streets like something out of Blade Runner. It was the Hong Kong I'd seen in numerous photos, and Kowloon at work and play. It was bonkers – noisy and smelly, tatty and oppressive, full of people. I loved it.
By the time we finished our trawl of the streets, I was pretty spent and tetchy. Combined with a crap night of sleep on both our parts (not helped by dad ringing at 4.45am having forgotten we were away), I really wasn't feeling up to much.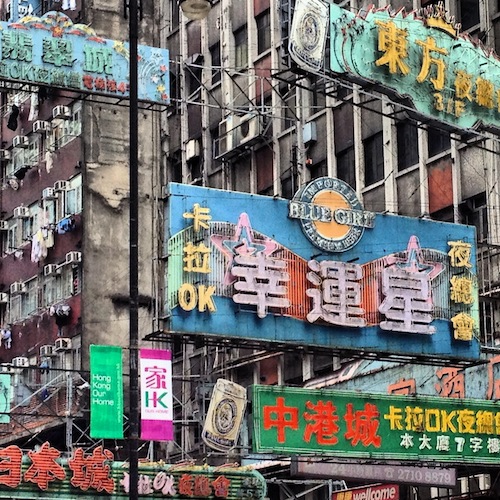 Still, we ventured into the beating social heart of Hong Kong Island for our evening – Soho and Lan Kwai Fong. We walked the steep streets and made use of the escalators that climb the various levels, discovering old Hong Kong nestling behind the corporate, gleaming skyscrapers.
It was a district of loud and busy bars and restaurants, populated by office workers of all nationalities out for a good time. It was another amazing part of the city.
We ate at a small French bistro, Pastis, and drank in a few bars – Zinc (music too loud) and Lotus (much more relaxed and right by the escalator). But by then I was suffering, feeling rather under the weather. Too much rich food and hard living was taking its toll.
Time to take it slower…