There are things about Hong Kong I didn't enjoy but had to get used to. One was queueing. And we faced some serious queueing during our visit to Lantau Island.
We were going to see its famous giant Buddha at the Ngong Ping Plateau, reached by a cable car that climbs about 25 minutes from the base station up into the clouds in the heart of the island. But first we had to negotiate that lift queue, a queue so monumental that it quite drained the life out of me just looking at it. It appeared that half of China had decided to join us on our day out.
The pain was only relieved by the fact I could get wi-fi on my phone to keep myself entertained. Otherwise I would've gone insane.
The cable car station at Tung Chung stands amid a big, modern and characterless town built to service the nearby Chep Lap Kok airport, with towering apartment blocks that were as giant in their own way as our queue.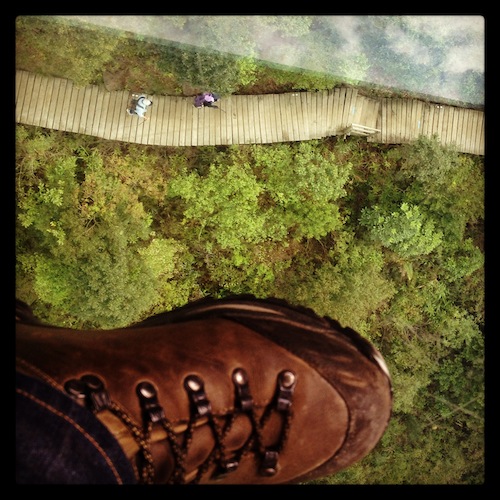 When we eventually got to board we chose a cabin with a glass floor. And it made for some strange photos and weird moments as we headed off into the sky, with the sea and the hills beneath us, under our shoes. It was not a ride for people with vertigo…
As we climbed into the spectacular verdant hills of Lantau, the airport came into view amid the haze in all its sprawling, industrial glory. But from up high in our little gondola, it looked more like a toy town complete with little toy planes.
Ahead of us, the landscape turned out to be much like that of nearby Lamma Island, green and lush, peppered with boulders and carved by walking trails. Below us we spotted ramblers making their way along, up and down the famous but clearly punishing Lantau Trail.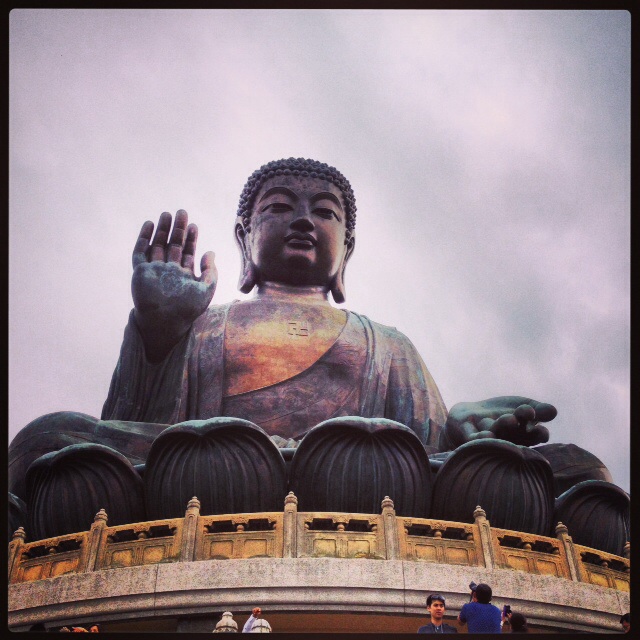 Our destination, the plateau, is famous for the Tian Tan Buddha – a giant bronze statue on a hill overlooking the nearby Po Lin Monastery. To my surprise it was only erected in the early 1990s, and it came clear into view as we reached the end of our journey.
Sadly, this spiritual marvel sits amid one of the most touristy sites I'd been to in a while. Ngong Ping itself is little more than a collection of souvenir shops, large restaurants (we stopped in one for an average bite to eat) and various tacky opportunities the locals have dreamt up to part us from our cash. The Buddha looked inscrutably over this temple to commercialism and the accompanying wave of humanity, and it all jarred somewhat.
Still, the long and punishing climb up the steps to the statue was more than memorable. And only at the top did I realise just how big the statue is. The Buddha's giant hands gestured to us as we circled and took photos, gasped at the views and went inside to see a little display about the history of the site.
Back at ground level, the monastery had some nice touches but was largely a building site during our visit. It was unclear whether it's a real monastery – we did see a few monks waiting for the cable car – or has been given over to the monster that is tourism. I guess it's a bit of both.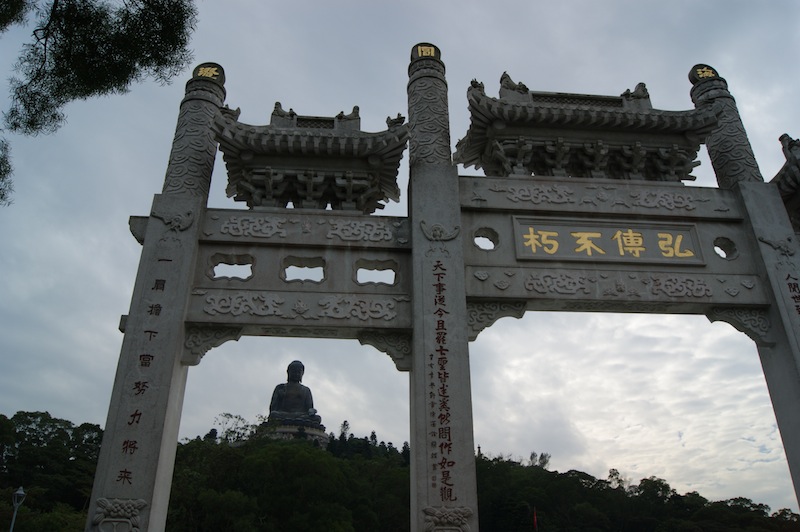 We then made for the village of Tai O, a speedy taxi ride down winding mountain roads. Like the villages of Lamma, Tai O is not pretty in the conventional western sense but is famous for houses and workshops built on stilts over the water.
Some looked very precarious, especially the ones put together out of recycled bits of wood, corrugated iron and plastic. The stilts, for a start, seemed far too narrow to put up with a choppy sea.
We walked through streets lined with shops selling traditional medicines and fish – fresh and dried. Salted fish are a speciality, a reminder of the time when the area had a vibrant salt production industry, and the smell was overpowering at times. But it was undoubtedly an atmospheric place, despite the crowds.
We took a quick boat trip out into the South China Sea to get a different perspective on the island and to try to spot the endangered Chinese white dolphins that were once so plentiful in the area. But other than a few distant glimpses, our trip proved fruitless. Still, it blew the cobwebs away as we bounced around on the waves back to shore. And a risk-averse Graham looked nervous…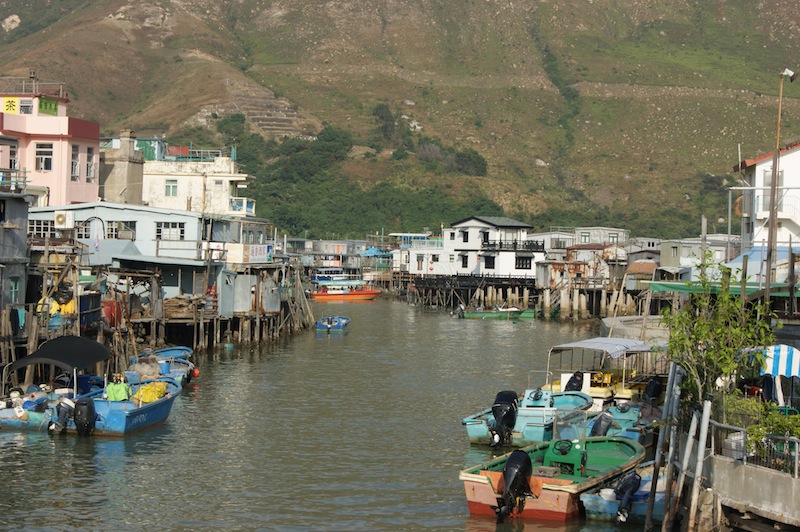 We ventured back to Tung Chung on a bus, our route taking us across the lush landscape to the south of the island. We caught sight of lovely sandy beaches and some smart new developments, making it a prime site for sunshine breaks, but we also spotted a few grim prisons and a dam.
Come night, we went out to lively Soho and Lan Kwai Fong again and eventually settled for food at an Italian called Vivo. And very good it was too – especially the crab ravioli and beef carpaccio.
Later we grabbed beers in a variety of bars but failed to find the gay ones we were searching for. Did they still exist I wondered?
Still, I loved LKF – it really had a buzz and atmosphere to it behind those grey temples to capitalism.