It would be easy to spend a holiday in Hong Kong and not venture beyond the Island or neighbouring Kowloon, but we were keen to explore and went in search of history in the New Territories.
Half an hour away on the efficient MTR railway, we discovered the sometimes ramshackle village of Ping Shan just a short walk in the heat from the modern station and the residential towers at Tin Shui Wai.
We were walking the Ping Shan Heritage Trail, which revealed the story of the Tang clan, a people who arrived in this fertile part of the country during the late Yuan dynasty many centuries ago. Stepping from the train, it was difficult to imagine that such history existed in such an urban environment.
We started at Hong Kong's oldest pagoda, Tsui Shing Lau, believed to have been built in 1486 and now composed of three storeys. Later we found old pictures of it standing proud and alone in the countryside, with just the occasional shack for company, but today it's overlooked by tower blocks and the metro line that carves its way across the landscape. A local woman welcomed us warmly, gabbled away in Chinese and I sensed that she didn't get many visitors.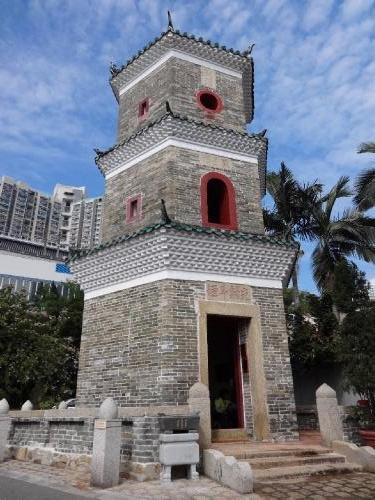 We walked on through unpromising lorry parks and the sort of shabbiness I'd come to expect in Hong Kong until we arrived at Sheung Cheung Wai, the remains of a 200-year-old walled village. Very little is left today, as modern and unattractive development has overtaken it, but there was just enough to give us a sense of what it was once like. The old pattern of the village remains, however, with tight alleys barely separating the houses.
Arriving at the Yeung Hau Temple, I was beginning to feel that the heritage trail was scraping the bottom of the historical barrel. The buildings and ruins weren't up to much and we would never have bothered with them elsewhere. But then, in the village square, surrounded by yet more modern buildings, we came face to face with two ancestral halls. And they were stunning.
The Tang Ancestral Hall is the oldest, built in about 1273, with three halls, two courtyards, beautiful carvings and colourful decorative touches. This hall was the centre of clan life back in the day and it's still an imposing sight. Beside it stood the 15th century Yu Kiu Ancestral Hall, which is almost as grand.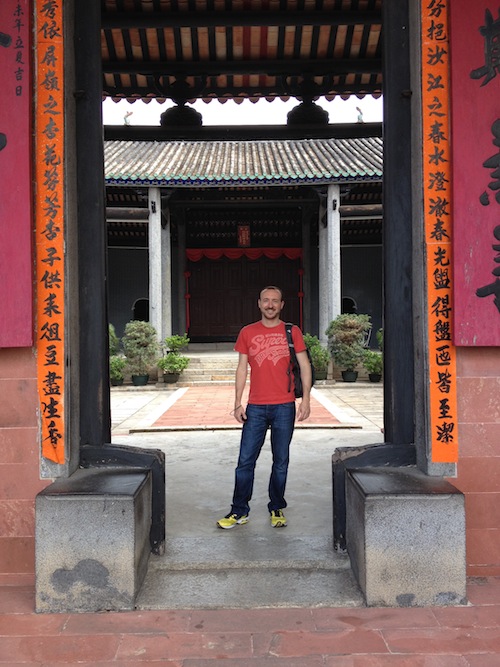 A little further on we came across the beautiful Kun Ting Study Hall, once used as both an ancestral hall and a place of study by clan members preparing to join the imperial civil service. Built in the 1870s, it had more examples of great craftsmanship – but none so fine as the neighbouring Ching Shu Hin.
Built at the same time as a guesthouse for scholars and important visitors, we lapped up the carved panels, murals, patterned grilles, colourful tiles and other features of this maze-like building.
Together, these buildings had restored my faith in the trail.
A short walk later, uphill in the humidity and beyond some open spaces largely used for fly tipping, we found the Ping Shan Tang Clan Gallery cum Heritage Trail Visitor Centre. Housed in a beautifully restored old police station, it has a small but enthralling museum about the Tang clan and the history of the area.
Only when we looked at the old photos there did we realise how much development has gone on in the area in recent years. Aerial photos showed very clearly how Ping Shan has been surrounded by block after block of housing and other buildings. Long gone, for better or worse, are the fields that once supported life in these parts…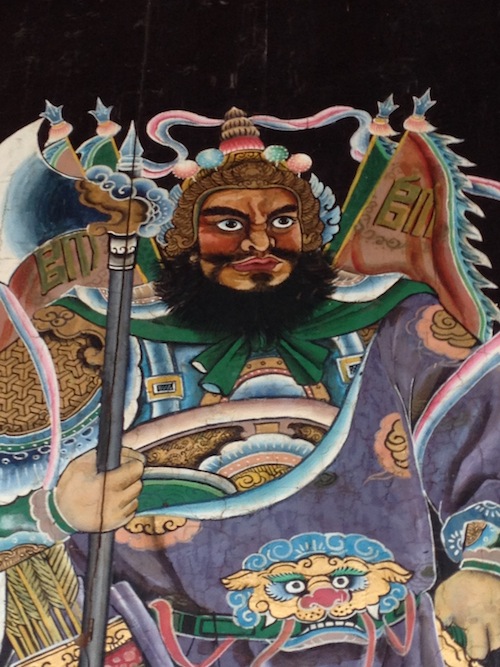 We caught the train back to Kowloon and had an hour or two by the pool at the hotel. For our last night in the city, we treated ourselves to a trip over to the Island on the Star Ferry, which offered magical views of the city lit up around us.
We ate Cantonese at Cuisine Cuisine in the IFC mall – it was a bit lacking in atmosphere – and then headed up to LKF and Soho again for some drinks. Around us, ex-pats got horribly drunk, locals were out in force, a wizzened old lady, doubled up with age, wandered around trying to get a few coins off the drunks. Most didn't even realise she was there.
Friday night in the heart of Hong Kong's nightlife zone is pretty much what it's like in any other big city. The big difference is that I didn't feel anywhere near as threatened by roaming bands of drunk troublemakers as I would in, say, London. And for that, I was very grateful.
Sadly we couldn't ignore the homemade posters warning us that developers were keen to rip the life and soul out of the district to make way for yet more towers. Another piece of Hong Kong's heritage was at risk…