I'd always dreamt about seeing The Northern Lights but the web is full of stories of people who've make the trip north for the planet's greatest light show, only to be frustrated by cloud cover and dull skies.
For the truth is the Aurora Borealis don't perform to order, so booking a holiday for the sole purpose of seeing see them is always going to be a gamble.
So when we were planning our trip to catch the elusive Northern Lights, we combined it with a week of winter sports. Our destination was the World Cup ski resort of Levi, about 110 miles inside the Arctic Circle, in northern Finland.
As we headed north on our Monarch Airlines flight to Kittila, with Inghams as our tour operator, I had to feel sorry for the elderly, disabled couple alongside me who were flying for one thing and one thing only. They wanted to see the lights and assumed they'd be able to switch them on at will. I kept my mouth shut and inwardly prayed that the gods of the heavens wouldn't disappointment them.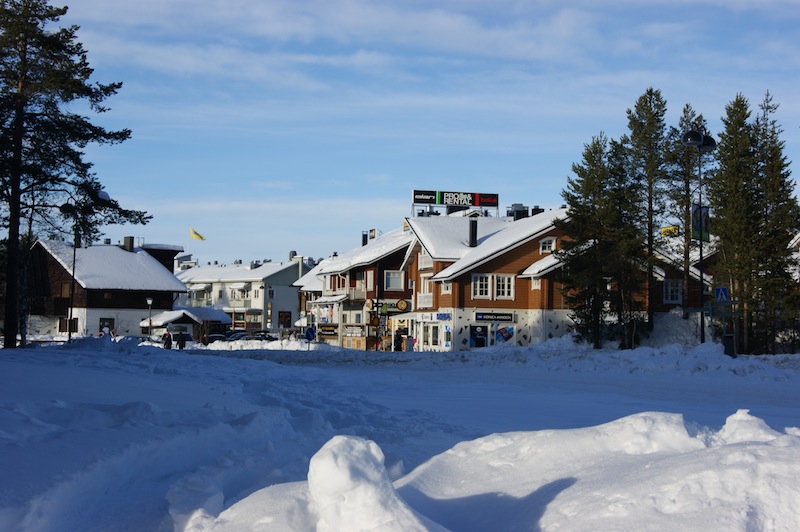 Levi is handy for the airport, just a 15-minute coach ride away. So it took us no time at all to get to our room in the Levitunturi Spa Hotel, a vast complex amid the pines on the edge of town. Cheekily, we'd upgraded to a suite with our own sauna. Modern and swanky, decorated in red and black, it suited us perfectly.
The village itself proved to be functional, less cuckoo clock pretty than Alpine resorts but a lot nicer than I thought it was going to be. Some ancient log cabins nestled side-by-side with modern apartment and hotel blocks, some of them facing the village's main pistes.
With Graham having quit downhill skiing during our holiday in Ischgl, the week was going to throw up a mix of experiences while we waited for night to fall and the Northern Lights to dance.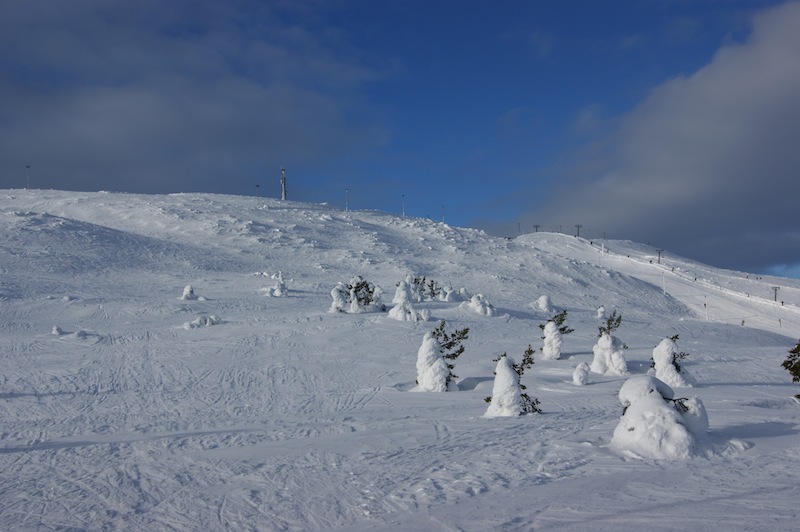 While Graham chilled out, I took the ski bus and rode out for some alpine skiing to the less-than-romantically named South Slopes, where most runs are blue. I discovered a very different experience to the Alps. The mountains were modest in comparison and the landscape much flatter, consisting of rounded hills, pine forests and frozen lakes. It was also bitterly, bitterly cold. High up top, trees and bushes were sparse and those that had survived the ravages of the weather were wrapped from top to toe in ice and snow, making them look like snowmen.
The views were stunning but it was, at times, bleak and uncomfortable. And I discovered that skiing alone can be a pretty miserable experience, even with the sun shining and few others around to dodge. After spending a handful of hours up on the hills, I began to wonder whether I would ever ski again.
Back with Graham, we organised a few days of cross country skiing with lessons, guided by patient and friendly instructors.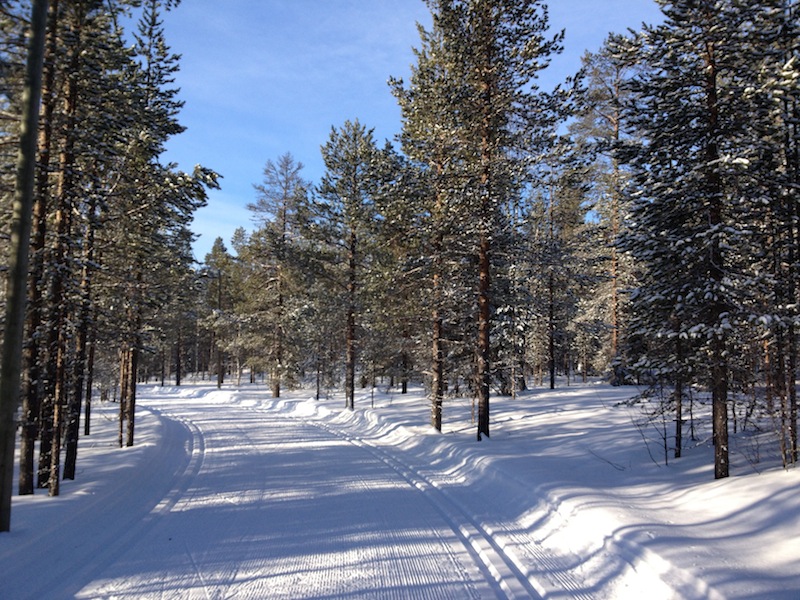 As we discovered in Ischgl during our first attempts at the sport, cross country is tough and exhausting but makes for great exercise and is a marvellous way of discovering the countryside. Levi has zillions of miles of pistes but poor Graham gave himself some bruised ribs when falling on a downhill stretch, and I wondered whether that would put Mr Risk Averse off any future outings.
On other days we went for a memorable walk in the woods, aiming for a warming lunch a few miles beyond the village. I found myself up to my waist in snow at one point as we climbed the slopes, and we had to turn back on ourselves to escape the drifts.
The Sami are the native people of Levi and northern Scandinavia and they're now well and truly part of the tourist trail. Their way of life, languages and culture are profiled in the Samiland exhibition at the Levi Summit Centre halfway up the mountain. It's part of a UNESCO effort to keep alive the memories and traditions of indigenous people around the world.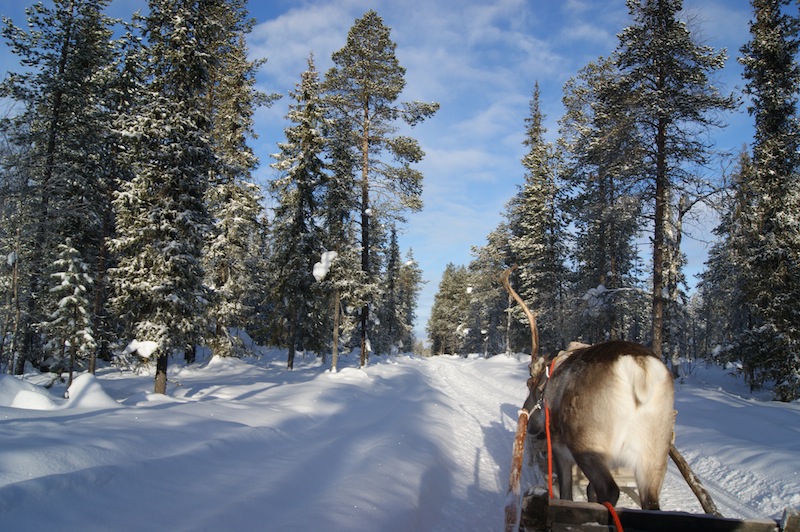 I was astonished to find that the Sami were persecuted well into the 20th century even in hip, touchy-feely, left-leaning Finland. It's a bit of a dry exhibition but outside we found some traditional Sami buildings, including kotas (or tepees), turf huts and wooden storage rooms, and a small enclosure for some friendly reindeer.
And then we joined a touristy reindeer safari, a rather sanitised Sami experience on a farm outside of town. Fluffy dogs scampered around as we wrapped up warm together in our sleigh, staring at our reindeer's backside, before trotting off surrounded by several other beasts and sleighs on our trip across the frozen lake and into the woods.
The landscape was stunning, frozen, magical, and it turned out to be a memorable experience. But it was freezing cold despite all the blankets and my legs went dead. Still, the untended reindeer followed the tracks as efficiently as trams and got into a bit of a race with each other on the trip home.
Afterwards, I chatted briefly to one of the Sami farmers and admired his chunks of reindeer meat hanging out in the freezing cold, drying in the air. He talked about how his reindeer roamed free in the local forests during much of the spring and summer. But with the advent of autumn and winter, he would round them up and make many of them ready for the trip to the abbatoir.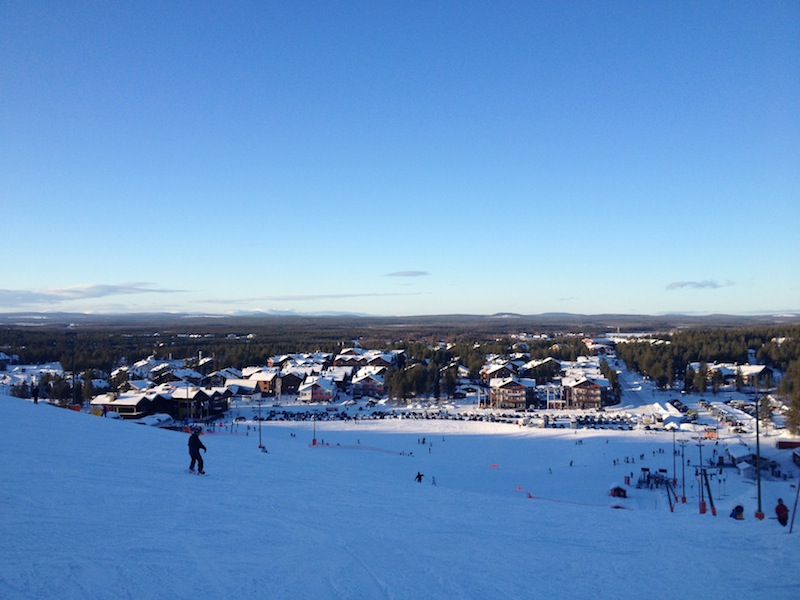 He couldn't tell me how many reindeer he had, but maybe his were among those I'd eaten in Levi's restaurants. And very delicious they were too, with creamy mash potato and red berries.
Overall, the food in Levi was pretty good and the variety of restaurants impressive. One night we gorged on seafood at the King Crab House, which was 10 times better than the awful buffet muck they served up at our hotel. Evening meals were included in our stay but were far too dreadful to actually consume.
What the hotel failed to deliver on its buffet (the a la carte menu was a lot better), it certainly delivered on facilities. The spa and pool provided everything from a water slide (which left me with water filling every orifice on my sole trip down), to a range of therapies and the obligatory nude sauna and steam room. An outdoor heated jacuzzi and pool provided a great contrast to the freezing temperatures.
Of an evening, the nightlife in the village was decent enough and several bars kept us entertained in between our search for the Northern Lights. There was the obligatory Irish pub, Oliver's Corner, which we visited a few times, as well as the more Finnish and youthful Pub Holmola.
But what about those northern lights? As the week went on I was beginning to despair of the weather forecasts. Did we find them? There were certainly a few hints… Find out in part two.