A few decades ago the town of Nizwa was off-limits, a focus of rebellion and violence. But now it's a popular day trip for visitors to Oman, and its main attraction is a 17th century fort.
As such, it had to be on the itinerary of our trip to the country despite my lack of recent driving experience and nervousness at tackling Arabian roads. It only took us about two hours to drive there from our base in the capital, Muscat, but it was a memorable journey.
The landscape was a treat, with arid mountains of reds and browns, rusts and greys; jagged and ancient, they were broken by wadis, flood plains and dusty villages. The only disappointment was having to keep my eyes on the road ahead while Graham drank in the views.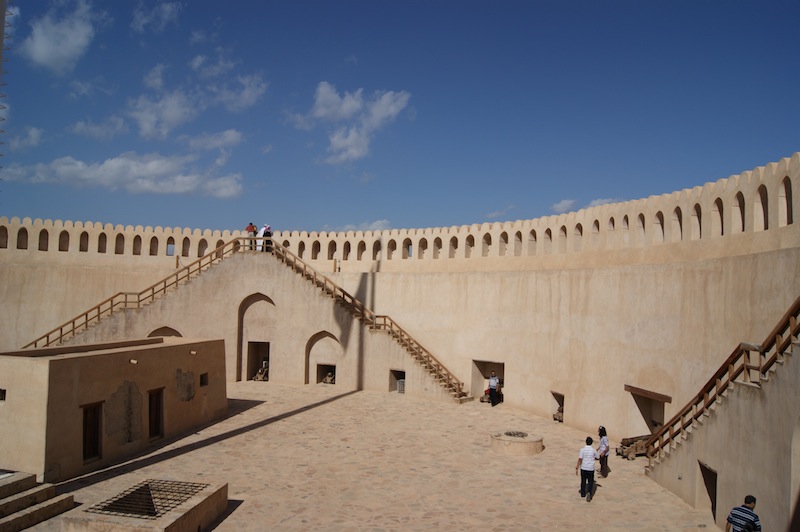 Some of the villages and hamlets were pretty remote and I wondered how the residents could make a living so far from anywhere. After all, the land around and about didn't look much like productive agricultural country.
However, miles from Muscat, the locals still took pride in their homes, which looked neat and tidy, well-tended and freshly painted.
We had a few dodgy moments in the car thanks to confusing road signs, the lack of petrol stations and a few reckless drivers with no concept of speed limits, but arrived in a Nizwa bathed in sunshine in one piece and with a full tank. We parked up in front of the atmospheric, castle-like souk, in a giant, unattractive car park that was more eyesore than anything.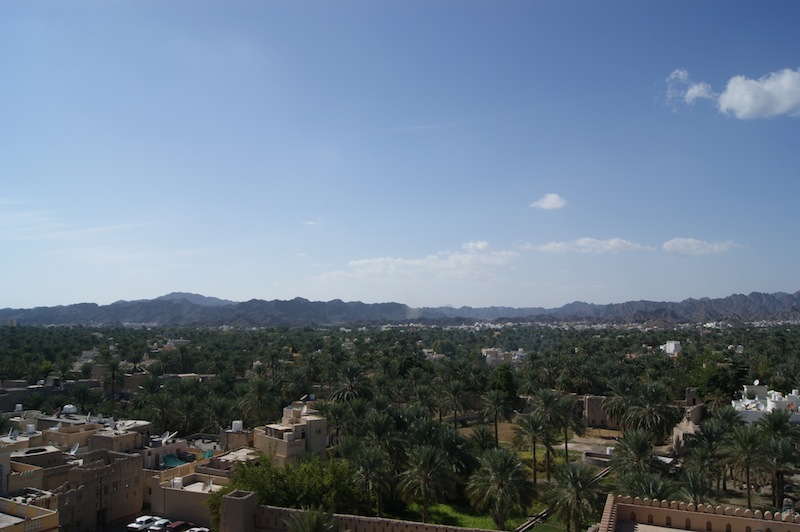 Around us were streets of typical Omani apartment blocks, shops and eateries, some modern, some shabby, displaying the garish neon signs that are a sure sign that you're in the Arab world.
We found a cheap place for a quick kebab, which looked a bit dodgy but didn't poison us, before walking to the fort.
It was an impressive sight and an explosion of terracotta, one of Oman's most famous attractions thanks mainly to its monumental round watchtower. A key defensive structure, it was built in part to protect vital communication routes through the region.
It was sweltering as we made our way round and sweatily climbed the 30 metre-high tower for views of the town beyond. We could see that Nizwa was ringed by red, yellow and grey mountains and vast plantations of date palms, all of which lay beneath a rich blue sky.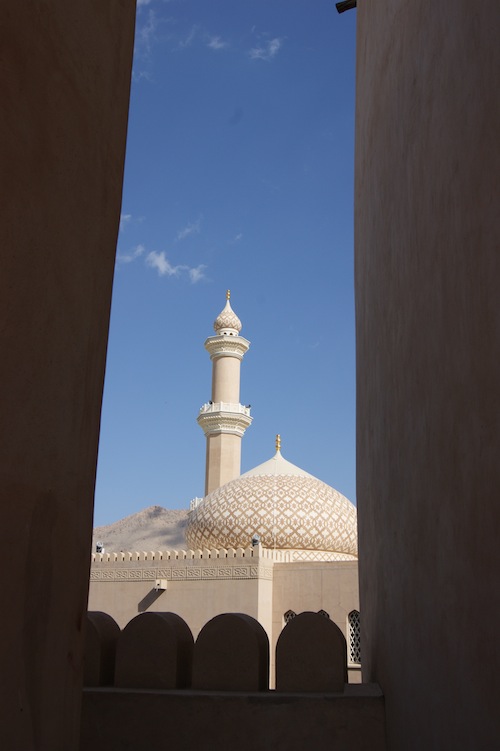 The tower is just one part of the fort, which has a maze of buildings and rooms, some with displays that tell its story. It's thought that there's been a fort of one kind or another on the site since the 12th century but what remains dates mainly from the 1650s. Much has been heavily restored but the work has been carried out sympathetically.
It was easy to see how it became such a formidable stronghold against the forces that would, at times, challenge the local rulers for control of the area's natural resources.
As we explored, I noticed the large number of Indian families doing the tour and snapping away furiously on their cameras, more proof that they make up a large proportion of the population in modern Oman.
The popularity of tourism in Nizwa is perhaps surprising. It was only about 40 or so years ago that the rebellious local imams who'd fought for decades against central rule were finally brought under control, allowing a part of the country that had been off-limits to visitors to be opened up by the new Sultan.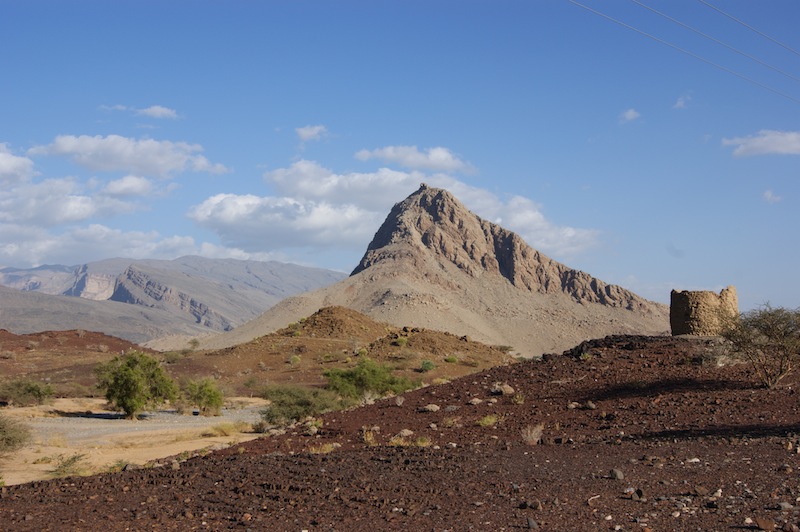 We left for a short walk around the town, sometimes spotting ancient city walls and crumbling buildings amid the newer development. Sadly, the souk was deathly quiet, the traders having taken a few hours off in the heat of the afternoon.
So we drove on to the Al-Hoota Cave through increasingly grey and black mountains dotted with the watchtowers that can be seen throughout Oman. The scenery was amazing, and we stopped to take photos, but we got all the way to the cave only to find it shut for maintenance!
So we drove home instead, and encountered one of the most torrential downpours I've ever seen. With the sun going down and rain lashing the windscreen, it was impossible to see anything and we crawled back into Muscat on the dual carriageways in a state of some alarm. So disorientated was I that at one point we ended up driving around a multi-storey car park rather than back to the city.
The landscapes that had been such a highlight of our day disappeared in the gloom…